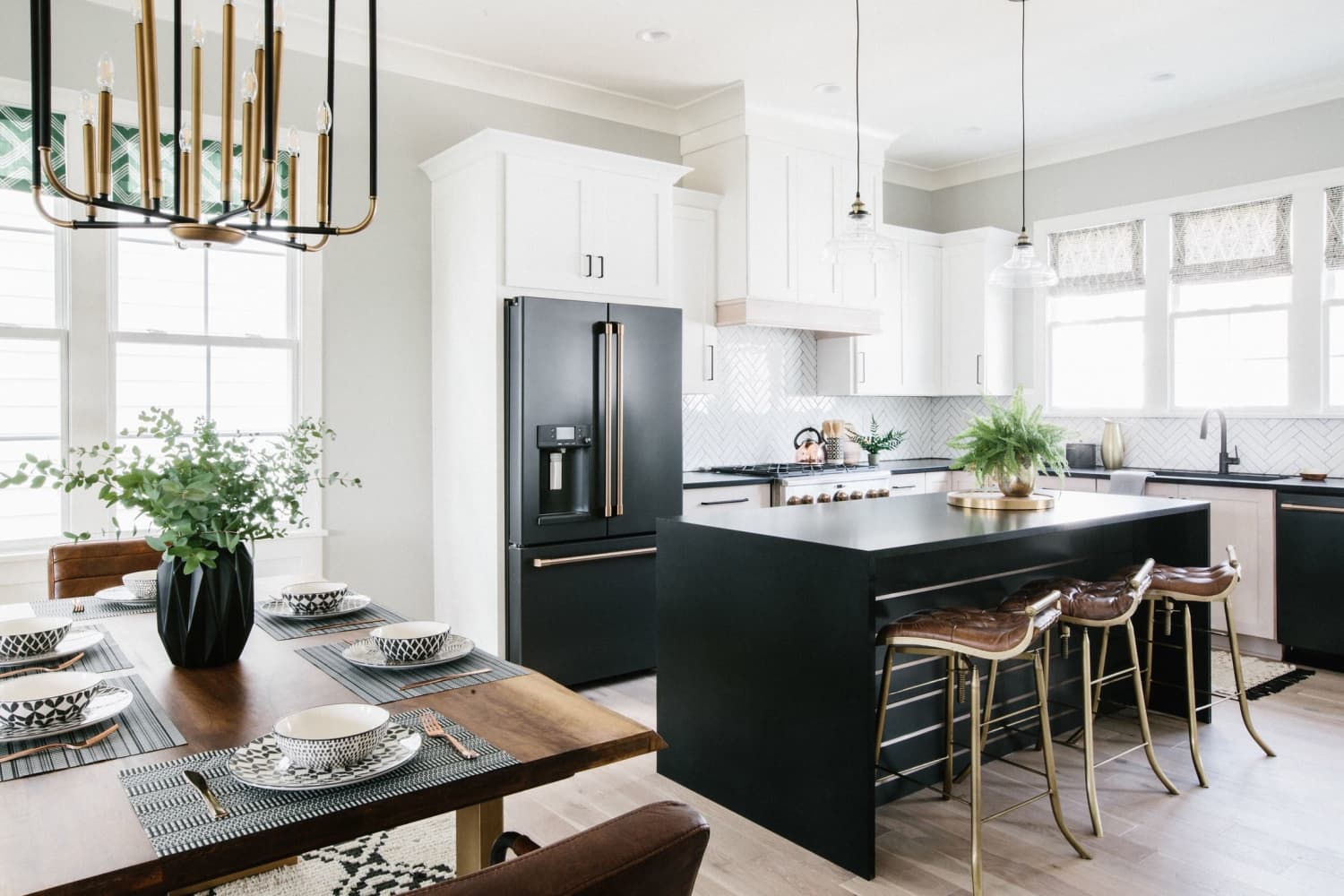 If you're looking for a way to jazz up tile work in a kitchen or bathroom — or even flooring, a wall, or a kitchen island — then you need to know the word "schluter." This design term may sound fancy, but it really just refers to strips or pieces of metal edging that can be inlaid to break up or add definition in between individual tiles, planks, or paneling. Most of the schluter installations I've seen lately have been with brass, but you should be able to find it (or have it fabricated) in any kind of metal you're looking for, and usually, it's placed where you'd have standard grout lines.
Make no mistake about it: Schluter is not exactly a new idea. You've probably seen versions of it in fancier buildings all your life — think the flooring in municipal buildings, lecture halls, and theaters/auditoriums. I just haven't seen people use it quite so prominently as a design feature until recently. Whereas inlays often used to disappear into the floor or wall they were on, the point today is to add extra charm, visual oomph, and a bit of literal shine and movement to any spot you want to highlight.
I first came across this treatment in a kitchen by Louisville-based designer Gretchen Black of Greyhouse Design, who has used brass accents in both kitchen and bathroom projects as early as 2017 (according to her Instagram). Stylist and blogger Emily Henderson also used little gold pieces in her backsplash a few houses ago, and designer Sarah Sherman Samuel incorporated schluter into Mandy Moore's terrazzo floors (and may do so again in Moore's new home project).
In general, the more liberally you use schluter, the more it's going to cost you. That's why for a more budget-conscious solution, I love the idea of installing it the way Black did in the kitchen island at the top of this page. Just a few long pieces can create a fun, modern striping effect. The fewer the cuts (and smaller/thinner the pieces), the more economical, I'd think.
Schluter installation can be a DIY friendly project, depending on your level of skill and the scope of the project. It's certainly something you can have a contractor or subcontractor look into as well. That being said, it's best incorporated when you're starting anew with a backsplash, flooring, or wall covering. You can also use larger pieces of schluter to set off a wall covering, as shown by this home tour here.
I've yet to see the schluter trend really pop with matte black finishes, but I have to wonder if that's where it's going. Maybe somebody out there will create a funky plaid pattern with it? Keep your eyes peeled for schluter from here on out. I don't know about you, but I look forward to seeing more of it.