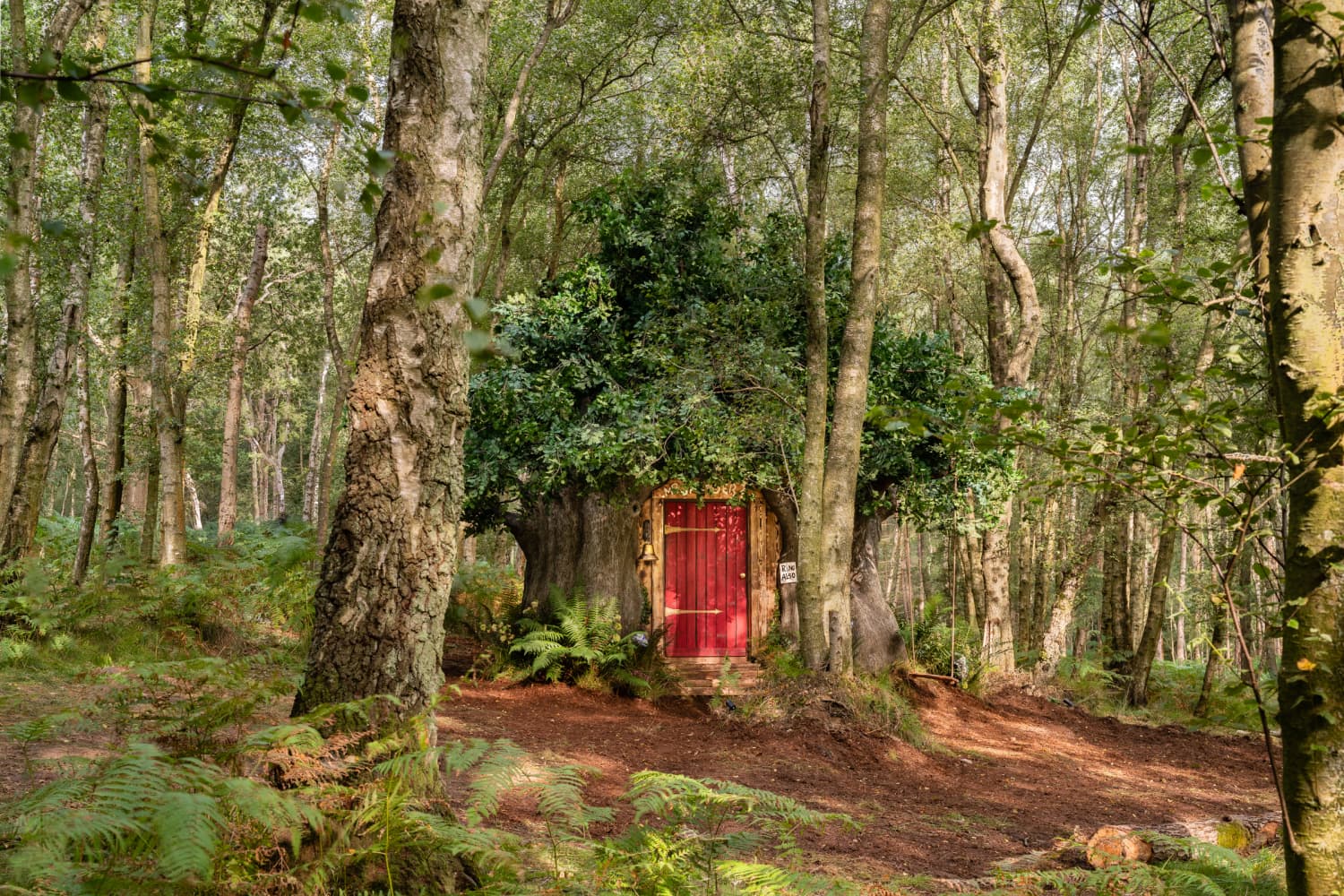 Deep in the real life forest that inspired the Hundred Acre Wood of A.A. Milne's stories, you'll find a treehouse made to look like Winnie the Pooh's home. It's available for rent from Airbnb for just two nights, and even if you aren't one of the lucky UK residents to book it, you can live vicariously through the photos and details below.
The Bearbnb is located in England's Ashdown Forest in East Sussex, and the house was curated by Disney-appointed Winnie the Pooh illustrator Kim Raymond to celebrate the 95th anniversary of Pooh. Raymond, who has been drawing the iconic bear for more than 30 years, designed the adorable acorn-accented wallpaper and stocked the kitchen cupboards with 'hunny' pots.
In bringing Pooh's house to life, Raymond took inspiration from the original decorations of English artist E.H. Shepard. "I have been illustrating Winnie the Pooh for 30 years and I continue to be inspired by the classic decorations of E.H. Shepard and the more recent Disney stories," he said. "The 'Bearbnb' is a unique experience that brings the charm of Pooh to life for fans, whilst honoring the original adventures that have been so important to many people for 95 years."
Winnie the Pooh fans will instantly recognize the house wrapped in trees with the bell to the side of the door and plank of wood that reads 'Mr. Sanders' with the backwards "s" above it. The cozy home sleeps four, with a double bed on the ground floor and lofted single beds on either side. Guests who book a stay will be taken on a guided tour through the forest and enjoy locally sourced 'hunny'-inspired meals. Yoga mats, journals, and throws will be provided to encourage guests to embrace their natural surroundings the way Pooh does.
The dedication to bringing Winnie the Pooh's home to life is seen in the physical details as well as the Airbnb listing itself. Under "House Rules," the listing reads "Strictly no heffalumps inside the house," "Hands are to be kept out of the honey pots," and "Poohsticks is mandatory." In case you need a refresher, Poohsticks is a game where players drop a stick from the upstream side of a bridge into the water, and whoever's stick first appears on the downstream side wins.
If you're a UK resident, you can book the Airbnb for a stay on Sept. 24 or 25 for £95 per night. Booking goes live on the listing page at 2 p.m. BST on Monday, Sept. 20. All booking fees will be donated to Together for Short Lives.