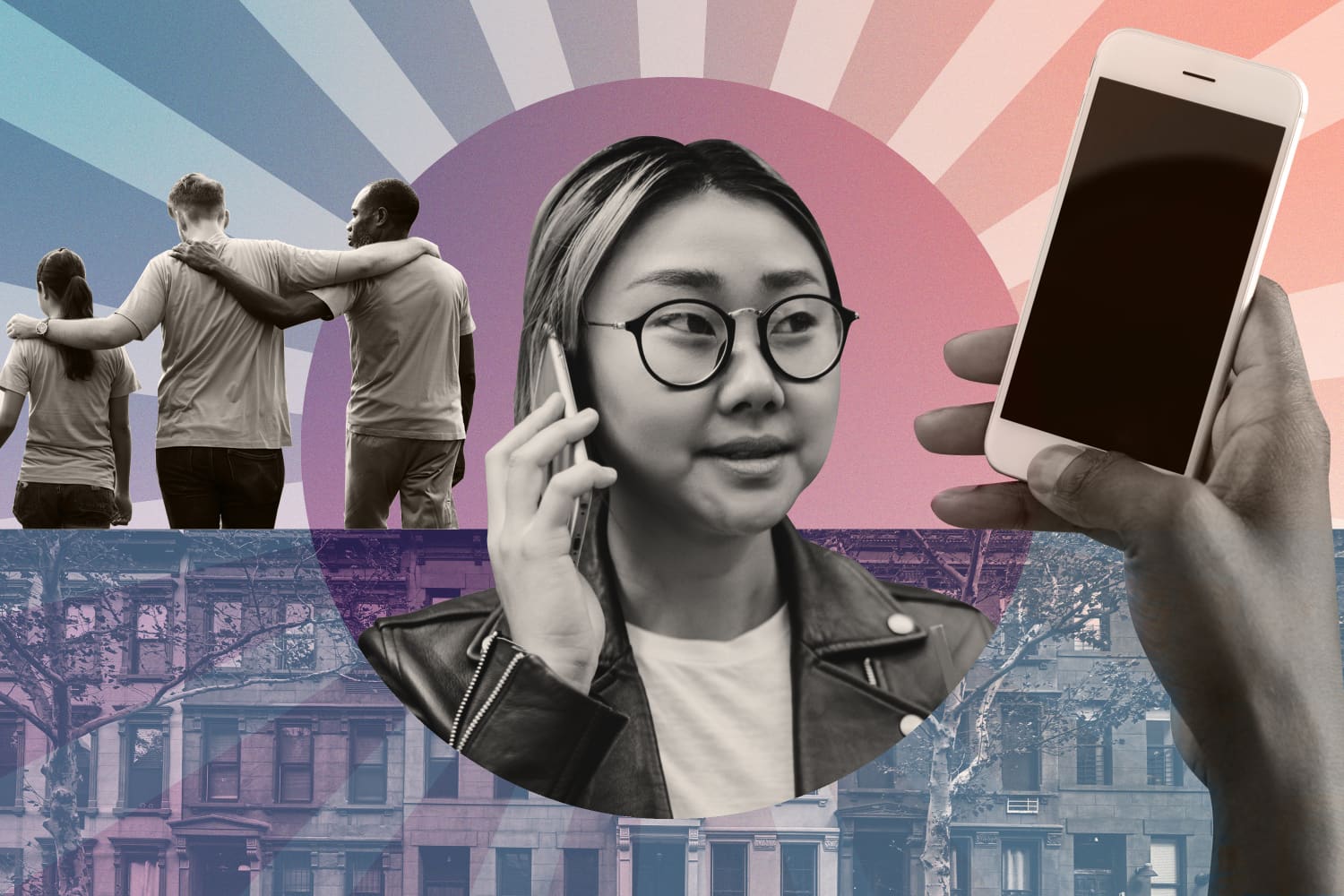 Growing up, you may have learned to call the police using 911 for any and every emergency, and for good reason: It's easy to memorize, and it can be a convenient way to seek help in times of crisis and need. But as activists and allies nationwide are regularly pointing out, there are plenty of high-quality crisis support alternatives for situations that don't require police presence.
People's collective awareness for alternative crisis response programs is only growing, especially after last year's long overdue reckoning with anti-Black police brutality. In June 2020, following the murder of George Floyd by a white police officer, Mallory Sepler-King saw crisis resources circulating on social media that circumnavigate the need for police, given that police often lack the proper training to respond to mental health crises and other emergency situations. (The risks of police involvement compound for Black, Indigenous, and other people of color, who already face higher rates of violence and death at the hands of police than their white counterparts.)
A lawyer specializing in employment and civil rights law, she tried to find a larger resource that might serve as a database for anyone who wanted it. "I thought it would be very good if those [resources] were all centralized in one place so that they were easier to find," she told Apartment Therapy. With the help of friends and volunteers, she began assembling Don't Call The Police, a website that serves as a database for police alternative resources in cities across the United States and Canada and presently lists resources for nearly 100 cities.
The model for many of these programs is CAHOOTS, or Crisis Assistance Helping People Out On The Streets in Eugene, Oregon. The program has provided 24/7 mobile crisis support for those who call 911 for a substance or mental health-related incident since 1970. Though funded in part through the Eugene Police Department, CAHOOTS arrives on the scene with a trained medic and outreach worker instead of police officers to de-escalate the situation peacefully and provide resources. Earlier this year, Senator Ron Wyden (D-OR) included federal money for CAHOOTS-type programming in the COVID-19 relief package, which could signal the start of efforts towards a nationwide police alternative program.
New York City is currently test-driving a similar program called B-HEARD (the Behavioral Health Emergency Assistance Response Division) to respond to emergency mental health calls in portions of Harlem, which has among the highest volume of 911 calls in the city. As of last month, the program has responded to about 110 calls, and has only had to call for NYPD backup on seven occasions. These and other trauma-informed crisis response programs are helping to imagine a world in which the police are not the one and only source for emergency help, and where trained experts provide humane care to those in crisis.
Both of these programs use the 911 service, but other groups are individually run. It can be challenging to know who to contact when you see someone in need in your community, but don't want to potentially escalate the situation with police presence. Sepler-King has spent hours researching, compiling, and vetting the organizations listed on Don't Call The Police, and the site is a great place to start looking. But if no such resources exist for your city, here's how to compile a call list of your own that you can distribute in your community.
Essential Resources to Include
It's impossible to produce a standardized nationwide or even statewide list of resources, which will necessarily vary from place to place — but there are certain types of resources that everyone should include.
When making your own call sheet, prioritize or make note of which services offer assistance in a crisis, and which are better suited to assist with non-emergent needs. For example, a free pop-up or mobile healthcare clinic probably isn't set up to respond to an emergency medical situation, but could potentially address an ongoing medical condition or provide a checkup. Sepler-King recommends thoroughly vetting each and every resource you include by calling them personally to verify what services they provide, making sure you have the correct contact information, and in what situations they may be obligated to involve law enforcement.
This is by no means a comprehensive list, and depending on what resources your city, county, or state has to offer, some may overlap. There should be at least one organization on your call sheet that supports each of the following sectors (in no particular order):
Get Specific for Your Area
Of course, your area will have unique issues that can't be addressed on a generalized list. This is where local knowledge comes in handy: Start with your personal experiences, and connect with your local representatives in government, activists, political groups, and community members to find out what needs should be represented on your call list.
Keep in mind the specific cultural needs of your city, and what languages may need to be represented on your list. For example, Portland, Oregon, the closest major city to me, has a large community of Russian immigrants. When compiling a list of police alternatives for that city, I would be sure to include organizations that operate in Russian or that can assist with issues regarding immigration from Russia.
National Resources to Keep on Hand
It's likely that not every city, county, or state will have resources that address every single issue on this list. Here are some national hotlines that can't offer local crisis support on the ground, but which offer support and may be able to connect you with local resources. Again, this list is non-comprehensive, but a good place to start filling in the blanks.
It's important to ensure the safety of yourself and the person you're trying to help, particularly for sensitive and complex situations such as domestic violence. If the option is safe and available to you, check in with the person you're assisting before you make the call to confirm whether they need or want assistance.
As Sepler-King notes, some organizations may be obligated to involve law enforcement in certain situations, like where minors are involved or if there is imminent risk of violence. "It's an almost universal fact that these organizations will call law enforcement in if they believe there's an immediate risk of violence or harm to the caller or somebody else, and so we do indicate that on every one of our pages," she said. Make sure to note this on your list as a reminder to yourself and those who have access to it.
Once your list is complete, it can be beneficial to make it available to your community. You can start by connecting with community fridges and grassroots organizations, and offering to share your list for them to both fact-check and use as they see fit.
Don't Call The Police is also always expanding their database and Sepler-King welcomes volunteers and submissions, even if they're for a city not yet represented on the site. "We're happy to add anyone regardless of the size. If we have one good resource in an area we will put it up," she said. "Ultimately the intention is to have this serve everyone."