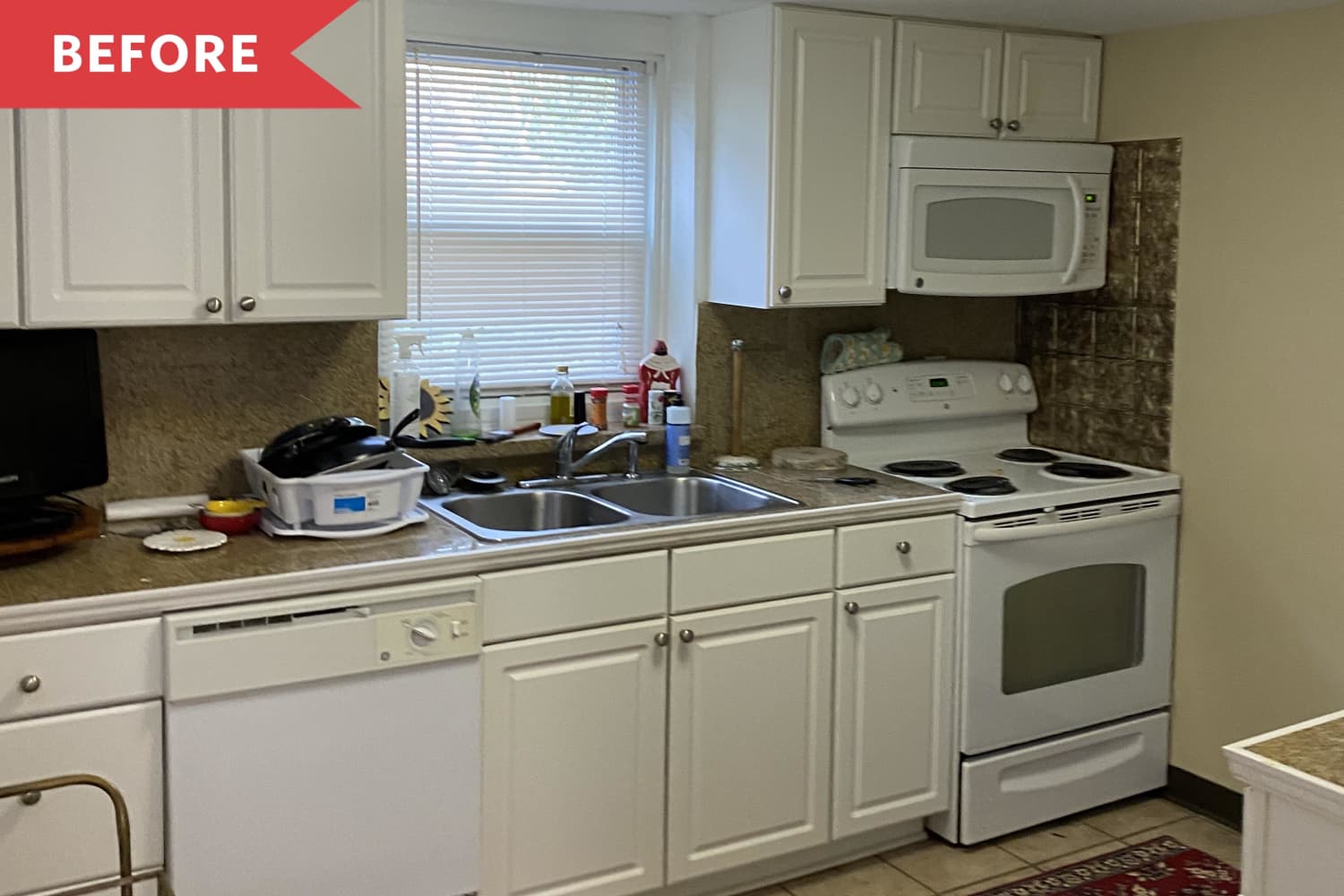 Kitchens are often a bit too tight — especially if they're in a basement apartment. But if you get creative, there are plenty of ways to maximize the space and spruce up a too-small kitchen.
Take Kevin O'Gara's (Thou Swell) transformed basement apartment kitchen. Cool colors and clever design choices make it feel bigger, brighter, and bolder. Don't worry; he says it "loosely" falls within rental-friendly guidelines.
Between the low ceilings and brown tile on the counters and floor, Kevin wanted to steer clear of beige and get rid of the warm-temperature light. So he nixed the warm tones and opted for cool.
The tile everywhere wasn't a setback for Kevin. Instead, he simply painted the floors. Yep, the floors.
The now-white tile floors (Behr's Dolphin Fin) help brighten and open up the space, along with the now-white walls (Clare's Whipped). "Painting the floor was a huge game-changer in here and really makes it feel so much brighter and cleaner," Kevin says.
Next it was time to give the cabinets a face-lift. The lower cabinets took multiple coats of blue (Behr's Nocturne Blue). Meanwhile, the upper cabinets were taped off and bordered with the same blue, which added "a fun sort of tailored custom look to the design, and really takes advantage of the existing cabinets," Kevin says.
Mix in a swanky new (gifted) fridge and a bold light fixture, and the kitchen was almost complete. Bringing home the bright and bold look were the brass and gold accents throughout the space, from the bar cart to the cabinet knobs. "The hardware was also a fun find, which I think adds a very cool modern look with the slightly oversized flat pulls," Kevin says.
The two-week transformation has Kevin feeling proud of his high-contrast final product. He says the entire project cost about $1,000 (not including the refrigerator, which was gifted).
"I love how a few pieces of art and some greenery can really bring a kitchen to life, and the styling was a really fun part of the project for me," Kevin says.