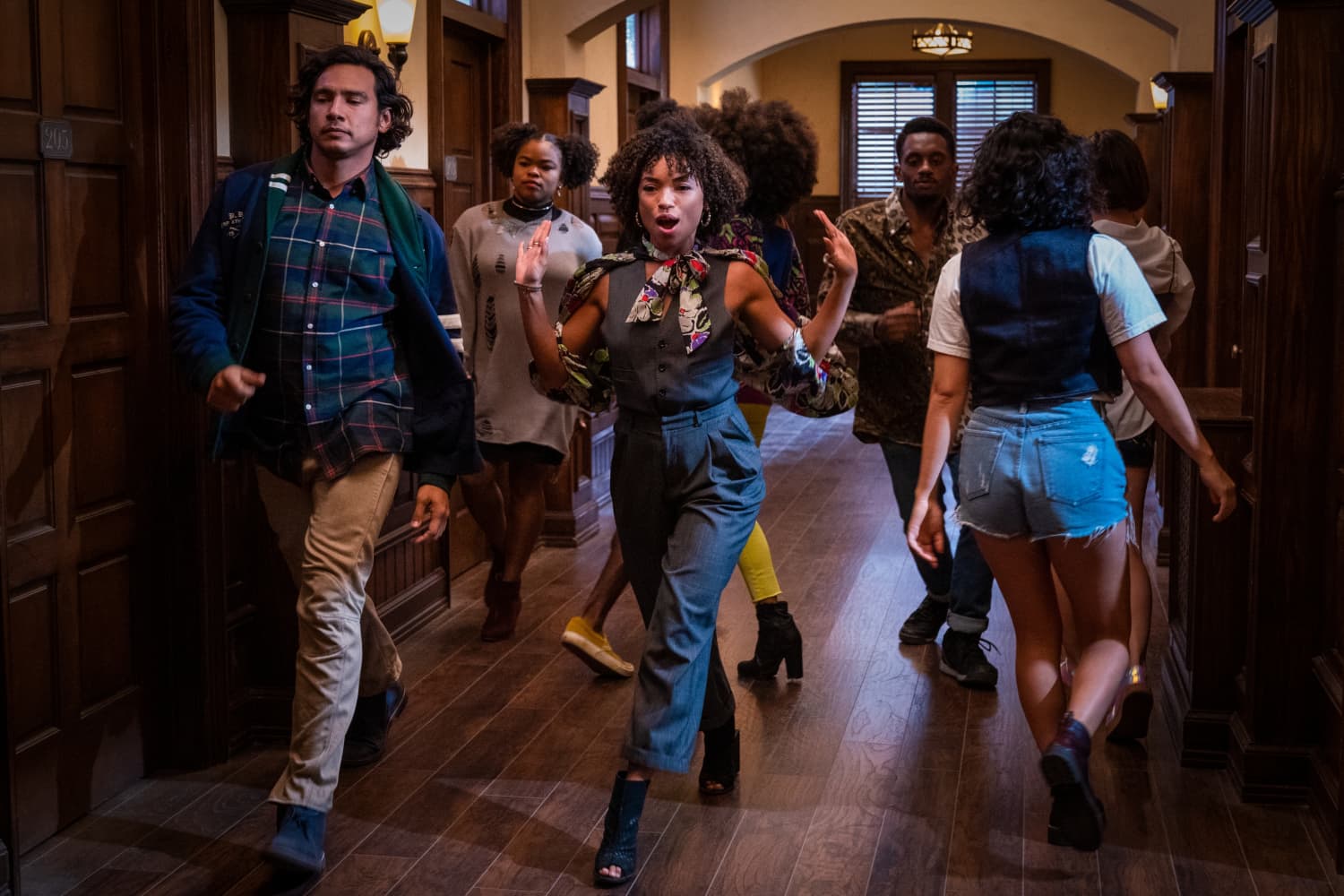 We independently select these products—if you buy from one of our links, we may earn a commission.
So many rituals were disrupted due to the pandemic — including watching new seasons of TV shows. Sure, you soaked up every second of "Tiger King" (in utter dismay) and "Bridgerton," but TV production halted for so many shows.
The good news is that, when it comes to TV, 2021 is starting to look a bit more typical. That means it's time to play catch up before new seasons are released — specifically, the dramas that are about to unfold (because who doesn't like some juicy drama?!). Here, some programming that is totally worth binge-watching now so you're primed for the upcoming premieres.
If you love a good moody mystery, grab a bowl of popcorn and catch up on the first season of "Big Sky" before season two drops at the end of September. From producer David E. Kelley of "Big Little Lies," this drama follows two private detectives as they search for a pair of sisters who were kidnapped by a truck driver in Montana. The detectives quickly realize that these two aren't the only girls who've gone missing, and the hunt heightens as they try to find the killer responsible before anyone else gets hurt.
Returning to ABC and Hulu on Sept. 30, watch existing seasons on Hulu.
It's been over two years since season three of "Dear White People" hit Netflix, and there was some uncertainty surrounding the show's return. However, after it gained momentum following the Black Lives Matter protests in Summer 2020, Netflix gave the green light for a fourth and final season.
"Dear White People" is a satirical drama that follows a group of Black students at a predominantly white Ivy League college. It's cheeky, full of juicy storylines, and offers thought-provoking social commentary regarding cultural bias, social injustice, and misguided activism.
Returning to Netflix on Sept. 22, watch existing seasons on Netflix.
"The Great" dropped on Hulu in May 2020 and will have left viewers on a cliff hanger for a solid 18 months by the time the second season debuts in November. The comedy-drama tells the 18th century story of Catherine the Great's rise to royal power. Elle Fanning plays Catherine, and the show is rich with spectacular period outfits and sensational storylines.
Returning to Hulu on Nov. 19, watch the first season on Hulu.
"Insecure" is officially back for its fifth season with the core cast in tow, including Issa Rae, Yvonne Orji, Natasha Rothwell, and Amanda Seales. The drama features a group of self-proclaimed awkward/insecure friends who are just trying to figure out the world while it continues throwing curveballs. The fifth season will pick up at the cliffhanger between Rae and Lawrence, an already shaky couple attempting to find solid footing.
Returning to HBO Max on October 24, watch existing seasons on HBO Max.
The teen vampire genre thrives on with "Legacies." The bone-chilling drama first debuted in 2018 and is officially back for a fourth season. The story is centered around Hope Mikaelson, a 17-year-old girl who was born into one of the most powerful families of vampires, werewolves, and witches. The show is technically a spinoff of "The Originals" and follows Hope as she navigates everyday life as both a teenager and supernatural being.
Returning to the CW on Oct. 14, watch existing seasons on Netflix.
Dexter is your everyday, lovable next door neighbor — except for the fact that he's a sociopathic killer who's just trying to follow his own murderous code of ethics. The TV show's finale was back in 2013, but it is officially rebooting nearly a decade later. The new chapter on an old story is set to premiere in November on Showtime and will again feature Michael C. Hall as Dexter, with Clyde Phillips as producer. Also returning: John Lithgow (Dexter's fellow murder frenemy) and Jennifer Carpenter (Dexter's sister Deb).
Returning to Showtime on Nov. 7, watch existing seasons of "Dexter" on Hulu