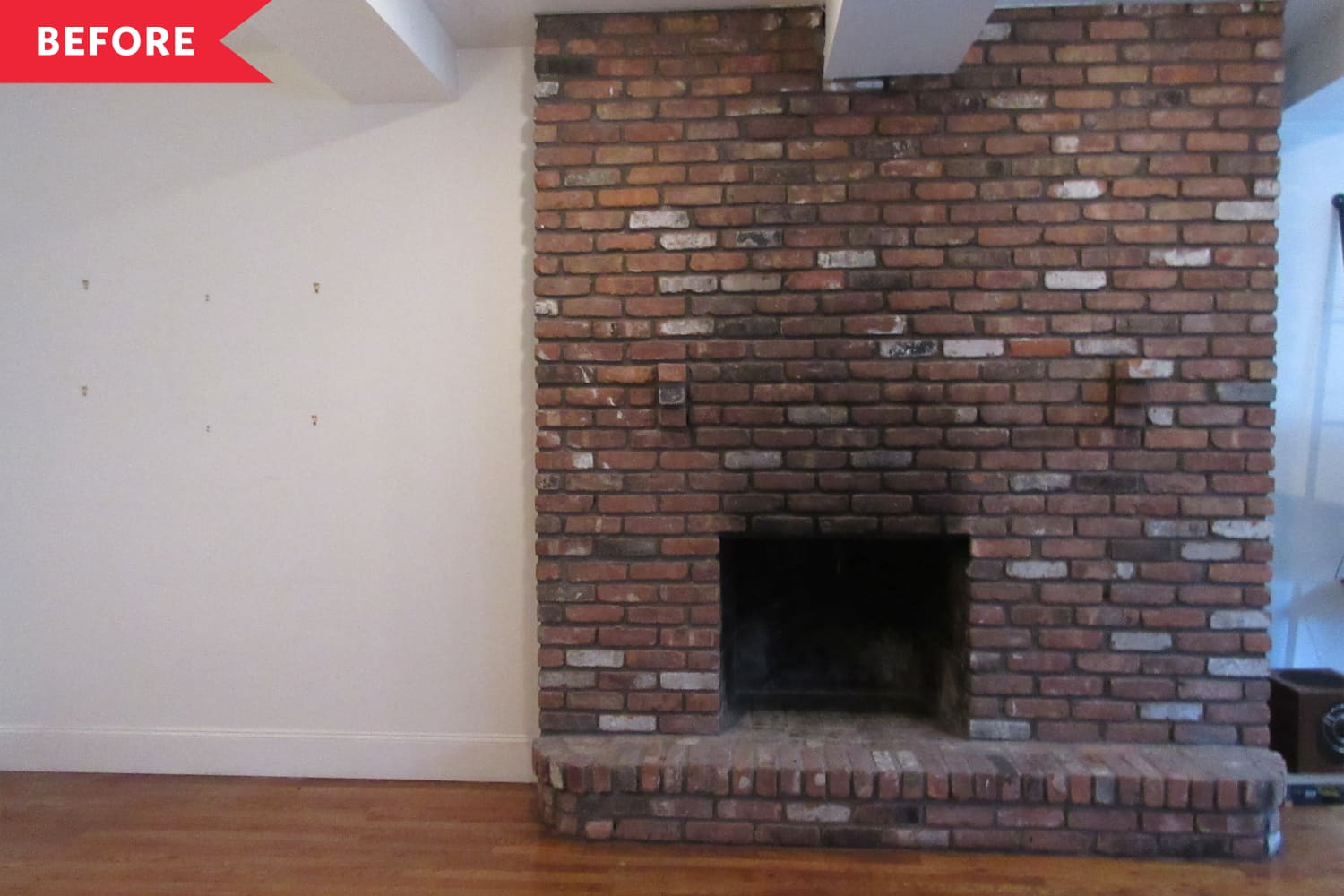 We independently select these products—if you buy from one of our links, we may earn a commission.
It wasn't easy turning a tired '70s fireplace surround into a contemporary centerpiece. Just ask my husband — and he just watched.
The whole thing started innocently when an old friend was sitting around our Midtown Manhattan apartment, taking in the decor not for the first time. "Let's update your '70s fireplace surround," he said casually, as if suggesting we rearrange the books on the coffee table. "It will give the whole room a lift."
He added, "All we'll need is some joint compound."
Did I mention that my friend, Craig Kellogg, is an interior designer who can't sit still if a single accent pillow is out of place? And also a demonically frugal DIYer? I have many Craig stories, but here's one. To give his own century-old East Village fireplace a little late-Georgian style, he pried a 300-pound granite countertop out of his kitchen, flipped it to the wrong side ("which looks like bluestone," he said), and had it cut into a hearth and firebox surround. For the mantel, he ripped down some 1-by-12 Douglas fir shelving he found abandoned on the street, and for a focal point, he faked a row of Delft tile using foam core, Mod Podge glue, and Photoshop (for the patterning). "The materials cost only $75," he said brightly, and let's not put a price on the 5,000 hours of manual labor.
I'd tell you about the time Craig retrofitted a sample sale sofa — not just reupholstering it in a better fabric but also extending the seat on the armless side so it would cantilever over the legs — but it would take too long.
My husband, Irwin, is also a DIYer, although of a different order. He startled at the words joint compound. "Smear it over brick, which could get hot — and make it crack?" he said.
Lesson One: Get everyone on board early on, especially if you are married to one of them. The next thing we knew, a large bucket of joint compound was sitting in front of the fireplace, and the living room was slowly being taken apart.
As if to heighten the chaos, we had hired a chimney expert to inspect the fireplace infrastructure, revealing leaks, missing mortar, and out-of-code rooftop brickwork. Craig, sensing opportunity, suggested that "while we are at it," we demolish the bulky brick apron fronting the fireplace and substitute a "modernizing" floating soapstone slab.
And as long as we were at it, why not pull down the tacky trim around our window wells (revealing flaws in the drywall) and skim and repaint the whole room? Which, by the way, really looked so much better without that fireplace apron — except for the yawning gap in the floor where the apron used to sit.
Lesson Two: Calculate collateral expenses early on. Before we could attend to the missing floorboards — that was pricey! — there was that expanse of brickwork, running in all its bad red and raked-mortar glory clear to the ceiling.
As Craig hauled out a couple ladders, nodding at me to climb one, Irwin fled (something about needing new socks). Armed with a broad plaster knife, my new mentor demonstrated proper technique: Slap a generous glob of joint compound on the brick and draw the knife straight down through it, softening the mortar joints. It was a little like coating concave carrot cake layers with a half-inch of cream-cheese frosting. Then repeat, taking care to continue coating the brick without losing the edges. Smooth the barely dry second coat of compound with a giant, damp sponge.
The process wasn't difficult — just time consuming… like painting a fence. On Day two Irwin finally gave in and begged to help.
He lost interest though when Craig fanned out a paint deck and started talking about finishes, suggesting walls of Chantilly Lace and a custom shade he dubbed, unironically, Wet Joint Compound. "These colors all look like white to me!" Irwin said, bolting for the door.
Which is how my partner since the beginning of time happened to be somewhere else when the paint dried, and Craig and I decided to put the room back together on our own. I say "our," but what do I know about space planning, proportions, and rug orientation?
Craig got busy, swapping around floor and table lamps and — let's face it — relocating every potted plant and piece of furniture. My grandparents' gold pier mirror sought exile in the home office; a colorful print involving a cat, formerly relegated to the kitchen, vaulted to a new spot over the sofa. Clearly, Craig had been wanting to do all this for years.
He next turned his attention to Irwin's electronics, a sprawling, easily disturbed snake pit of wires, components, and web connections smack in the middle of the window wall. Craig, who favors an entertainment system based entirely on his iPhone, wasn't sure what it all meant, but he did know the look he was after. He disconnected the entire complex and moved it against a less prominent wall.
Lesson Three: It's never too late to get everyone on board.
When Irwin got home, he nearly fainted. Never mind the feeble signal he was getting from the router — stashed behind a tasteful ficus, he noted bitterly — "I can't even figure out where to sit down!"
It took time and some serious calming, but in the end, the wiring and everything else got sorted out. The flatscreen is now working, as is Irwin's vintage tape deck. More importantly, our friends roundly agree that the space is so much finer than it was before, from the subtle cast of the pale gray paint on one wall to the glossy white brick on another.
Even Irwin agrees. "I overreacted," he conceded to Craig some months after his turntable (and sense of humor) temporarily went missing. "I never thought I'd say it, but the room looks really nice."