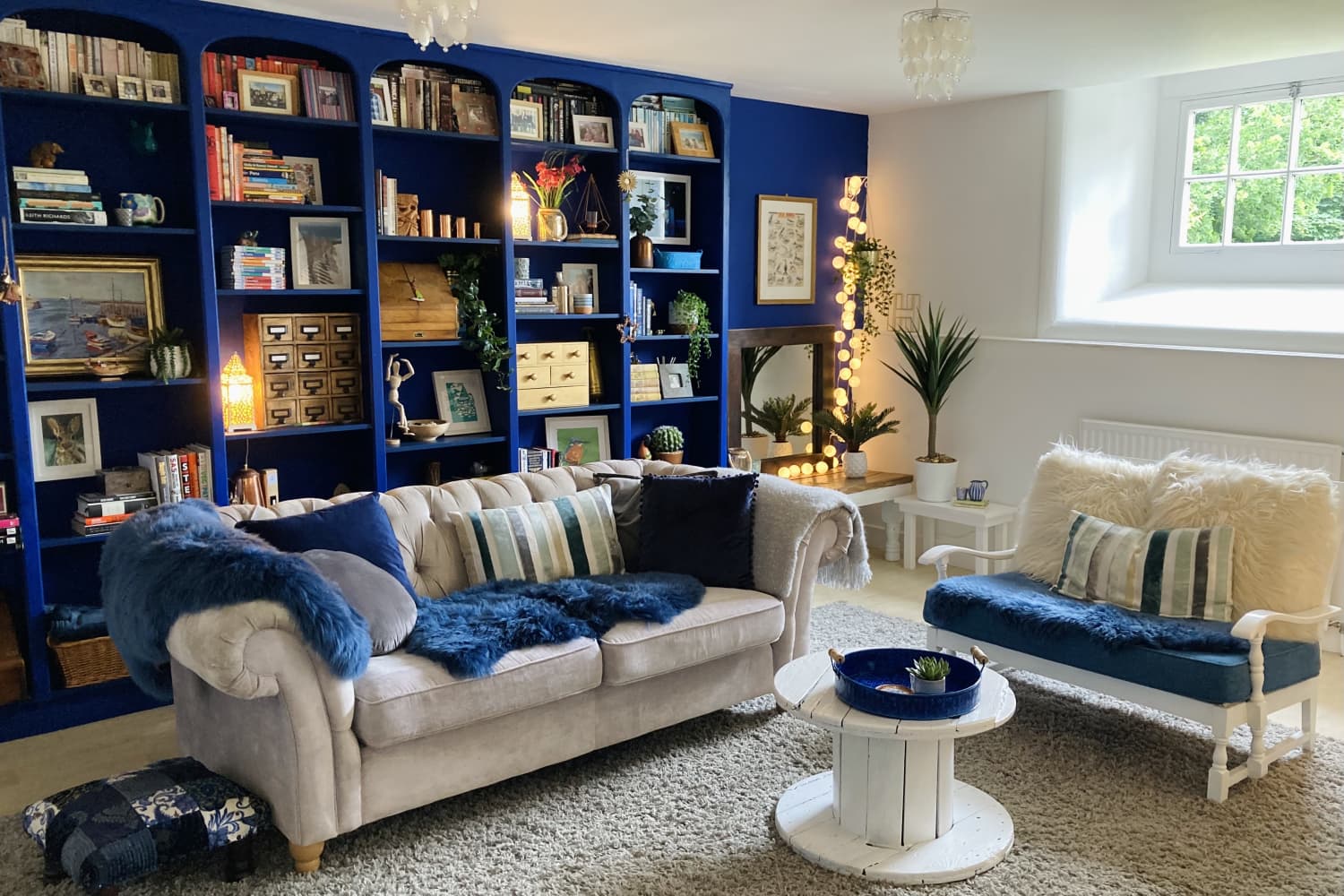 Name: Rachel Hill, husband, Rob, and dog, Tia
Location: Black Isle, Highlands of Scotland, United Kingdom
Type of home: Converted church
Size: 820 square feet
Years lived in: 9 years, owned
Tell us a little (or a lot) about your home and the people who live there: Tower House is half of a converted church in a beautiful fishing village in the Highlands of Scotland. It is around 150 years old and was converted into a home in the late 1980s. Our home consists of an entrance hall in the ground floor of the church tower; a three-story full height atrium, which is used as a living room; a library; kitchen/dining room; upstairs living room, where the main original church windows overlook the sea; a small snug in the first floor of the tower and four en suite bedrooms. We also have a large garden with a pergola overlooking the sea.
We wanted to retain the beautiful original architectural features of the building but also use it as a backdrop for our own style and the items that we have made and collected over the years. I love plants and the large windows and light help them to thrive! We have done all of the decoration ourselves and like mixing colors and styles in the different areas of the house. We love upcycling old furniture and junk shop finds and mixing old and new. We are keen on art, both producing and also collecting pieces including vintage posters from travels. We definitely didn't want the interior to look "churchy" but eclectic and influenced by our interests and the places we love to visit.
Describe your home's style in 5 words or less: Eclectic, Travel-inspired, Plantalicious, Colorful, Vintage
What is your favorite room and why? Hard to choose! My favorite feature is the three-story spiral staircase. My favorite room is the upstairs living room with the cozy log burner and views to the sea.
What's the last thing you bought (or found!) for your home? We were lucky enough to be given the wonderful marble and mirrored chiffonier, which had been in my husband's family for over a hundred years and traveled from France to Scotland decades ago. This is now a very treasured piece in our home.
Any advice for creating a home you love? Use a mixture of styles, influences, and color palettes and vintage and modern pieces to add interest. Put unusual items together (for example wrapping fairy lights around an old oar!!) and a very liberal sprinkling of plants everywhere to bring life and color. (In dark corners I use faux plants, which can be so realistic they get watered!)
This submission's responses and photos were edited for length/size and clarity.