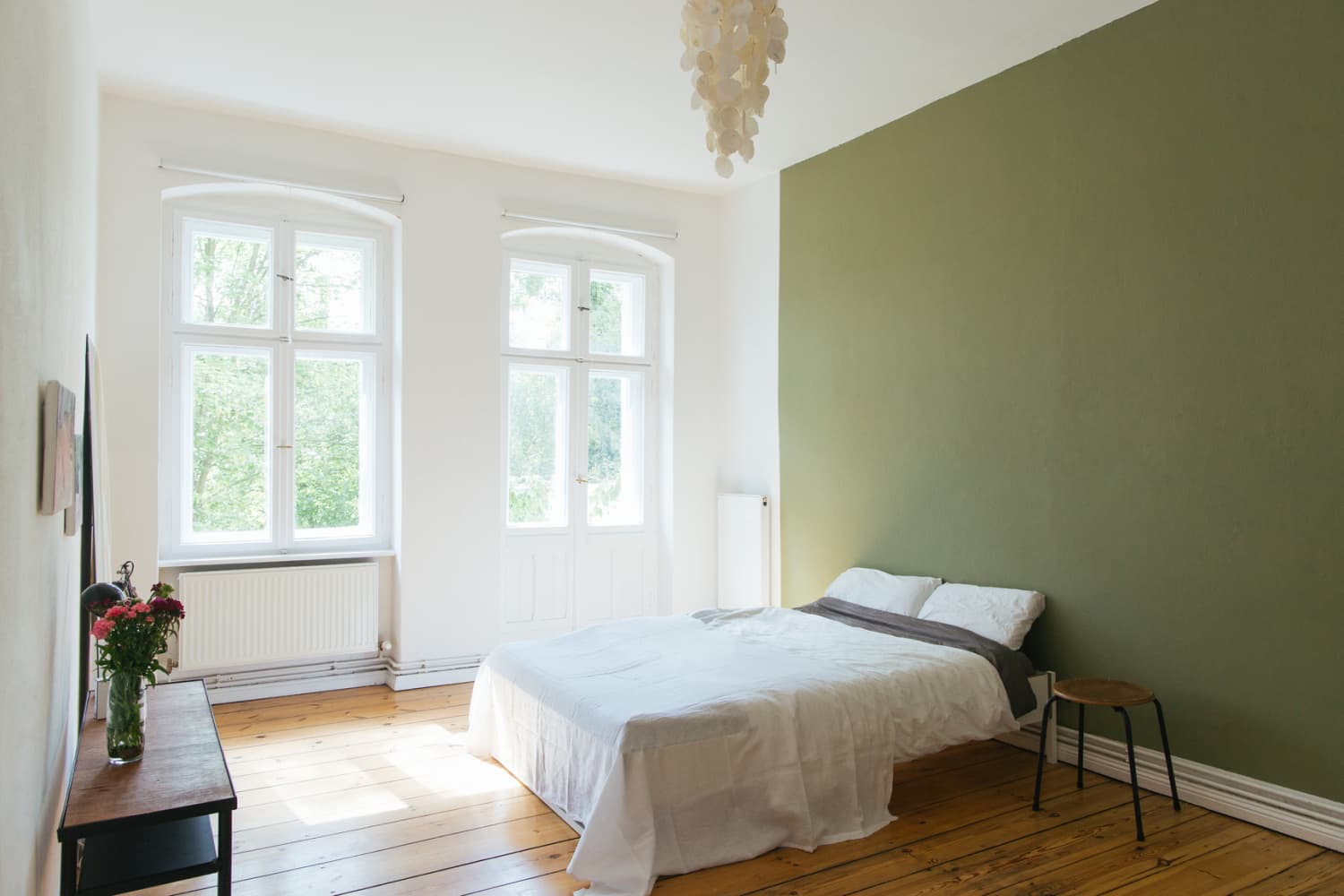 It's no secret home design trends come and go, and looks that were once all the rage often wane in popularity after just a few years' time. One formerly ubiquitous home element? The accent wall, aka a single wall that's painted, wallpapered, or covered in something different than the rest of a room's walls. Typically, the accent wall contrasts sharply with its surrounding walls, drawing the eye and becoming a focal point in the room.
If you leaned in on the accent wall trend and are now ready for a change, you're in luck. I spoke with several designers who shared tips on how you can tweak things a bit to create a wall treatment that riffs on being an accent but, on the whole, skews a bit more sophisticated and contemporary. Here's everything you need to know about designing accent walls right now.
If you feel antsy for a new look every time you glance over at your single blue statement wall, there's a good reason for it: Accent walls peaked back in the early 2000s, meaning this decorative concept is now well over twenty years old.
Another reason you might be feeling eager to grab a can of white paint and make all of your walls match? Designer Anaïs Chaumien thinks accent walls can visually close in rooms, especially ones on the smaller side. "I'd rather paint the whole space — walls and ceilings — in the same white shade to blur the lines between them and therefore make the area appear bigger," she says. Designer Leah Alexander agrees, adding that accent walls also create a disjointed feel. She believes color should be enveloping and thinks the best way to get that effect is through coating your baseboards, walls — and even ceiling, if you can swing it — all in the same hue.
Still craving a wow factor for your walls? "There are tons of ways to input 'aliveness' on non-accent walls, from art to fabric, paneling to wall sconces, specialty paint finishes to hand-drawn murals," explains designer Maureen Stevens. In fact, you don't even need to address the walls specifically to infuse personality into a space. "You can achieve the same dramatic, distinctive quality by peppering your space throughout with color and pattern — in the joinery, cushions, and curtains," designer Sarah Peake explains.
This is not to say that you should banish accent walls from your home right now and in the future, though. And if you're in the process of planning to create one, you'll just want to be extra thoughtful in your approach. Designer Julia Newman says some spaces are simply more suitable for accent walls than others, particularly if there's an architectural feature on one wall that's not on the others and is thus worth highlighting (or, conversely, a wall that doesn't have a feature the others do).
"For example, small powder rooms that have the sink and mirror on one wall, the toilet on another, and then the door, it might make sense to just have the free wall wallpapered," she explains. You can see that principle at work just above, too. One wall of this open concept space is basically all windows, so it makes sense to paint the wall opposite it a pretty teal shade, even if that color's not carried throughout the rest of the room's walls.
Accent walls can also shine in living or family rooms. "Built-ins with open shelving that take up an entire wall can have attention drawn to them with the wall behind [them] highlighted with paint or a wall covering," Newman says. You can also try an accent wall out on a fireplace wall or bump-out, too.
Paint isn't the end-all, be-all for accent walls, either. In fact, accent walls typically look more modern with wallpaper or another type of decorative wall treatment applied to them, which can then be painted, of course. Wood accent walls can look beautiful, according to designer Nicole Martel of Three Sparrows Interior Design. "These are especially cool when they create sharp angles and form a bit of a pattern," she says. "When painted in a dark, moody paint color, these are great for bedrooms, nurseries, and game rooms."
Board-and-batten walls are also charming; Martel loves them behind the bed in a primary bedroom. Designer Miriam Silver Verga of Mimi & Hill shares a similar view. Traditional materials can actually make an accent wall feel less dated and more timeless. "Adding natural texture on the walls through stone or architectural features is a beautiful addition to the room," she says.