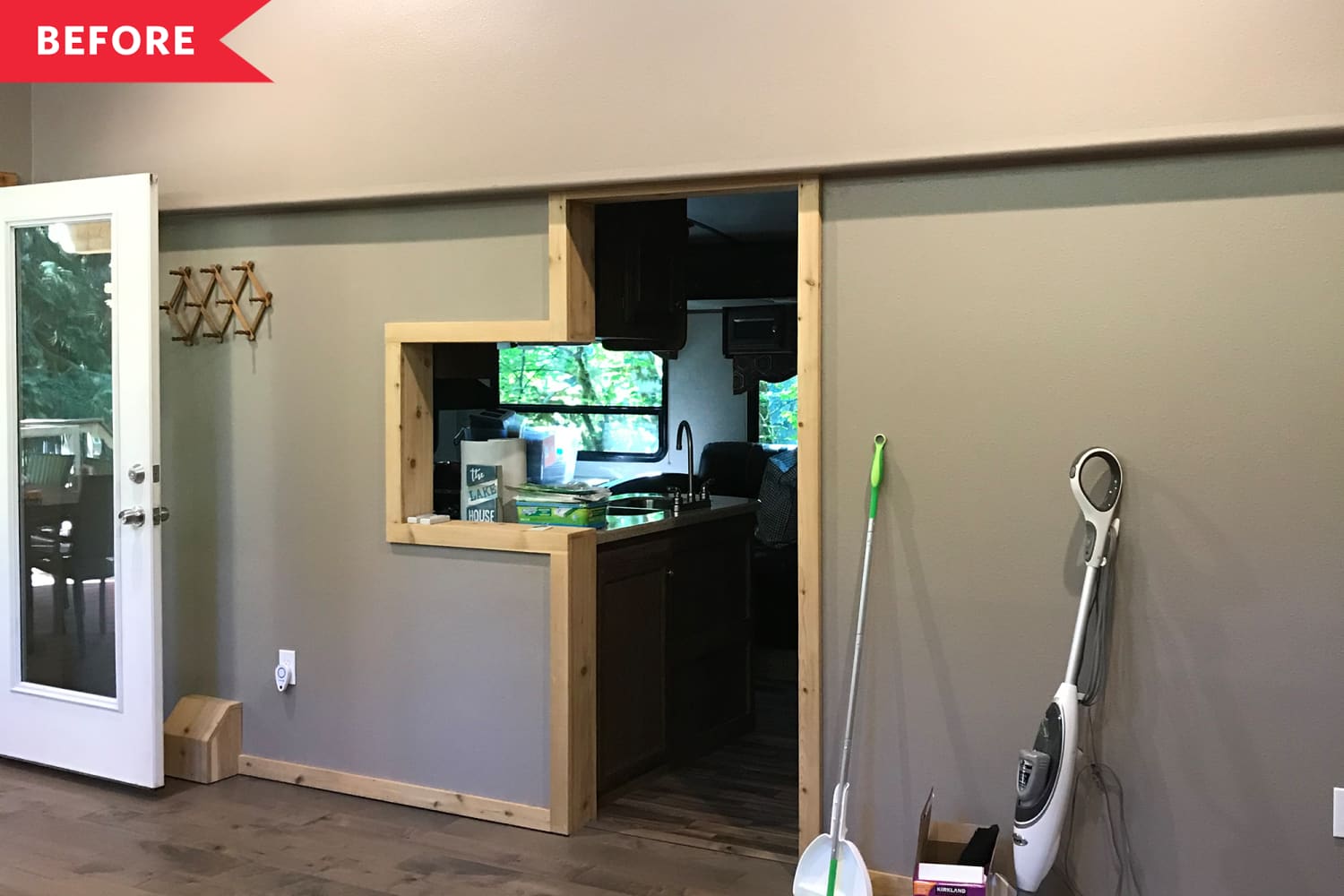 We independently select these products—if you buy from one of our links, we may earn a commission.
September is Transformation Month at Apartment Therapy! That means we're sharing stories about home transformations — from big renovations to tiny tweaks — all month. Head over here to see them all!
Name: Lisa Macaya, husband Alex Harmon, and kids Rafael (5), Soledad (3)
Location: Washington State
Type of home: Cabin
Size: 530 square feet
Years lived in: 1 year, owned
I am a Registered Nurse by profession and during the summer of 2020, the height of the pandemic, I needed a place to escape. My husband and I purchased a unique property — a cabin in a private community — in Washington State, an hour outside of Portland, Oregon. I worked three days a week for a major hospital system and spent three days a week at the cabin renovating with my father, and the time we spent together is something I will cherish for the rest of my life. I have always had an affinity for architecture, design, and interiors. I knew this small space could be easily(ish) tackled by ourselves.
The community the cabin is located in is like a unique "campground"; the majority of sites are RVs that have been cut open on one side and a building structure added to create a cabin, allowing you to use the kitchen, bathroom, and bedrooms of the RV and have a "sticks and bricks" living space. The community has trails, playgrounds, a pool, tennis and pickleball courts, boat launch, putt putt golf — it really is a fantastic family getaway.
Apartment Therapy Survey:
Describe your home's style in 5 words or less: Vintage, retro, cozy, natural.
Proudest DIY: I really wanted the space to feel like one cohesive unit and not an RV with an add-on. When we purchased this, it was obvious where the RV started and where the living room ended. I thought the best way to make the space flow would be to build out the kitchen cabinets just a smidge and install new marble counters to make the kitchen flow nicely into the living room. I am beyond proud of my dad's DIY inset cabinets. I had a vision and he made it happen. Having never built cabinets before, he did a phenomenal job. Our countertop installers even commented on the precision of his work.
What is your favorite room and why? The living room. I love the cedar clad vaulted ceilings, the transom windows, and the view just outside the glass doors. I love all of the treasures that we have collected. Our entry mat is a vintage rug given to us, from my grandfather, on our wedding day. He was a diplomat and spent the majority of his career in the Middle East. The leather Hancock and Moore Chesterfield sofa is so cozy. It's perfect for relaxing after a day on the lake.
One of my favorite hobbies is scouring Marketplace, Craigslist, and antique shops for unique finds and epic deals. I have definitely scored a few pieces by explaining to the seller where it is going to go — for example, the vintage black chair in the living room. I had that chair in my mind's eye from the beginning of my design phase. I just couldn't find it anywhere. It needed to be vintage, I didn't want something new. When the chair showed up on Marketplace I jumped on it. The owner listed it for $250 and I happily obliged. I sent her a message about the cabin and how I had been searching for a year for this chair. She shot back a message that she had been offered double for the chair, but she really wanted the chair to go to a special home, and that it did. I sent her pictures of the living room and she said receiving the pictures made her day.
Biggest Indulgence: All of the natural brass knobs and marble counters. I mean, who puts marble in an RV?!
What's the last thing you bought (or found!) for your home? I found the most amazing vintage life jackets from a local antique store. The fabric colors and patterns are outstanding.
Any advice for creating a home you love? Figure out what is important to you and what elements are most representative of you and the home. Things take time, be patient. If you enjoy thrifting and finding treasures, fill your home with those. If you enjoy clean lines and a minimalist approach and that's what brings you joy, go that route. Also know a home, like yourself, can be ever evolving. Just roll with it.
This house tour's responses were edited for length and clarity.