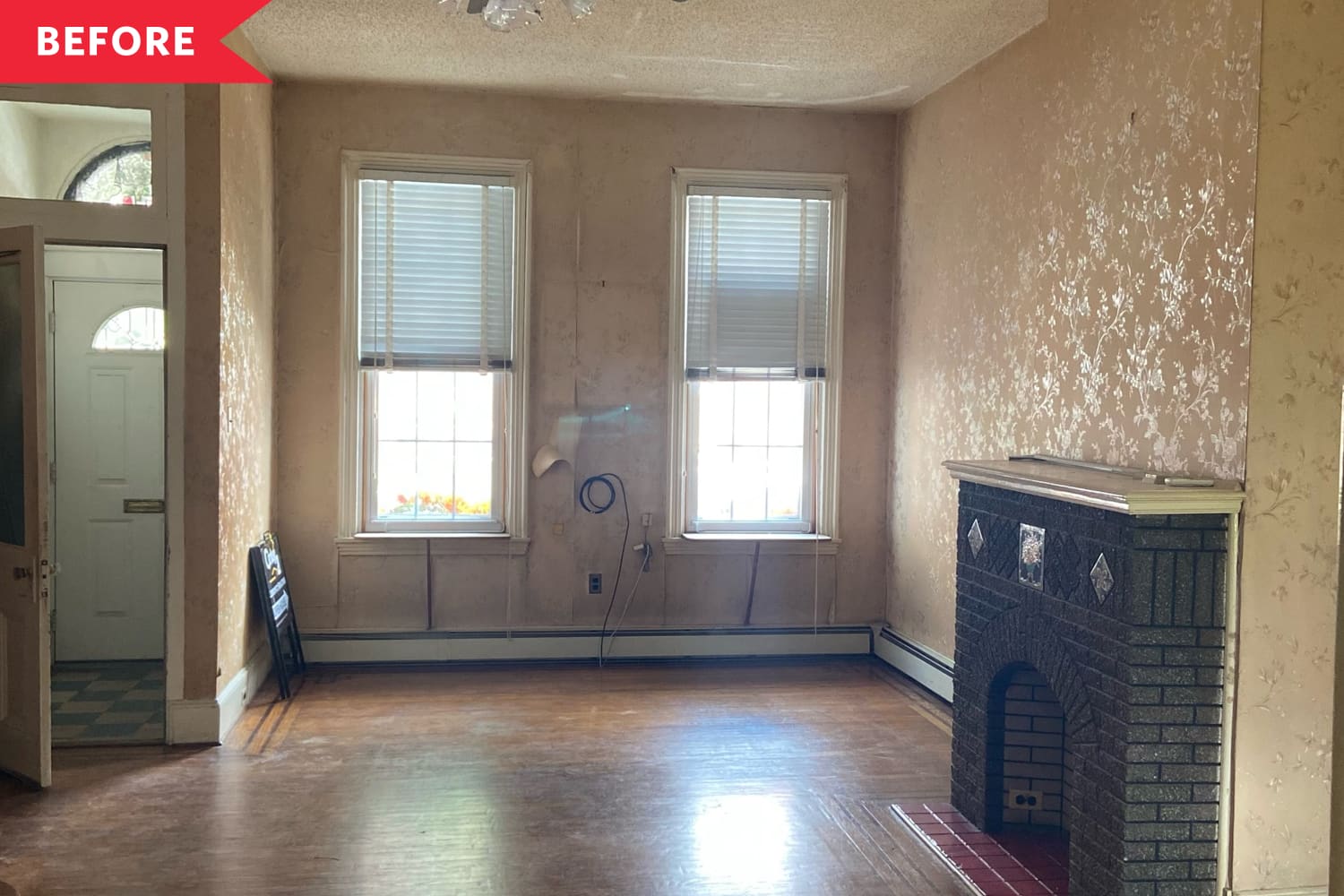 We independently select these products—if you buy from one of our links, we may earn a commission.
Name: Katie Walker and Greg Krolikowski
Location: Fishtown — Philadelphia, Pennsylvania
Size: 1,800 square feet
Type of Home: Row Home (built in the 1870s)
Years lived in: 1 year, owned
In the early months of Covid, I was living in my first home, a brand-new condo with zero outdoor space. Within a month, I had run out of projects and I realized I needed to get out. My amazing realtor helped me find this house — a well-loved family home just five blocks from where I lived. There weren't any listing photos online, so when we showed up I instantly fell in love. The layout of the house was absolutely perfect.
I moved into the house in early August and immediately got to work. I became an expert at stripping wallpaper and used about 20 gallons of paint to paint all of the walls and some of the floors. I don't know how I would have gotten through winter 2020 without this house. It gave me a project to focus on every weekend and helped make not going home for the holidays a little easier. (Thanksgiving was spent painting my staircase — including its 87 spindles!) It also completely changed how I planned the space — rather than decorating it for the occasional visitor, I focused on how I wanted to live in the space. I put my office in the sunniest room, since I work from home. And since this house has bedrooms to spare (five total), I converted one into my closet.
Apartment Therapy Survey:
My Style: I would consider my style bright and colorful, with a lot of vintage and traditional influences. I really don't try to stick to one look or time period; if something makes me happy then it's my style. My goal for the house's style was that all of the furniture might look like it's lived in the house since the '60s (my favorite MCM pieces) or even the '20s (some of my grandmother's older antiques).
Inspiration: I've really been inspired by the history of the house. According to historic maps, it was built sometime in the 1870s, and at one point it was even a boarding house! The trim, the floors, the beautiful architecture — most of the last year has just been stripping things away to let the house just be. Other than paint and switching out light fixtures, I've added very little to it.
Favorite Element: I love the big windows in the front room that look out onto my street. I live on a tree-lined, one-way street in the middle of a busy neighborhood, and sometimes it really feels like Sesame Street — like the ideal version of city living. On a nice day, I'll have my windows open and hear neighbors talking to the mailman, kids running by. My friends who live a few blocks away will sometimes just stop by during their walks and their 4-year-old will ring my doorbell to see if I'm home. It's why I try to always have my blinds open — I love feeling connected to the city and not cloistered away.
Biggest Challenge: WALLPAPER. I think one of the reasons the house stayed on the market for so long was that every single room was wallpapered. And not just the rooms — even the insides of the closets were wallpapered. As a wallpaper enthusiast, I knew that this was actually a good sign — people who wallpaper their house LOVE their house. It's not a cheap project, and the wallpaper was old but very high quality. So the wallpaper didn't scare me off at first. But then it came time to actually strip it — there were lots of tears and maybe a little screaming. In some rooms the wallpaper came off without any effort, but in others one square foot would take 15 minutes and it felt like it would never end. But what I loved about stripping the wallpaper was finding where the former owners had signed and dated the wall before hanging it. It made me feel connected to the history of the house — and of course on the walls I've papered I've added my own name to the list.
Proudest DIY: I'm thrifty at heart (some might say cheap), so my proudest DIY projects are the ones that cost the least amount of money. Of all of the projects in the house, I think the bathroom redo is my proudest moment, because almost all of the supplies were leftovers from other projects. It meant I couldn't be too precious about the finishes, but the goal for the bathroom wasn't to be perfect — it was just to be bright and clean and hold me over until I can afford to really redo it. The cabinet paint, tile paint, knobs, and countertop epoxy were all leftovers from the kitchen. The wall paint came from one of the several five-gallon buckets of "Chantilly Lace" I've hauled from the home supply store.
Biggest Indulgence: The biggest indulgence in the house is completely invisible to the naked eye — it's the thing that almost kept me from buying the house in the first place — the electrical wiring. All of the overhead lights in the house, and many of the switches, still had knob and tube wiring when I bought the house. An extremely old, and potentially flammable, form of wiring. When the inspector found it, I immediately called a close friend who is an electrical engineer for advice. So the first week in the house was spent watching an electrician pull up floor boards and redo all of the wiring. It was stressful and a big expenditure so early on in the project. But the peace of mind that the house wouldn't burn down from the inside was worth it. AND I took the opportunity of having a professional and went ahead and replaced all the overhead light fixtures. In spite of the popcorn ceilings, the new light fixtures immediately modernized all of the rooms.
Is there something unique about your home or the way you use it? A lot of old Philadelphia row homes have these tiny closets — they're too shallow to hang clothes in and they can be part of the reason someone doesn't buy a house. The four main bedrooms in my house all had these original closets with beautiful trim and original mortise-and-tenon doors. They were too small to use as clothes closets (as evidenced by my closet room), but I wanted to make use of them somehow. So in my bedroom I turned the closet into a built-in bookshelf. In the closet room, the closet shelves display my purse collection. They serve a purpose, and I get to keep the special history as part of the house.
What's your absolute best home secret or decorating advice? Give yourself a blank canvas and then take as much time as you need. When I moved into my house, I had to put in a lot of work just to get it to a starting point (taking down wallpaper and painting almost every room white). Only then was I able to gather design ideas and start adding some personality to the space. Long term, I don't think I'll keep the living room white or the kitchen pale blue, but taking the house down to its simplest version allows me to really appreciate the building and start adding my own personality to it.
Focus on the things that are easy to change or important to you. I saw so many kitchens that looked really nice, but actually had bad layouts or zero storage. This house's kitchen might not have looked great, but it was solidly built with a good layout and just needed some paint and warmth.
Thank you Katie and Greg!
This house tour's responses were edited for length and clarity.