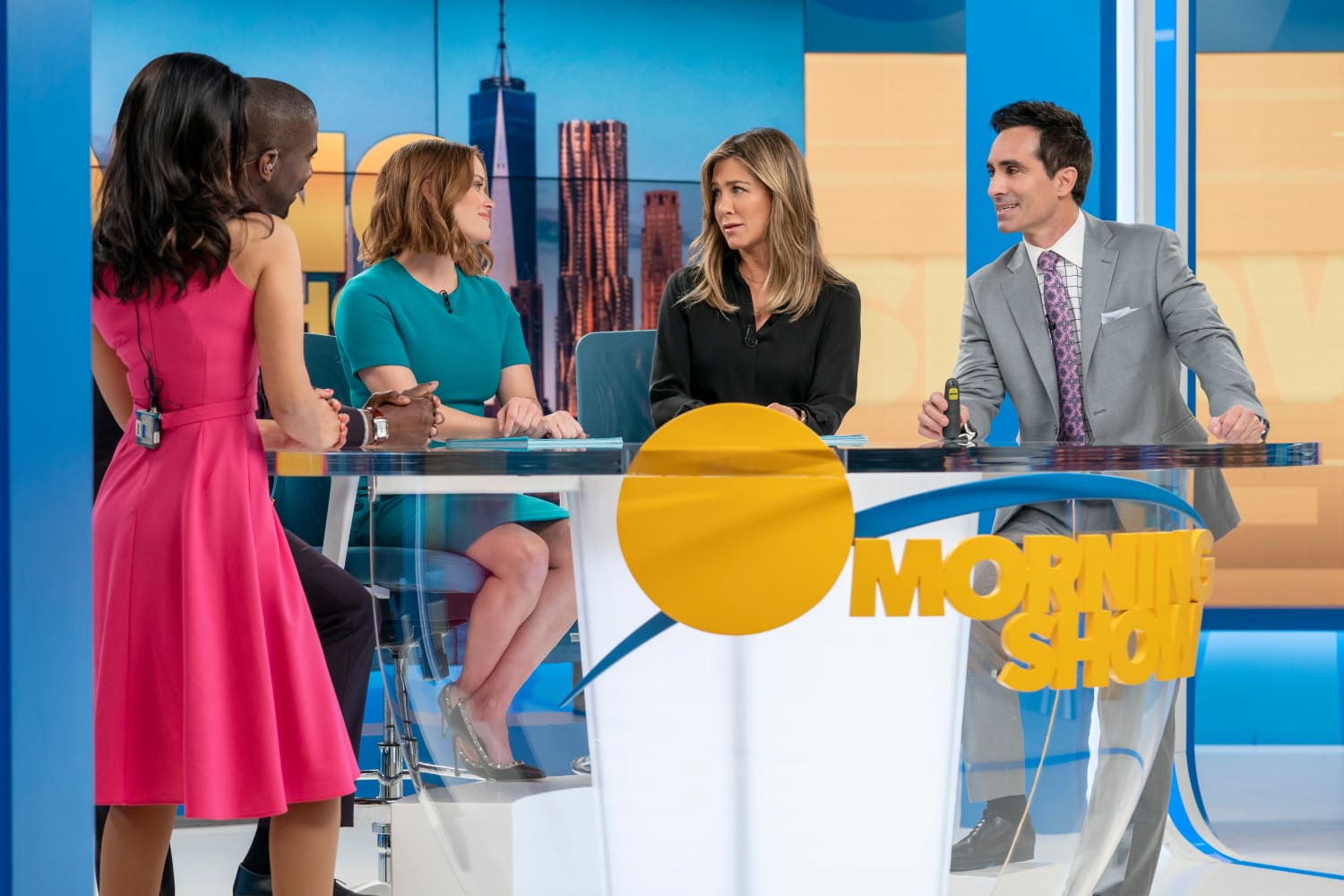 We independently select these products—if you buy from one of our links, we may earn a commission.
Apple's "The Morning Show" — which boasts an all-star cast that includes Jennifer Aniston, Reese Witherspoon, and Steve Carell — offers viewers a peek behind the curtain of news broadcasting. And season one did not disappoint, bringing drama, laughter, amazing acting, and fantastic storytelling to the forefront.
Based on a recently released trailer, season two looks like it'll bring much of the same. "The Morning Show" is set to return on Sept. 17, but if you're looking for something to binge until then, look no further. It can feel like a long time to wait, so consider diving into one of these shows to get your newsroom (or writers' room) fix.
Like "The Morning Show," this HBO political series peels back the layers to offer viewers a behind-the-scenes look at what goes down at a major (fictional) news network. "The Newsroom" definitely brings the drama as it follows what happens when the show's main on-air personalities and the heads of the network struggle to find common ground.
The series was created by Aaron Sorkin and stars Jeff Daniels as Will McAvoy, Emily Mortimer as MacKenzie Morgan McHale, John Gallagher Jr. as James Harper, Dev Patel as Neal Sampa, and a host of other popular faces.
Available to watch on HBO Max and Amazon Prime.
While "The Morning Show" tackles the news, the ladies of "Flack" tackle what happens after these stories break — and they might even be responsible for creating them. The series stars Anna Paquin as Robyn, an American PR executive living and working in London. It's Robyn and her team's job to make the best of the horrible situations their rich and famous clients find themselves in. Unfortunately, the PR ladies don't always make it out unscathed, and the messes often spill over into their personal lives. Like "The Morning Show," viewers also get an inside look at all the drama that happens in the workplace.
Available to stream on Amazon Prime.
"The Bold Type" is yet another workplace series but this time, viewers are following the lives of three young women, Jane (Katie Stevens), Kat (Aisha Dee), Sutton (Meghann Fahy), as they navigate life, love, and everything in-between while working at Scarlet magazine.
Available to stream on Hulu, Apple TV+, and Amazon Prime.
As you wait for the return of everyone's favorite morning show, step into the world of true-crime podcasts. Tag along with podcaster Poppy Parnell (Octavia Spencer) as she re-opens the case of convicted killer Warren Cave (Aaron Paul), who claims he was framed. Season two of the series will also feature Mekhi Phifer, Kate Hudson, Michael Beach, and Ron Cephas Jones.
Available to watch on Apple TV+ and Amazon Prime.
"30 Rock" takes a hilarious approach as it showcases what goes into making a TV show. The sitcom was created by Tina Fey and is based on her own experiences as a writer for "Saturday Night Live." The cast also includes Alec Baldwin, Jane Krakowski, Tracy Morgan, and Jack McBrayer.
Available to stream on Netflix, Hulu, Peacock, and Amazon Prime.
If you've ever wondered how reality shows are made, then "UnREAL" is the series for you. This drama series stars Shiri Appleby and her ruthless boss, played by Constance Zimmer, as they do whatever it takes to create salacious content for their dating show. There's no shortage of lies, drugs, drama, sex scandals, and manipulation here.
Available to stream on Hulu and Amazon Prime.