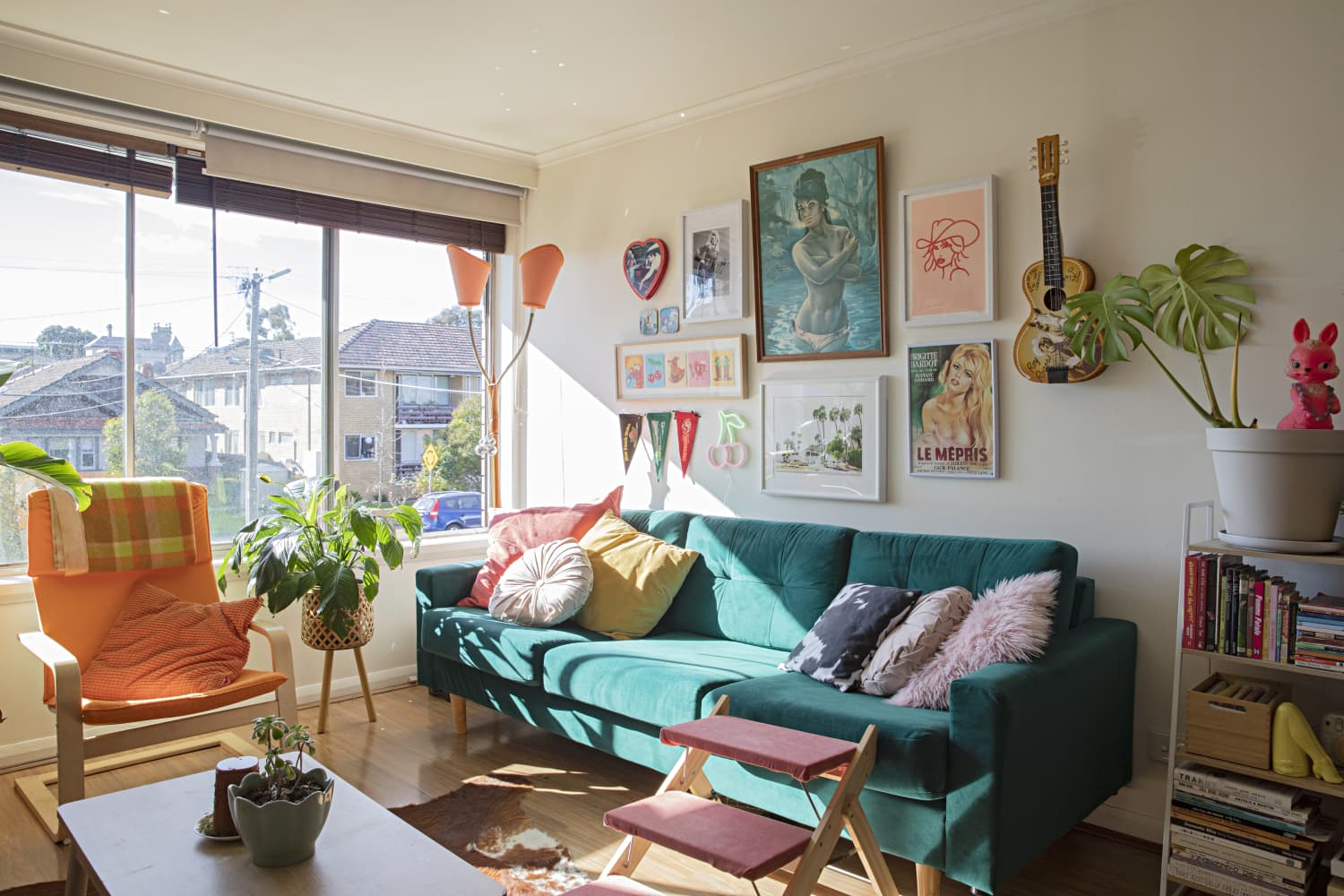 Of all the pieces of furniture in your home, TV stands and media consoles may be one of the least fun categories to find. Sure, you can skate by with just about anything low-slung that has a surface large enough to support or anchor your TV, but a great media console ideally fits with your style and space, plus offers wire concealment or additional storage. With all those boxes to check, sometimes your options are limited, and you're forced to think outside the box. Renter Ginger Taylor did just that and ended up with a stylish statement piece full of storage. If you're in the market for a TV stand, you just might want to try this DIY solution.
A full-time freelance illustrator and mural artist, Taylor lives in a colorful two bedroom apartment in Thornbury, Australia. "I would say my style would sit somewhere in-between 1960s-1970s with a dash of Americana, country music, neon signage, and old motels," she says. Since Taylor is also inspired by Old Hollywood and 1970s decor, it's no surprise that her home is full of so much color and retro charm — and that she's prioritized the placement of her small TV screen, which you can see below.
Using three vintage trunks she sourced from her dad, Taylor built a custom stand for her TV that blends in perfectly with the rest of her decor. A simple and super smart decorating strategy, Taylor always looks to work vertical space. "I stack shelves on top of each other all the way to the roof so I can create a display without having to take up too much floor space," she says.
Taking that exact approach when creating her TV stand, all Taylor had to do was start with the largest truck as the stand's base and then stack the two smaller suitcases on top of it, so it almost looks like a pyramid. Her television is fairly small, so there was no need to drill pieces together or into the wall. If you wanted to do this kind of thing for a larger television though, you might consider some way of anchoring the individual trunks/suitcases together for more stability (or if you have young kids or pets, since safety is always of utmost importance).
Because these are real, functional trunks, they offer tons of sneaky storage space for whatever you need to stash — extra blankets or bedding, off-season accessories, even board games or puzzles. Another thing to note here is this trunk/suitcase hybrid stand also has a smaller footprint than traditional TV tables, which are typically rectangular and wide. This makes it a fantastic option for smaller spaces, especially if you like the vintage look and are short on space or on a tight budget. Just make sure you find something that fits your TV!