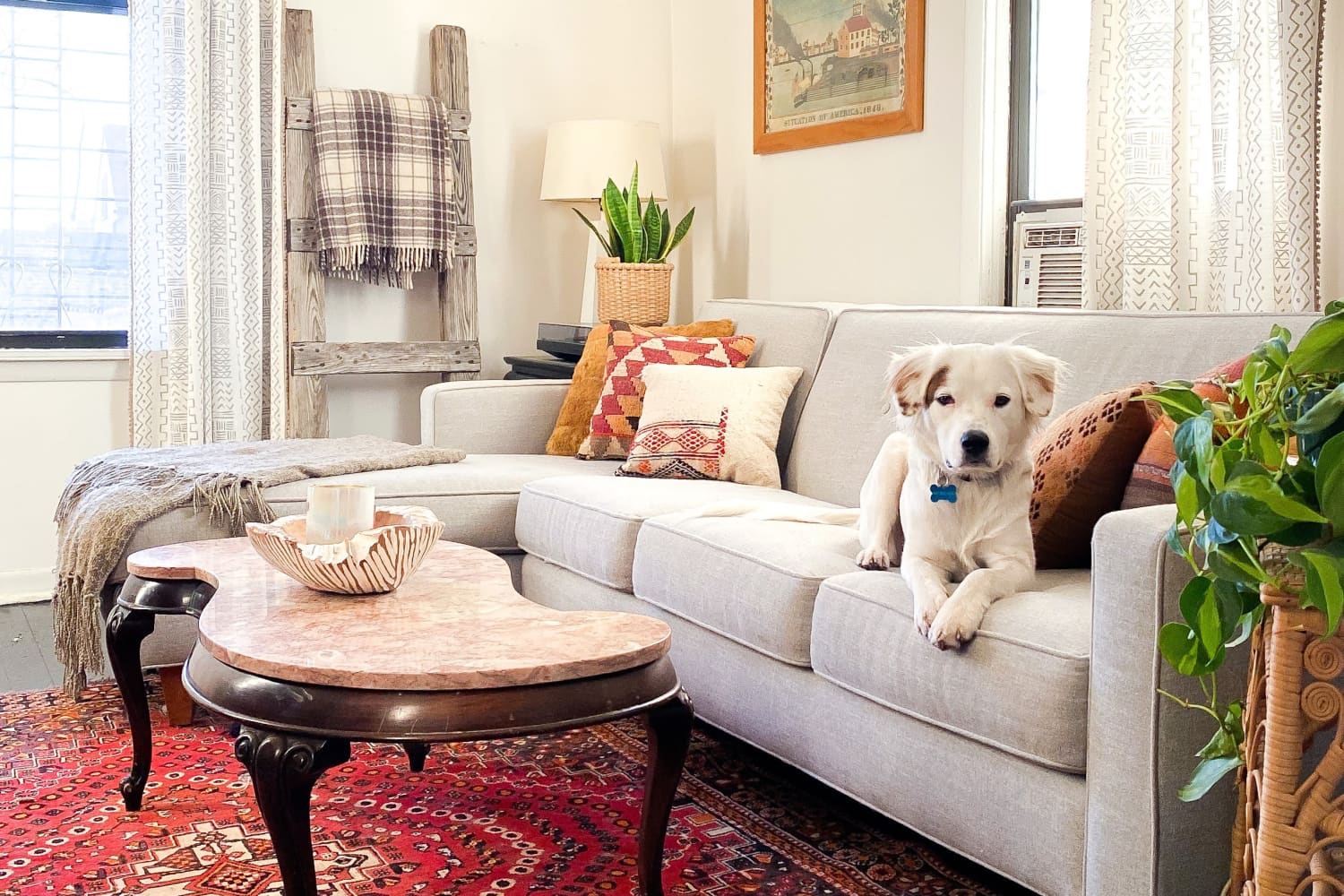 We independently select these products—if you buy from one of our links, we may earn a commission.
Name: Johanna Beach and Howie (Howard), her dog!
Location: Wicker Park, Chicago
Size: 600 square feet
Type of Home: Apartment
Years lived in: 3 years, rented
Interior designer and DIYer Johanna Beach found this 600-square-foot rental apartment through a friend. "It's one of those too-cheap-to-be-real kinds of places in a great neighborhood in Chicago called Wicker Park. You don't let this apartment go to a stranger; it's almost always a pass-down," says Johanna. "That being said… it's not nice. It has great tall ceilings and windows, painted black floors, and a spacious floorplan for one person. It's best feature is the ivy- covered, south-facing balcony. It's uncovered on the third floor and it gets tons of sunlight. The not-so-nice features include ancient electrical, lack of modern amenities, absent kitchen cabinetry, and a very tiny bathroom. It hasn't been touched in years, which gave me free reign to leave my mark on it and improve it in whatever ways I wanted. My quarantine rescue pup, Howie, and I love to enjoy time in the small backyard and on my balcony. I have spent most of the last year letting my creativity loose on the place. Interior design was my hobby and now it's my work, so my home is my personal canvas."
Apartment Therapy Survey:
My Style: Vintage Eclectic
Inspiration: I'm inspired by so much everyday! I'm currently being influenced by the work of @jewelmarlowe, @summerthorntondesign, and @aglassofbovino
Favorite Element: I love my bedroom. It was the most recently completed room and so it feels the most reflective of what I like right now. It's definitely a moody, grandmillennial vibe.
Biggest Challenge: HA. There have been so many challenges with this space, but I would definitely put the kitchen at the top of the list. When I moved in, there was a stove, a sink, and a refrigerator in the kitchen and that was IT. I had to get creative to add function and unity to the space. Now I have counters and storage and space to eat and I actually really love this kitchen. However, I definitely welcome the day when I will finally have a dishwasher!
Proudest DIY: I'd have to say my slat wall behind my TV is my proudest DIY. It was one of the first things I really built and I had to get pretty creative to make it rental-friendly (in the end, there were only six screws that went in the wall!). I'm proud of it because I thought it up and figured it out on my own, whereas with my board and batten project, I followed a million tutorials of others who have done it before. The slat wall felt like I was just making up something sort of new because I hadn't seen it done that way before.
Biggest Indulgence: I spent the most on the rug in my living room. It was worth it… maybe. I still love it and feel like it'll work in many different homes to come. Only downside is that once I adopted my puppy, I discovered how hard it is to get dog hair off it! I have found a hair removal tool that works wonders, but it does require very frequent maintenance on hands and knees to keep it looking beautiful.
Is there something unique about your home or the way you use it? During Covid, I made my bedroom closet into my small office space. While I was knee-deep in the building process, I wondered if I really would want to work in that tiny space. But I actually have found that I love the little nook and have appreciated having a separate space for work. The only reason this was possible for me was because my apartment has a very large extra closet off of the kitchen where I keep my clothes!
What are your favorite products you have bought for your home and why? Most of the products I love the most involve solving problems for old homes like this one. I wired this Bluetooth switch into my bedroom chandelier because my entire apartment doesn't have light switches, just drop down pulls. For a similar reason, smart plugs have been useful. This product for getting dog hair off of the aforementioned rug is CLUTCH.
Please describe any helpful, inspiring, brilliant, or just plain useful small space maximizing and/or organizing tips you have: Play to your apartment's strengths when it comes to storage and then put the time into having an amazing system for that area! My apartment doesn't have a big bedroom closet and majorly lacks kitchen storage, BUT it has this awesome huge closet off of the kitchen that is both pantry, clothing storage, and tools/craft storage. I had a friend who owns NeatMethod Northshore come help me organize this closet so everything has a place. Play to the strengths of your space when it comes to storage, even if it is unconventional.
Finally, what's your absolute best home secret or decorating advice? Have a design plan. I find when I just buy things I love piecemeal, I end up dissatisfied with the space. It's hard to push in a design vision when you've already made a lot of decisions about a room. Try to hold off making big purchases until you have a clear vision for how you want the space to look and feel. If you find one piece you love before you've nailed down the design, it's okay to design around one piece. It's when you have five pieces picked out already and then you realize they don't work together or don't achieve the vision you have — that's tricky!
This house tour's responses were edited for length and clarity.