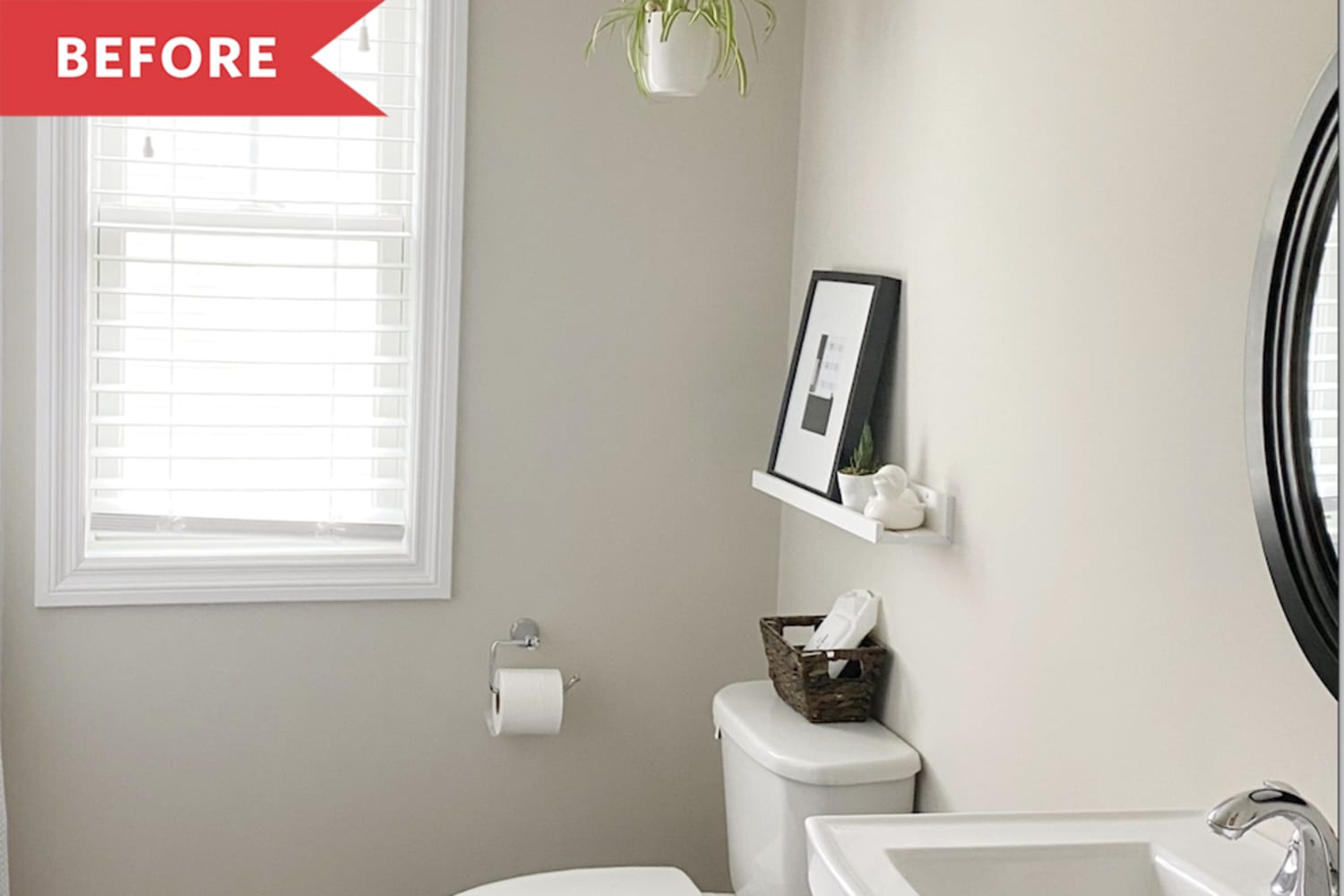 Sometimes it's best to live in a space for a little while before making any changes to it. Your tastes and preferences might evolve as you settle in, or it might take some time to notice what the space needs, whether it's a fresh coat of paint in your living room or just a strategically placed mirror. If you're lucky, you may even realize that the room you've been dying to decorate just needs one simple change to make it perfect.
Christine Work (Pine Street House) decided to wait a while to style her bathroom — and it was absolutely worth it.
"Our upstairs bathroom had good bones but no personality," Christine says. When she and her husband Dave built their house, she intentionally left this specific bathroom as "a blank canvas." The intention was always to circle back to it as her style evolved while they lived there. The fanciest feature was the black tiled floors, but for the most part, there wasn't a lot going on. Christine considered this bathroom the perfect place to try something fun and different, and that's how her search for the perfect wallpaper began.
Since this bathroom isn't very big, Christine decided to create an accent wall to make it more interesting. "I have always thought that wallpaper can add such a fun element to a room," she says. The wallpaper pattern she chose was priced at $75 per roll; since she was just papering the back wall, she only needed one roll, making this project simple and inexpensive.
Installing the wallpaper turned out to be a two-person job, so Christine enlisted her husband to help put it up. "With a little patience, some planning, and wall preparation, we had it hung in about an hour," she says. Christine doesn't think they did it perfectly, but she decided to roll with it and leave it up.
Christine loves the bold black-and-white pattern and says it's exactly what she wanted. What she's most proud of, though, is that her son and husband are into it, too. "They liked the pattern and they wanted to help with this project," Christine says. "This doesn't happen often, as I'm usually outnumbered."
So next time you want to spruce up an area of your home, give yourself time to find exactly what you're looking for — and if you're lucky, your family members will love it too.