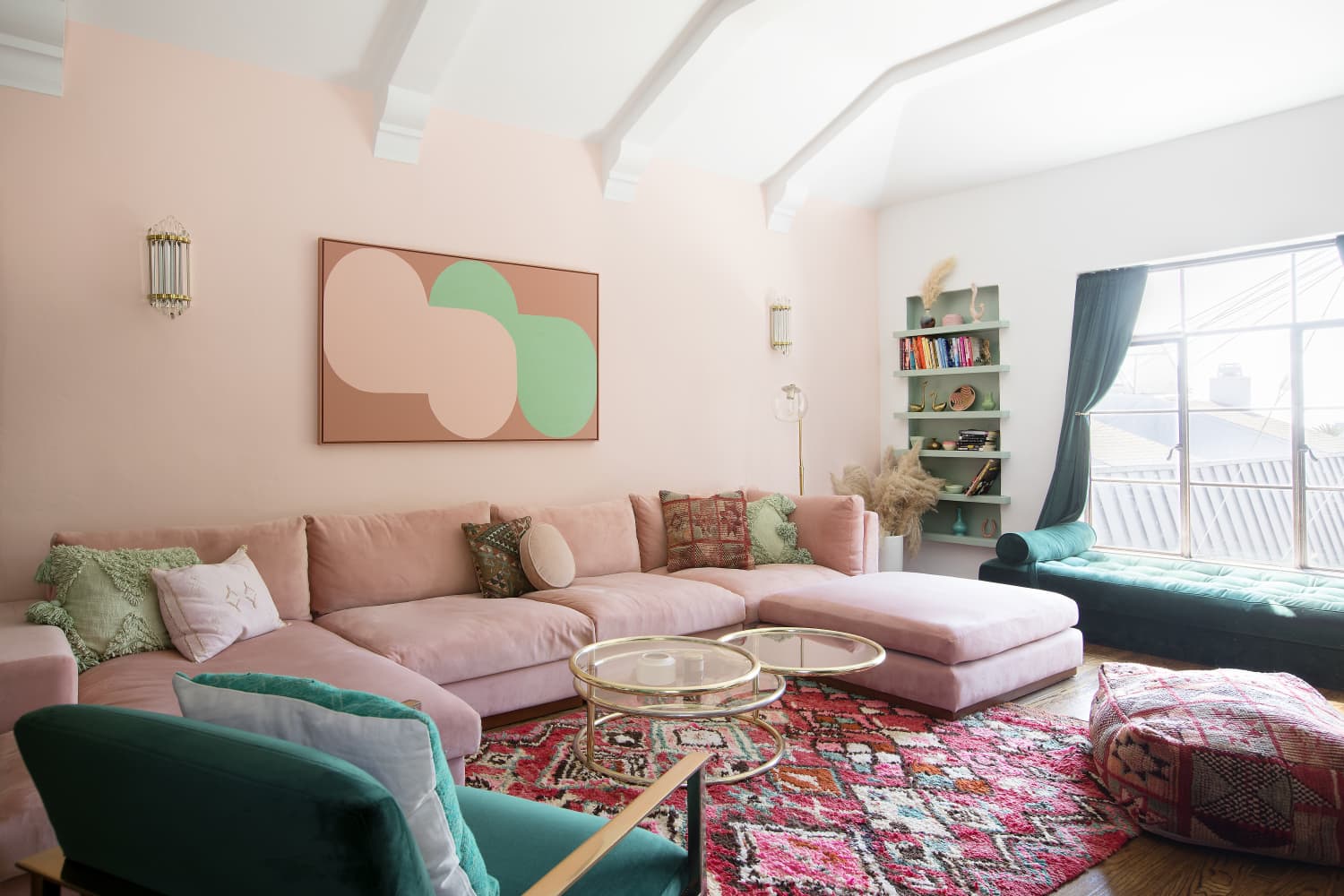 Moving into a new space is pretty much always overwhelming, and determining what needs to be tackled first in terms of upgrades and decorating can be challenging. Once your basic furnishings — bed, sofa, coffee table — are in place, and you're almost unpacked, what comes next? Should you install wallpaper? Paint? Address something else entirely?
Having just moved myself, I decided to speak to a few interior designers for their insight here, and the same two things kept bubbling up to the surface in their responses. I'm taking that as a sign that these tasks are the most important things to dedicate your decorative time and energy to post-move. So put these on your to-do list if you're moving!
Pick up that paint brush now
Go ahead and grab those color samples in preparation for move-in day. "Paint is the most affordable and dramatic way to update, change, and reflect the renter or homeowners' personal design style," says designer Patrice Stephens. Designer Hallie Henley Sims agrees. "Paint is one of the easiest and impactful ways to create the mood in a space," she says.
Need a little bit of guidance on where to start with color selection and swatching? Look at your current furniture, art, textiles, or major decorative objects for inspiration. Select a few common shades featured in some of your favorite pieces, or find a hue that contrasts with or complements those same pieces. "Regardless of what your basics are, you can easily pull a color palette together from your existing pieces," says Henley Sims. "Since your walls will be painted anyway, why not use a fun color, whether you're going for a bold look or a calm and peaceful aesthetic?"
Don't forget to properly swatch a few shades to get a sense of how things will look in your space. The sooner you can paint, the better. If you can't swing painting before move-in though, that's okay. You'll just have to do a little rejiggering of your furniture and invest in some dropcloths to protect your furnishings when you can finally start cutting in and rolling.
And then, figure out your rug or flooring situation
In addition to tackling those walls (or if you can't paint due to restrictions), you'll want to consider your floors, too, since flooring constitutes the other biggest surface area in a space. "The first thing I do is search for a rug," designer Gail Davis says. You might even put rug selection before painting, if you're looking to invest in a new carpet and think that could drive your place's color palette.
Davis offers these rug-buying tips for anyone beginning to explore carpeting options. "I love a good chunky texture underfoot, especially in a bedroom," she says. "To me, this is the one thing that will make a difference in how the space feels and looks." She suggests looking for a design that's wool, which "is your best friend" in a high traffic area. "Always get your rugs professionally cleaned when possible," she adds, while still noting that wool is, on the whole, easy to maintain.
Beyond making sure you choose the right materials for your lifestyle when rug shopping, Davis also advises against skimping on size. "This is also something folks get wrong a lot," she notes. "They place the wrong size rug in the space, which is usually the size of a postage stamp, and it makes the room look smaller than it actually is." For more information on rug sizing and placement in all types of rooms, check out Apartment Therapy's Complete Guide on How to Buy a Rug.
If the rug you select is a true statement piece, all the better, according to Courtney Hinton, principal designer and creative director of Hearth + Home Interiors. "It will help dictate the rest of the decor, paint colors, patterns, and overall aesthetic," she says. "This approach helps if you are feeling creatively stuck and not sure how to move forward with a blank slate." Of course, you might be already moving in with a special rug or two that you want to incorporate into specific areas. "We always consider high value pieces such as artwork or handmade area rugs to launch a new design plan; after all, they are investment pieces," explains designer Georgia Zikas. "If a client owns an important area rug that could work in the new design, we always start there."
Skipping rugs altogether? You're not entirely off the hook. "The very first thing I always advise clients to do before moving into a new home is to refinish and stain the floors," designer Kerri Pilchik explains. "Unless you are moving into a new build, the floors usually need some work or a new color. This is best done when the house is empty, as it usually involves the entire house and is very messy and smelly."
Refinishing projects might be out of your budget or scope — the latter particularly if you are renting — so it's best to lean on area rugs or mats to really make your decorative mark in that case. Another final to laying floor coverings down right away, particularly in an apartment style building, is that they can dampen noise from neighbors (and help absorb any noises you make), too.