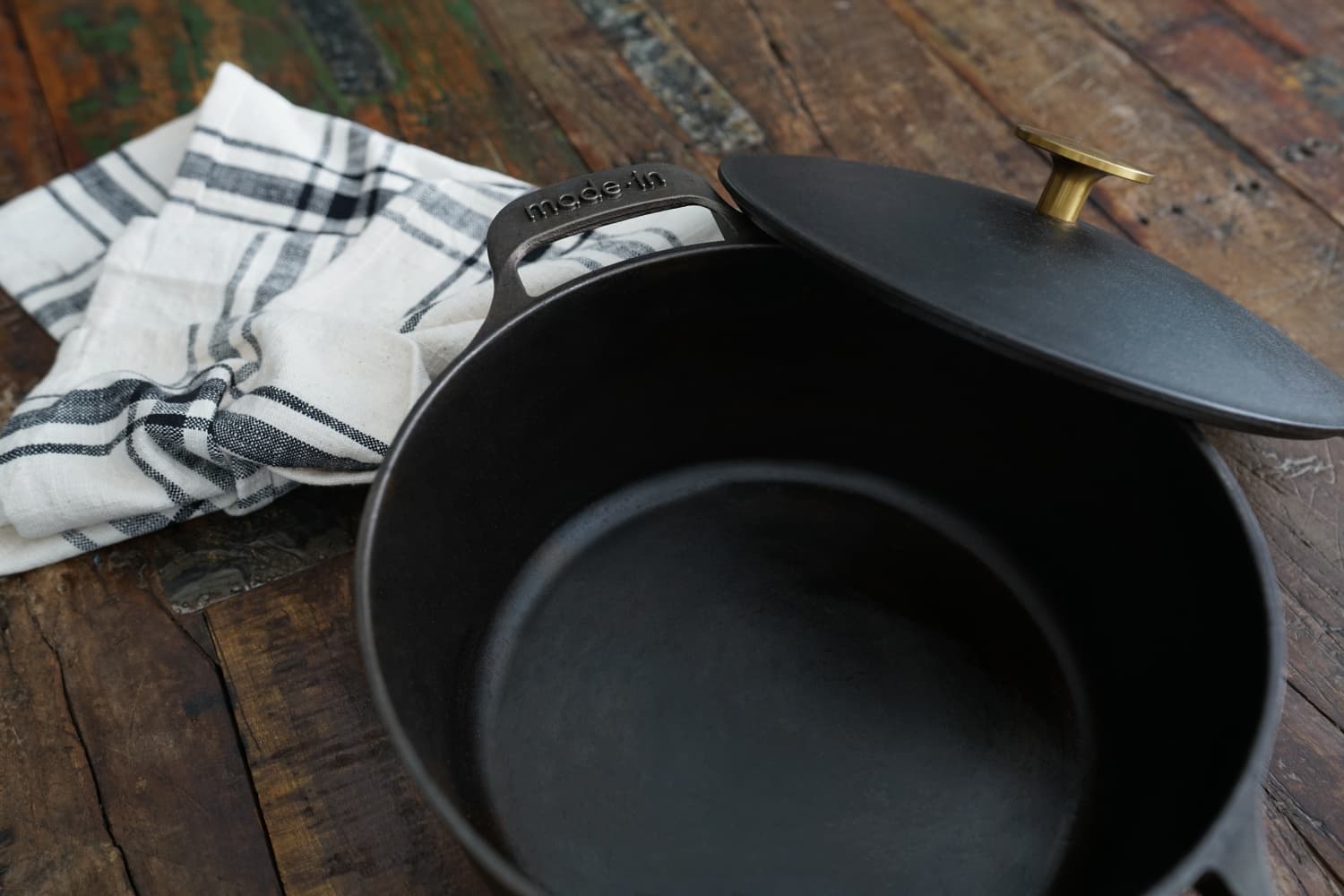 We independently select these products—if you buy from one of our links, we may earn a commission.
Cookware company Made In has a knack for creating home runs. Their carbon steel pans, knives, and other cookware products are reader and editor favorites. Pro chefs love them, too! Trust us when we say that everything Made In touches turns to (rapidly-selling-out) gold. So we're extra excited about Made In's latest product, which launches today at 11 a.m. EST: Two pieces of durable, sturdy, absolutely gorgeous cast iron cookware.
The goods, a 3.5-quart braiser and a 5-quart Dutch oven, are matte black with a pop of bronze on the handle; they look every bit as minimalist-chic as the rest of Made In's flagship products. But these workhorses aren't just pretty: They arrive pre-seasoned and designed for easier food release. In other words: You don't have to wait for four generations' worth of fried bacon and roasted chickens to achieve that glossy, naturally nonstick finish. Yay!
Made In is partnering with a family-owned cookware factory in Indiana to produce these pieces, making them handcrafted, small-batch, and full of feel-good hometown vibes. (The partnership began last year with a cast iron grill pan, which sold out in hours.) And that craftsmanship is seriously swoon-worthy: Both the Dutch oven and braiser are thoughtfully designed, with dimpled lids to produce optimal heat and moisture distribution.
They're oven-safe up to a whopping 700˚F, making them a stellar choice for high-heat searing or homemade sourdough bread. Heck, you can even use them over an open flame. At $249, these are a steal: Most investment pieces, made to last for decades and beyond, can cost hundreds more. (Honestly, we've probably spent more on bath bombs over the last year.)
Made In offers free shipping for all orders over $49. These pans are made to last for life, with the warranty to prove it. We've never regretted a Made In purchase, so we're sure this launch will deliver. Don't wait to buy yours, though — we're betting they'll sell out before the weekend. To be the first to know about the brand's next latest and greatest, you can sign up for exclusive texts here, too.