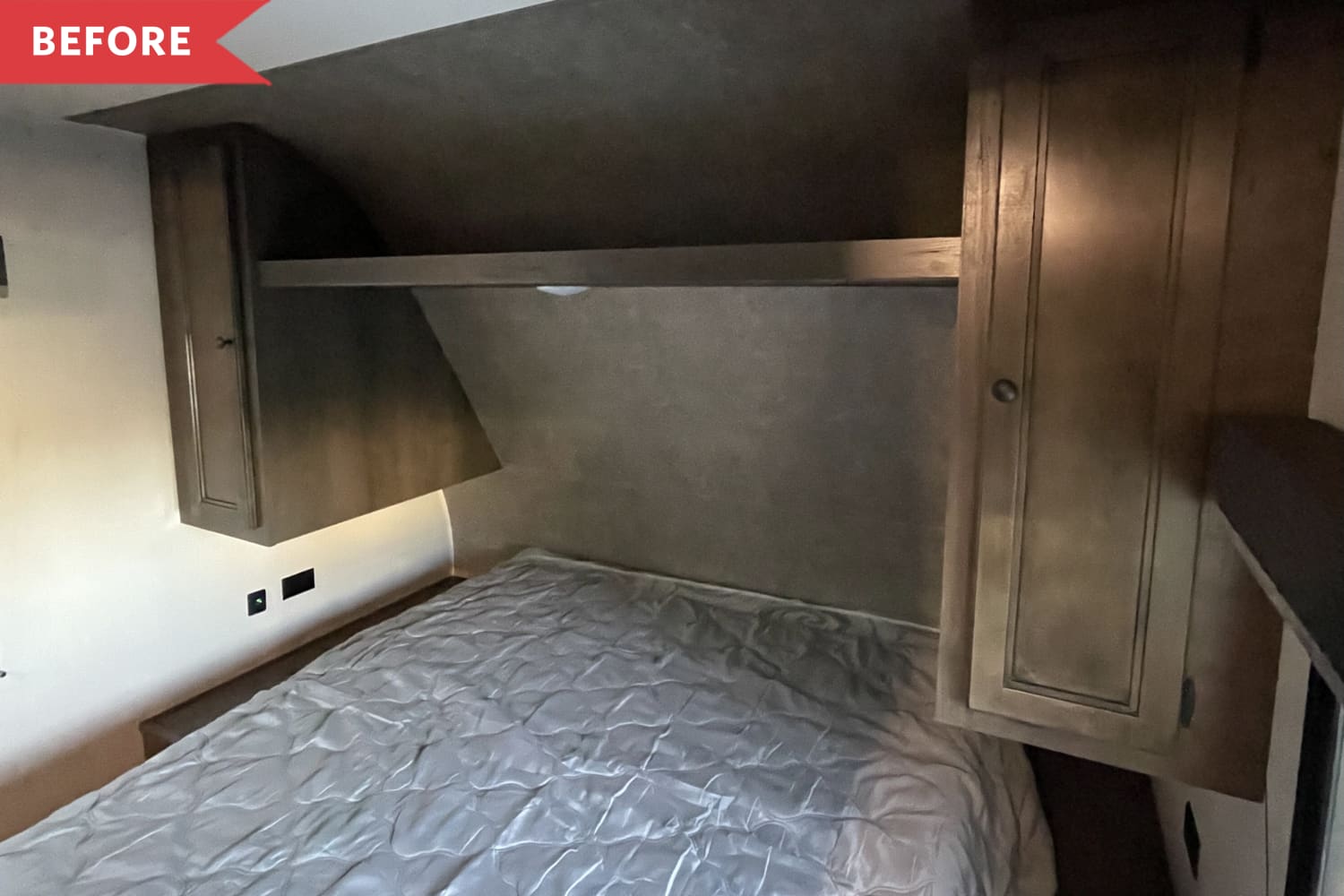 We independently select these products—if you buy from one of our links, we may earn a commission.
Apartment Therapy has seen no shortage of mobile, stylish ways to live and explore the country at the same time — from RVs and Airstreams to vans and school buses.
Another impressive converted home on wheels to add to the list is Angela and Phil Lamb's. These married musicians and their two kids have lived part time in their RV since May. They spent the winter beforehand fixing it up before taking it out on the road.
"The entire trailer took us about five months to renovate, but we moved a little slow and took some breaks because we were working on other music projects at the time, and the Spokane weather was too cold to paint at times!" Angela says.
Before, the 26-foot-long RV was covered in brown/beige textured wallpaper, and the woodwork was dark brown, giving it a dated feel even though the travel trailer was brand-new.
Angela found inspiration from Arrows and Bow and other RV transformations she saw online, and she realized it was definitely doable to take the place "from brown and drab to bright and modern."
Wanting it to feel retro but not dated, she looked to the late '60s/Woodstock era for design inspiration. "Funny enough — that 'peace' pillow was one of my must-haves! It just totally captured that hippie vibe I wanted to tie in," she says.
To get the "after" look you see here, Angela and Phil sanded down the wallpapered walls and primed and painted them white (Benjamin Moore's Chantilly Lace). That is, after learning the hard way that it would take a LOT of sanding, that they'd have to use an acrylic primer rather than a latex-based one for the paint to stick to the RV walls, and that the original paint color they'd chosen just looked a little too yellow in the space.
But it was important to Angela to get the paint just right. "I learned if something just doesn't feel right about the design, change it or fix it right then," she says. "Don't just think you'll get over it. Trust your gut!"
Oh, and don't forget your electric sander. "I have no idea why we sanded by hand!" she says.
But her hard work was 100 percent worth it, with the bedroom upgrade totaling about $350. Her now bright, airy bedroom is decorated with beautiful boho accents. "After the seemingly never-ending painting process, we got to do the fun part — decorate," Angela explains. Some of her favorite finishing touches? The peace pillow, the handmade wooden bead chandelier, and the smartphone-compatible projector.
"I wanted our bedroom to be a place we would be happy to retreat to after the kids went to bed," she says. "We love having the projector to watch a show or movie at night on the wall once we close the sliding doors."
Not to mention they now have the ultimate vacation home. "We joke that we have a beach house, a lake house, and a mountain cabin, because we can bring our tiny home with us wherever we want to," Angela says. "Renovating an RV isn't easy, but wow, does it look and feel a million times better! I think it's worth the time it takes to make it feel cozy, because now we love being in here."