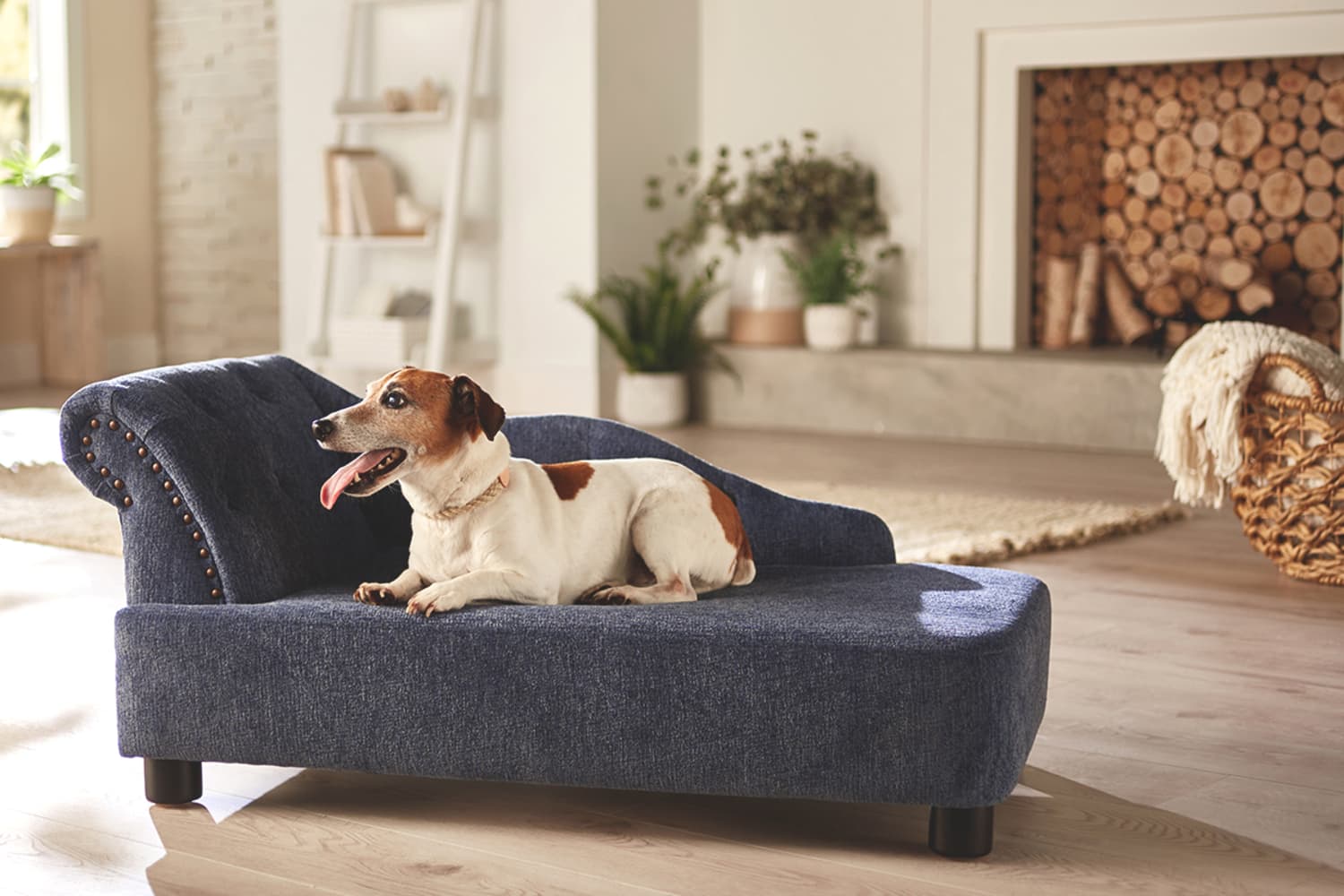 Our pets love the comforts of home just as much as their human housemates, and with leaves and temps falling, it's a great moment to refresh your space for the coming months of peak pet snuggles. But while we want our furry sidekicks to always have the best of the best, we also want pet gear that aligns with our own style.
The solution? Chewy's Home Collection! From treat storage to sleep and everything in between, Chewy's Home Collection has loads of options for stylish, high-quality goods that will help you care for your pets like the family members they are — plus they fit right into your decor.
Pet beds are a quick way to make your animals feel at home (despite my dog's tendency to act like he owns the place). This Faux Linen corner bed easily gives your furry friends a space of their own — and to show them how much you care, customize it with their name at no extra cost! The adorable La-Z-Boy sofa bed features a bolstered design that will help skittish pups feel safe. And this playfully furry Frisco Eyelash cat & dog bolster bed looks so inviting, we're tempted to curl up in it ourselves. For felines who bop between napping, scratching, and playing, this multi-level condo is a one-stop shop.
When form meets function, it's a beautiful thing. This double-sided ceramic cat bowl mixes modern looks with an elevated design that makes for easier eating and digestion. Each side is also built at different angles to accommodate both little kittens and full-grown cats. For more food-time flair, we love this cheery Jonathan Adler dish with its geometric peek-a-boo pattern and nonskid silicone sleeve for energetic eaters. This subtle stoneware cat dish will look handsome anywhere, and the wide design decreases whisker contact, which overstimulated kitties will appreciate. For a minimalist vibe, opt for a bamboo stand with clean white dishes — which also offers a little extra lift for pets who prefer it.
We believe in a world where you'll never step on another dog bone or squeaker toy. This toy storage basket, made with 100% organic cotton rope and vegan leather handles, can hold all of your pets' playthings — and it's machine-washable! A rugged bone-shaped basket would be great by the front door for leashes, collars, and harnesses. And we can't forget treats: This modern hand-dipped ceramic jar comes in a variety of fetching colors (pun absolutely intended).
You know how much you love your four-legged fam, but does everyone else? Show 'em off in a cute photo frame of their own, or announce it from the start with a sweet paw print doormat. Channel your feline energy by sipping from a coquettish kitten mug with metallic accents, or express your puppy love in the kitchen with a pair of doggie dishtowels. These also make great gifts for your favorite pet sitter or dog walker!
From treats and toys to bedding and decor, Chewy has everything your animals need — and we mean everything, including veterinarians to give you expert advice. The new Connect with a Vet service, which is free for Autoship customers, puts you in touch with a real veterinarian in minutes to consult about your pets' health and wellness right when you need it. Learn more here!