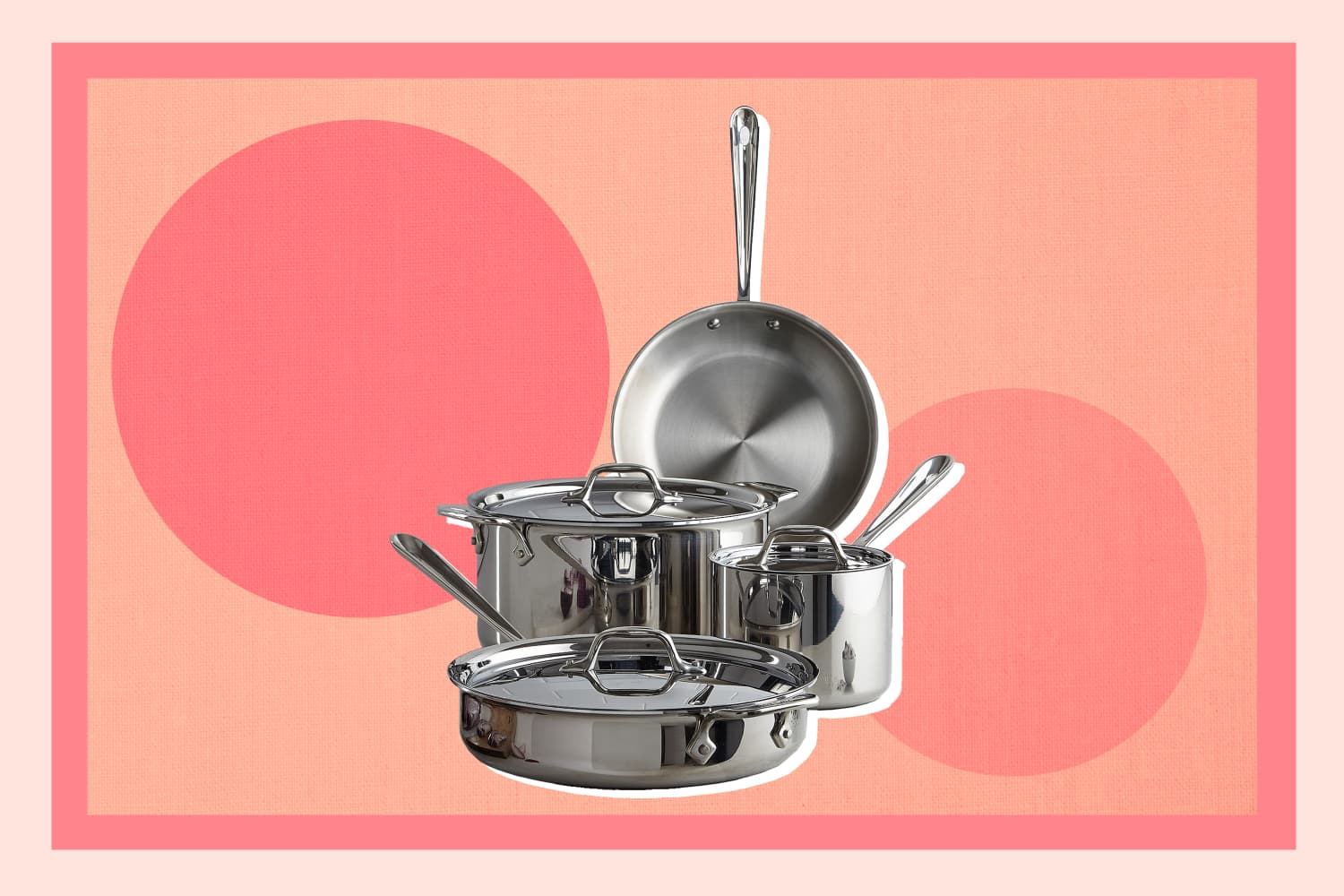 We independently select these products—if you buy from one of our links, we may earn a commission.
It's no secret that All-Clad is one of our favorite high-end cookware brands. Chefs, restaurants, and Apartment Therapy editors alike love their diverse offerings of stainless steel, hard-anodized, and nonstick pieces. And while we think it's worth the investment, it does come with a pretty hefty price tag, which is why we have some extra-exciting news for you. Right now, All-Clad's 7-piece stainless steel cookware set is on sale at Macy's for 65 percent off! (Yes, you read that right! We're amazed, too.) Normally $839.99, this high-quality cookware set is retailing for just $299.99 through September 6 as part of their Labor Day savings. This is one of the best deals we've seen on All-Clad, so you'll want to head over to Macy's ASAP before it inevitably sells out.
The 7-piece set (exclusive to Macy's) includes a 10-inch frying pan with sloped sides for easy flipping and stirring; a 3-quart covered sauté pan with straight sides for saucy dishes or searing meat; a 2-quart saucepan with lid for preparing grains or a yummy caramel sauce; and a 6-quart stockpot with lid for sauces and soups — basically everything a home cook could want!
All-Clad's pieces are made from mirror-polished stainless steel and feature a three-ply bonded design with an aluminum core, which allows for thorough, even heating of your food on an induction cooktop. Believe it or not, they're even dishwasher safe, although we recommend keeping some Bar Keeper's Friend handy for especially stubborn spots.
"This has been an excellent addition to our kitchen. The even heating and easy cleanup are what make these pans so highly functional. Hard to believe we have waited so long to buy All-Clad products," said one satisfied customer. Another agreed, noting that their only complaint was that they wished they'd bought the set earlier. As another happy customer chimed in, "I've been using All-Clad products for years, they are without a doubt the best tools for anyone who wants precision heating, sturdy quality materials and best overall value."
But perhaps this reviewer summed it up best: This All-Clad set is "Worth every penny, and even nicer on sale!" For just $299.99, you can take home seven top-notch pieces for the price of around two. Trust us, your kitchen will thank you.
Buy: Stainless Steel 7-Piece Cookware Set, $299.99 (usually $839.99)