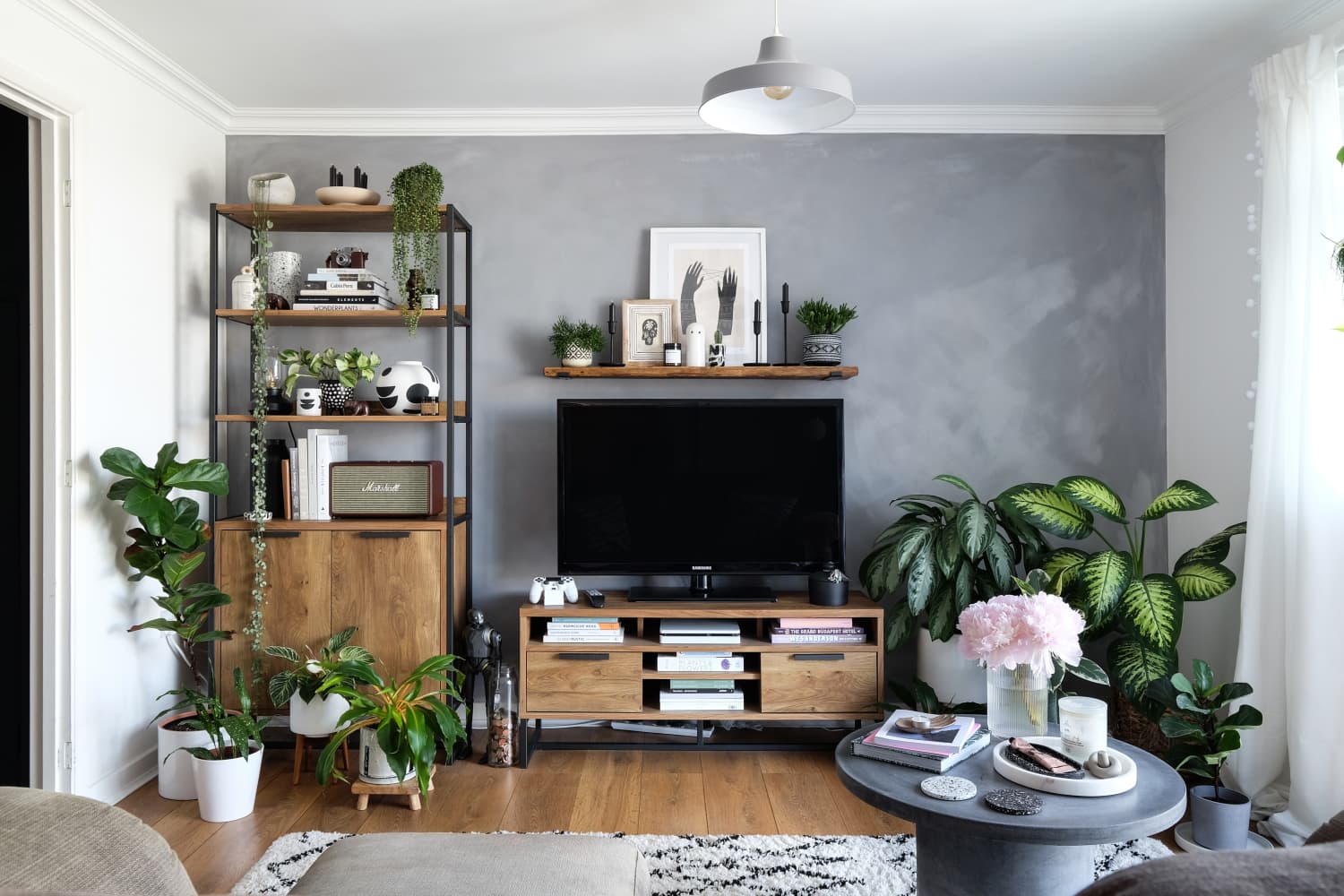 We independently select these products—if you buy from one of our links, we may earn a commission.
Graphic designer Claire Latchem and her music director partner, Dan Broadley, bought their home in early 2020, just before the pandemic hit. When the UK went into lockdown, Claire was furloughed for four months, which gave her a lot of time to do up the house and document it online. Claire has been very hands on when it came to the renovation, from coming up with the ideas to executing them herself. "I'm the type of person that wants to crack on and do things myself but I often psych myself out if I don't have a clear idea of the steps needed," Claire explains. "I usually watch a lot of tutorials on something before I decide to go for it. My dad was always the hands-on DIYer of the house and we used to watch a lot of home improvement shows together when I was growing up. I regularly wish I could call him for advice but to his credit, my brother Chris has helped enormously over the last year or so."
From trying her hand at limewashing, to self-installing wood paneling, and upcycling an entire kitchen, Claire has certainly done herself proud for picking up so many new skills while doing up the house. "A mitre saw and nail gun is next on my power tool wish list so I can wood panel to my heart's content," Claire tells me.
Speaking of which, the wood paneling in Dan's studio is Claire's favorite element in the whole house. "The wood paneling is quite a big indulgence as you can create a similar look for a lot less if you buy individual wood slats and spend the time nailing in each one but we opted for the ready-made panels instead," Claire says. "The faux plant wall with neon sign (an ode to Dave Grohl) in the kitchen by Dan's coffee machine is also quite extravagant but it brings some fun to an otherwise dark and unused space."
Claire's certainly made creating a calm, clean space look easy, but there were challenges. "I would say the challenge is to keep within what my budget can realistically afford. It's very easy to watch people crush it on Instagram and want to keep up with them but I have learnt to take my time and stay on my own path."
Apartment Therapy Survey:
My Style: My style is probably somewhere between boho and Scandi with some modern and industrial elements too. Lots of tactile natural materials intertwined with plants and soft furnishings. I love to bring the outdoors in, whether that's through greenery, salvaged materials, or foraged items. I prefer soft lighting so there are multiple light sources in each room from pink neon in the kitchen to warm festoons in the conservatory. I have a few new furniture pieces, too, and spend many a weekend painting things black, the latest of which was a pergola and seven meter fence but the garden is still very much a work in progress.
Inspiration: I take a lot of inspiration from structures associated with the outdoors, so wintery forest cabins or summer surf shacks. As well as being a graphic designer, I'm also an outdoor and travel photographer who loves to hike, surf, and go camping so it's important to me that my home reflects elements of this, too. It's also important that my home is a calming space, a sanctuary that I can recede into at the end of a long day.
Favorite Element: My favorite element has to be Dan's music room/studio. I've had the photo that inspired me saved on my phone ever since we viewed the house in October 2019 and I knew the wood paneling would work perfectly in the space. It's probably the one room where I had crystal clear vision and it turned out just as I had hoped. Dan is a director and musician by trade so it was fundamental that he had a functional space where he could feel creative when working from home.
Biggest Challenge: The space itself has been quite challenging. The garage (now Dan's studio) was converted by the previous owners to accommodate a dining table but as we both work from home a lot we felt the need to prioritize home office space for each of us. This became especially handy when the pandemic hit. We now use the conservatory as a dining space, which works well and we had an infrared heater installed for the colder months. The house, although a three bedroom, has quite small rooms so I've had to be quite clever with storage. Our lounge has a cinema style layout due to there only being one wall without an opening in it but we do watch a lot of movies so it works very well for us.
What Friends Say: From what they've seen, they love it. Covid restrictions have only just relaxed here so we've not been able to have friends over until now. We bought the house just before the first lockdown and then I was furloughed for four months so I used that time to do it up and documented it all on Instagram. I mostly get comments on the amount of plants I have or the flecked flooring I created in the hallway.
Biggest Embarrassment: Speaking of the flecked flooring, my biggest embarrassment is probably the fact that I rushed painting the hallway and kitchen floor tiles (or vile-tiles as I called them). I went straight in with a gray that was way too dark and only decided this once I had painted the entire floor so I swatched some alternative tile-paint colors instead. I now know that to effectively choose the right color you need to swatch multiple areas to get a sense of what the color temperature in each room will do to them and also view them in natural light (not just warm incandescent evening light) or you'll do as I did and end up with what looked like a sky blue floor. It was quite the saga at the time but I got there in the end and I'm so happy with it now.
Proudest DIY: My proudest DIY has to be the worktop in my home office, though I didn't do that on my own so maybe it doesn't count but I think that's why I love it as much as I do. It's made out of three reclaimed ex-scaffold boards and stained with an 'Oak' wax. Myself, my partner, my brother, and my dad helped me with it one summer's day so it was quite the family affair. It means so much to me now that I don't think I will ever part with it.
Biggest Indulgence: I suppose my plant collection could also be deemed quite a large indulgence. I dread to think how much they are collectively worth and yet they are entirely dependent on my care. My Strelitzia Reginae (Orange Bird of Paradise) is by far my favorite addition and a total bucket list plant for me. The one in my lounge was a leaving gift from my wonderful colleagues at my last design job.
Best Advice: My best advice would be to go at your own pace, don't get sidelined by what other people are doing. Try to stick to what your budget allows and finish the job before you move onto the next. Also, "measure twice and cut once" is cliché for a reason.
SPARE BEDROOM/DRESSING ROOM
Thanks Claire and Daniel!
This house tour's responses were edited for length and clarity.