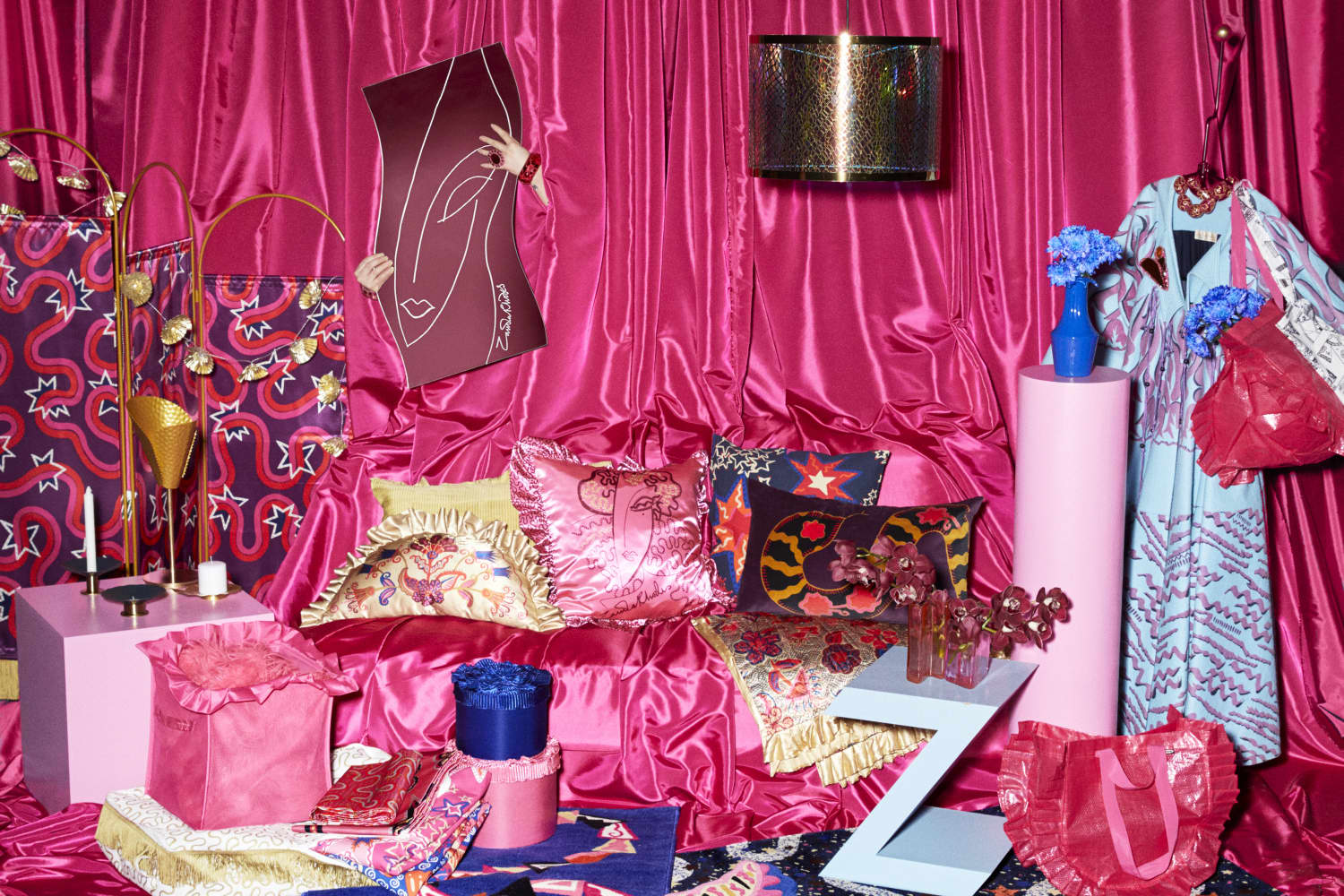 We independently select these products—if you buy from one of our links, we may earn a commission.
As fall approaches, leave it to IKEA to launch maybe their sunniest collection ever. The new line was designed in collaboration with British pattern and textile designer Dame Zandra Rhodes, perhaps best known for dressing the late Freddie Mercury. Called "KARISMATISK," which means "charismatic" in Swedish, the 26-piece strong, limited-edition line includes pillow covers, throws, rugs, vases, candle holders, room dividers, lamp shades, and even a few wearables, from a caftan to a hot pink, ruffle-trimmed take on IKEA's iconic FRAKTA bag.
If you're into maximalism and the '80s revival that seems to be sweeping through the home decor world right now, you're going to want to check out this squiggly, ruffled, and bold-hued collection. Rhodes — and her rainbow penthouse in London — pretty much embody the more-is-more aesthetic. So I can't think of a better partner for IKEA on this collab, which launches both in stores and online in the United States today (and globally throughout the month of September) and could be poised for a sell-out, as many IKEA designer lines before it have.
"Color and pattern take over my life," said Rhodes in a live-streamed preview of the collection last week. "I've always added color to things and not thought much about it." Specifically though, this collection has honed in on two of Rhodes' hero shades: hot pink, just like her signature bob, and blue.
Those familiar with Rhodes' work can expect to see a few of her quintessential motifs running through this collection, from pleated frills and "wiggles" to serpentine snakes and a stylized lily, which Rhodes first started drawing in 1971 and IKEA expertly translated into lighting made of gold-finished metal, as shown right above. These pieces can function as either table lamps or sconces.
When pressed to pick a favorite product, Rhodes said that she loved them all but did offer up two little, flower-shaped rugs as must-haves (you can see them in the top image). They seem to play into the colorful, whimsically-shaped rug trend that's popping on TikTok and Instagram. Meant to be decorative accents versus full-on floor coverings, she suggested moving them around your home whenever you think a certain spot could use an extra dose of color and fun.
But these pieces have as much flash as function: The collaboration has been in the works since 2019, and it took time for Rhodes and IKEA's designers to make beautiful pieces that would all be handy at home, too. "If it doesn't work, things in the end get dismissed," said Rhodes. "It's got to be functional and useful."