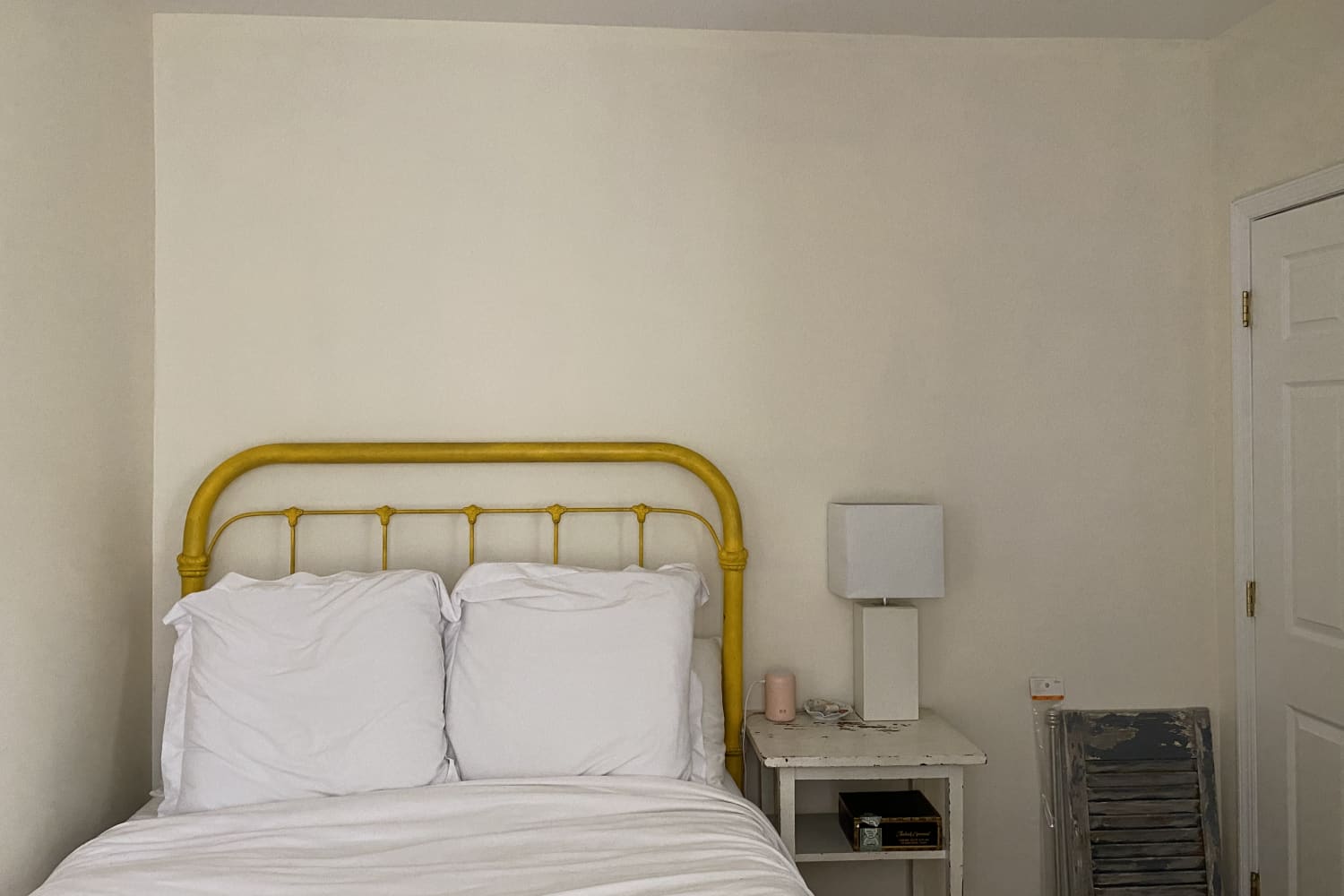 We independently select these products—if you buy from one of our links, we may earn a commission.
When I moved into my new rental apartment in January of 2021, the world was still on pause, and the winter blues were hitting me pretty hard. I missed traveling and I missed being social with my friends, and being surrounded by my bare bedroom's white walls wasn't helping.
As I was looking up inspiration for decorating my empty apartment, I came across a friend's Instagram story about Sante Fe, and I started reminiscing about a girls' trip to New Mexico I took in 2014. I loved that trip, and I also loved the vibe of Santa Fe with its colors and patterns and culture. I knew that was the feel I wanted to bring to my boring white rental bedroom.
The rest of my apartment was already painted some shade of pink, and I wanted to stick with that color scheme in my bedroom, too. But I also wanted to incorporate some of the earthy style of the Southwestern landscape. So for the walls — previously painted a sad shade of renter's white — I chose two different shades of pink, one an earthy blush and one a deeper clay pink. My local Sherwin-Williams mixed up two sample pots for me that came to just $5 apiece, so I was able to paint all the walls in my bedroom for under $10 total (I used the darker color for the walls by my bed and the lighter ones for the walls closer to the window).
Around this time, I was working on an article about fabric as an alternative to wallpaper, which inspired me to do the same treatment in my own home. I had bought these vintage curtains at Stella Dallas in Williamsburg for $150 to use in my living room, but they darkened the room more than I liked, and, since Stella Dallas is a vintage store, they didn't offer refunds. I knew I needed to use them somewhere, and luckily, the light pink and dark pink colors I had painted on the walls in my bedroom matched almost perfectly with the pattern in the curtain. I bought a staple gun ($18) and hung up my own fabric "wallpaper."
Almost everything in my bedroom is repurposed: The bed frame and nightstand has been in my family for decades, the hanging hooks are made of old doorknobs, the curtains-turned-wallpaper are vintage, the fiddle leaf fig tree is a rescue, and my huge mirrored IKEA PAX wardrobe was a Facebook Marketplace find I snagged for $50. (Full disclosure, though, I had to pay a TaskRabbit handyman to disassemble it, transport it to my place, and reassemble it — the cost of that labor was much more than $50.)
One of the only brand-new purchases in this room is my July air conditioner ($385). When I saw that July was offering a window unit cover in Sunset that matched my Southwestern color palette almost perfectly, I knew it would be worth the splurge (not to mention traditional window AC units are such an eyesore, and this one is actually cute).
The other new purchase in my room is my duvet cover and pillow shams from Target ($60). I tried to dye my old duvet cover and sheets to a sunset color, but only the sheets took the dye (I guess my old duvet wasn't cotton after all!). I documented my DIY fail and decided spending a little money on new bedding was okay.
After that, the only things left were the finishing touches, like switching out the rental light fixture for a more interesting one, then adding in my plants, books, and art I already owned. I love these pieces of artwork by Jane Beaird of Quiet Creature. I even DIYed the wooden frames with my dad using leftover wood he had lying around his workshop. All-in, my expenses came to around $700 (and that's including a brand new air conditioner).
My rental bedroom now not only feels like home, but it also reminds me of a time and place that brought me joy. And decorating it with intention helped renew that travel-inspired awe in my heart and gave me much-needed hope that girls' trips will be a thing again in the future. But for now, hanging out here isn't half bad.
Inspired? Submit your own project here.