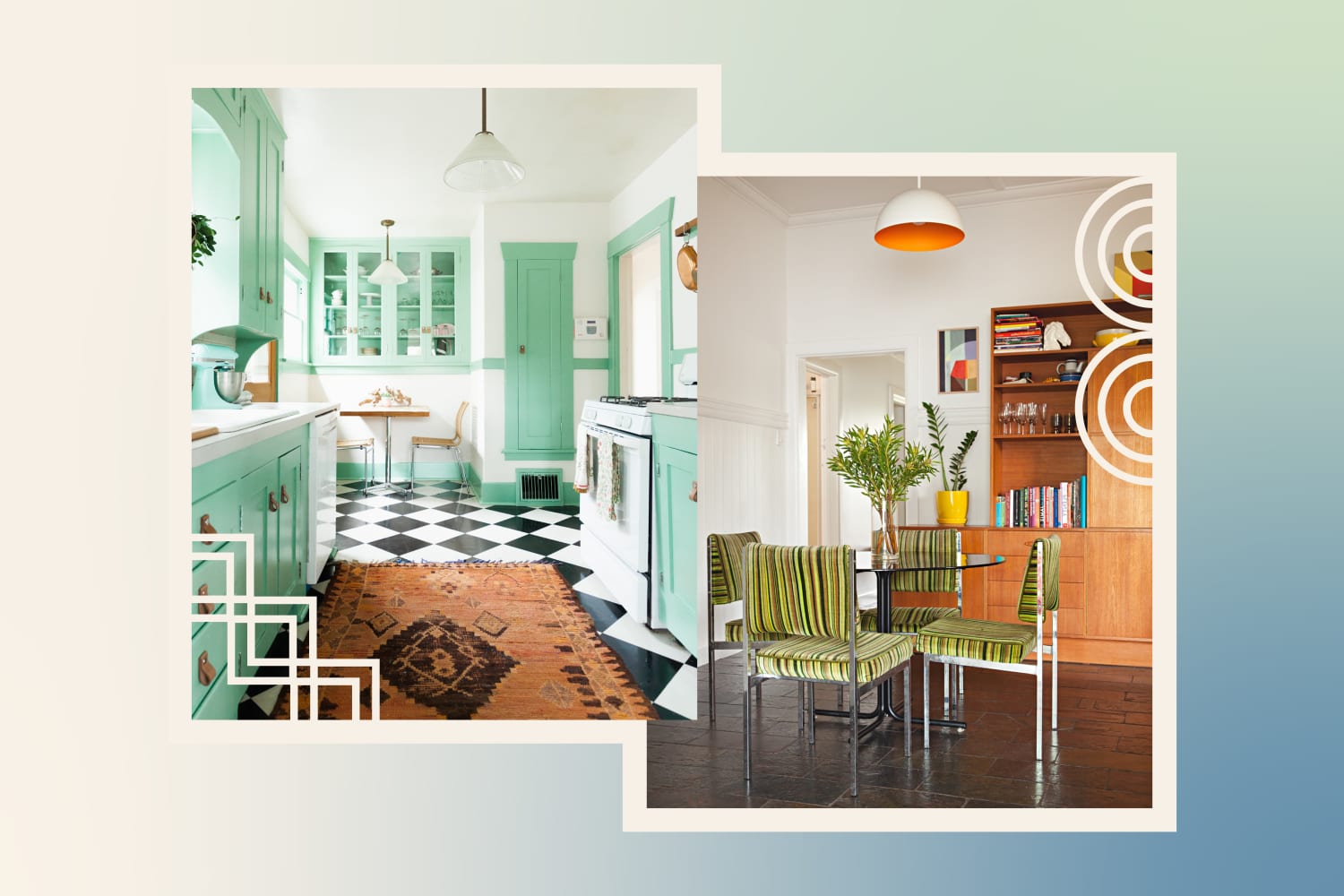 Tall ceilings and thick crown molding. Elaborately detailed fireplace mantels. Plaster ceiling medallions. Pastel-colored bathroom tiles. It doesn't really matter what era a home's design details come from, I'm in love with them. The architectural details are what sold me on my own home (a house in New Orleans built in the 1930s), and it's likely behind the love affairs that many of the homeowners and renters below have with their homes. But it's not just architectural details from a certain decade that can get the heart racing… furnishings and accessories that were made in a certain decade or evoke an era's design essence are also an incredible tool to play around with in interiors. And they can be a great way to embrace the look of the past if you're in a home without its own history.
In honor of Throwback Month, I've rounded up house tours from nine decades — from the 1910s to the 1990s — to celebrate the hallmarks of those design eras. Some of the houses below were built in a specific decade… and the occupants have highlighted and restored original architectural elements to reflect the home's age. Other people just happen to have a passion for a certain era of design — showing off their decade design love by collecting furniture and decor from that era — no matter when their home's structure was actually built. And some folks are lucky enough to both live in a home constructed in the decade they love, and have built up a collection of furnishings that match the time period.
When it comes to the earliest decade of the 1900s, a lot of the design details that stick out are the architectural ones. "Most homes in the 1910s had walls decorated with beadboard, wallpaper, or wood trim, while the floors were often tile or hardwood," reads this McArthur Homes article. Also common were rich and deep colors, and the incorporation of wallpaper and textiles. The intricate moldings in Victorian style houses along with sturdy wood floors and doors are all dreamy elements you can see in large amounts in the four house tours above.
In the 1920s, people were buying houses in a number of different styles. Architectural styles like Craftsman, Tudor Revival, and Cape Cod were popular, and elements like hardwood floors, decorative moldings, high ceilings, plaster walls, and stone fireplaces are hallmarks of the era. According to this SFGATE article, linoleum flooring was also very popular in the 1920s, thanks to how durable and easy to install it is. Homes from the 1920s also started to embrace curves in the form of design elements like coves and arches between rooms.
With everything happening in the world during the 1930s, design and decor became a bit more streamlined, a bit more simplified, and industrial and affordable building materials were commonplace. Furniture in the '30s featured a blend of "curves, straight lines, organic shapes and mixed mediums captured the day's idea of modern," according to SFGATE, and living rooms often had "a few unmatched patterned rugs" mixed about. It also mentions milk-glass shades and small, round mirrors as popular elements of the time. Kitchens also became a bit more modern in the 1930s, and things like "smooth, level countertops," "uniform cabinets," and a stove that "tucks neatly under the counter" became the norm.
The straight lines and simplicity of the 1930s began to morph into more curves, and wallpaper started to cover walls in the 1940s. "Bold primary colors intermixed or replaced muted shades, including patriotic red, white and navy blue, and an array of decidedly optimistic shades of yellow balanced by earthy green tones," describes this article on SFGATE. Floral patterns and prints became popular, too.
While the 1950s certainly had architectural elements that define the era, period-specific furnishings and color palettes come to mind when I visualize the 1950s. "The '50s emphasized neutrals paired with brights, simple lines, and natural materials," according to Lonny, all of which you can see in many of the mid-century modern furniture styles that are still popular today. A 1950s kitchen was very distinct, as well. "Steel kitchen cabinets were very common in the 1950s, as manufacturers looked for ways to turn steel factories that produced weapons for the war to more domestic purposes," wrote Nancy Mitchell in this Apartment Therapy article. "Throughout the '50s, designers and homeowners embraced color in the kitchen, although these colors were softer than the ones commonly seen in '30s and '40s kitchens. While kitchens in the '30s and '40s often featured bolder colors like black, red, or green, the '50s was dominated by soft shades of blue, pink, and yellow — candy-colored cabinets with appliances to match."
The term "kitschy" always makes me think of the 1950s, but when I consider the 1960s, designs begin to feel more sophisticated and futuristic. "The radical '60s brought out a new emphasis on mod shapes and unexpected color," as Lonny describes it. Vibrant colors and even some neon colors began to appear more often. Lots of bold prints covered furniture and walls. Shag carpeting and wood-paneled walls were a big yes. And you really started to see lighting design take off, with interesting shapes and lampshades. Other elements you saw a lot of in the 1960s? According to My Domaine, Scandinavian-inspired vintage wood furniture pieces, Lucite and other clear furniture, textured rugs from places in India and Morocco, graphic pops, geometric shapes, and starburst designs were all popular trends of the time (which actually are all pretty popular today, as well).
Maybe because it had such a resurgence in recent years, but 1970s style is so straightforward. Color palettes were gorgeous and groovy, sporting mustard yellows, avocado greens, earthy terracotta, oranges, reds, and more. Dark woods (especially on kitchen cabinets and walls) were popular, but so were lighter woods like cane and rattan. Nature was celebrated and brought inside thanks to lots of house plants that were popular at the time, like ficus trees, philodendron, and hanging plants with jungle-y trailing vines, which filled rooms in the 1970s. You think murals are big now? Murals were huge in the 1970s. And of course, macrame reminds me of the 1970s every time I look at it.
Decor vibes from the 1980s are so hot right now. "The '80s were nothing short of eclectic. Depending on what style you gravitated toward, the color palette ran the gamut from Laura Ashley's English garden-style sweet pastels to Synthwave-esque neon to Memphis Design's primary colors," Marlen Komar wrote for Apartment Therapy this year. "Houses were decorated with tessellated stone side tables, deep leather sofas, laminate coffee tables, and white Formica bedroom sets. In general, furniture was known for curvier silhouettes, which rejected the straight, sleek lines of mid-century modern design to embrace the rounded corners, spiraled poles, and waterfall edges of a new decade. Patterns ranged from ditsy florals and pastel, almost Southwestern motifs to the familiar geometric shapes — circles, squares, triangles, and squiggles — synonymous with Memphis Design."
When I think of the '90s, the decade I grew up in, I remember the cheery colors of the "Friends" apartment, I think of honey-colored oak wood, lots of florals, and lots of gold/brass elements. We're talking blonde wood finishes, teal and magenta accents, heavy drapes, ficus trees, oversized lamps and glass coffee tables, to name a few. Pattern seemed to come in the form of wallpaper (does anyone remember wallpaper borders?!), textured walls (hello popcorn ceilings), stenciled designs, and sponge painted walls, according to this article on '90s trends. " Beanbags were a legitimate form of furniture. Inflatable furniture may not have been invented in the '90s, but it sure partially defined it. It wasn't unusual to see wall-to-wall carpet.