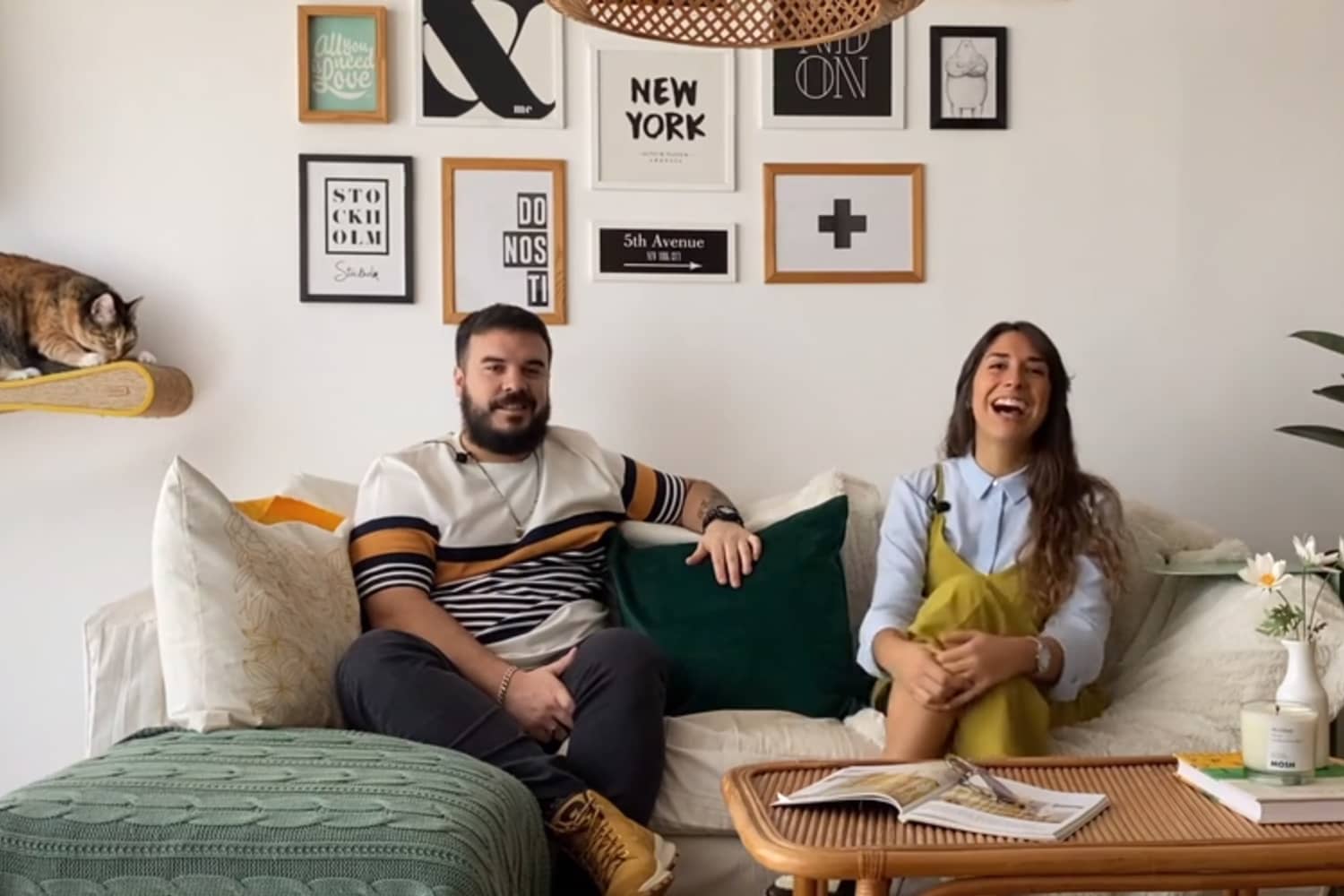 We independently select these products—if you buy from one of our links, we may earn a commission.
Name: Lucía Gogenola and partner, Agustin, and our two cats, Olivia and Lupita (the real owners of the flat)
Size: 914 square feet
Home type: Apartment
Location: Rosario, Argentina
Years lived in: 3 years, owned
This apartment is so small and cool, it won Apartment Therapy's Grand Prize in this year's Small/Cool contest! At only 914 square feet, it's small, but it doesn't feel too cramped at all, and is currently the colorul and warm home of Lucía Gogenola and her partner, Agustin, and their two cats. Even more amazing? This small apartment used to be home to even more people! As reported in the contest winner announcement, "Gogenola says her grandparents purchased the apartment when it was first constructed decades ago, and they raised their three kids — including Gogenola's mom — in it. Later, Gogenola's parents raised her and her two siblings in the apartment. Three years ago, Gogenola and her partner took over the space (thanks to Gogenola's mom, who owns the home now and lets them stay in it — sweet!). Today, they use one of the three bedrooms as an office and another as a storage space. Gogenola says she previously shared her current bedroom with her sister."
Of course, this creative couple doesn't just win the contest because they squeeze into a small apartment. They won because of how they've taken a blank canvas and personalized it with her own style. A lot of decorating happened when they were stuck inside during lockdown. "The apartment where we live today is over 60 years old and was the home of my grandparents," explains Gogenola. "When I moved in with my boyfriend, the biggest challenge was trying to give it our imprint to feel that we were at home. And even if I keep the memories of my family, make it my own space. We got to work, we painted everything white and little by little we filled it with the things we liked. Today, it is certainly our place in the world. Many of the furniture is inherited and we restore it with our hands, that gives it a unique and special touch that combines its history with our present."
Lucía and Agustin had so much fun using color in their home design — and have created such a calming, inspiring home for themselves — that they have started their own company, Proyecto Pasillo, where they design and make products like hangers, coat racks, shelves, and more.
Apartment Therapy Survey:
How does your home reflect you? The colors of my apartment reflect my personality. I love plants and feeling in contact with nature. I have a special love for yellow; it transmits joy, happiness, light, optimism, warmth and good energy, and I believe that all of this is what I want my home to transmit. I am one of those who believe in the power of objects with history and in giving what surrounds us a second chance. I firmly believe that it is not necessary to spend a fortune to live in the apartment we dream of and that it is worth making changes to achieve its best version.
What's your favorite DIY? Almost everything around us is DIY. We painted the front door yellow and added moldings to give it personality, we also created much of the furniture and recycled others. We plotted the closet doors and painted several colorful murals. We also painted windows, blinds and air conditioners to make them look like new. But the most radical change was the kitchen remodel. We used only paint and today it looks like new! The best thing is that it took us only four days and a minimum budget. This great change motivated us to continue painting the rest of our flat and transform our spaces with color.
How do you make your small space work for you and feel bigger than it really is? The wooden table that you see in the kitchen helps us to add support space on the counter that is quite small. The good thing is that you can move it and place it on the sink when you use the oven and this continue to gain space. Also the hanging lamps in our bedroom help us free up space on the night tables. We have shelves throughout the department, air space is essential when optimizing storage places. We restored two drawers from the old wardrobes, painted them and added wheels to use them under the work tables to store papers.
Thanks Lucía and Agustin!
This house tour's responses were edited for length and clarity.