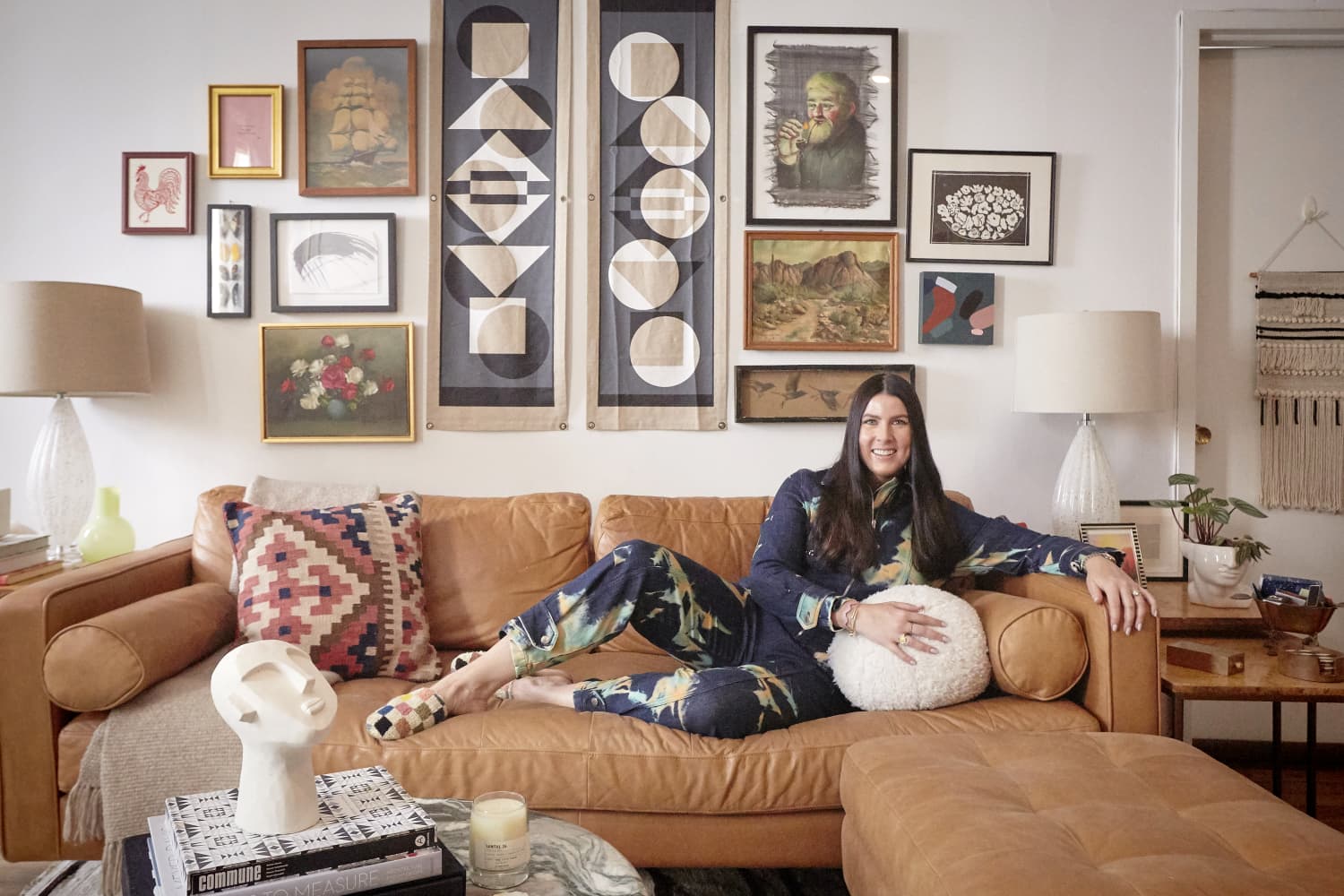 We independently select these products—if you buy from one of our links, we may earn a commission.
Name: Danielle Blundell and husband, Danny Wheeler
Location: Upper East Side, Manhattan
Size: 600 square feet
Type of Home: 1 bedroom-flex apartment in a walk-up
Years lived in: 8 years, renting
I'd be lying if I said the closets — four in total, all fairly sizeable — weren't what initially attracted me to this apartment. It's not the fanciest or newest building, but the period charm's a dream: original hardwood floors, exposed white brick, a painted tile backsplash in the kitchen, and a wood burning fireplace (that we've lit once or twice… firewood's expensive in the city). I majored in art history, so I love being so close to Museum Mile. We're also near Central Park and on a lively block near the Q.
Even though this place has its challenges — namely a lack of sunlight and just old building issues from time to time, I've enjoyed nesting here and turning it into a little respite from the hustle and bustle of the city, as cliché as it sounds. We had done a number of things to make the apartment feel like us leading up to the pandemic, but everything came together once we were spending pretty much all of our time here and made a few key furniture additions and finished projects we had been putting off for forever. After years of our place being a sort of pass-through zone, I feel incredibly lucky to have a roof over my head and to be surrounded by so many things that make me happy.
Apartment Therapy Survey:
My Style: Eclectic, cozy, and personal. I've been working as a design editor for a decade, so while I appreciate almost every style out there, I personally gravitate towards a neutral foundation with classic pieces that I can layer color and pattern on top of, and I'm all about mixing old and new. I also love a good deal, so you'll see lots of HomeGoods and T.J. Maxx finds alongside hand-me-downs, a few vintage splurges, and some budget buys from bigger box home stores and sample/seconds sales.
Inspiration: Travel (back when it was more of a thing), art (particularly when it comes to color palettes), design firms like Commune, Reath, and Roman & Williams, designers like Beata Heuman, Leanne Ford, and Kelly Wearstler, a lot of the house tours I see here on Apartment Therapy, homes on Instagram, and, without a doubt, definitely my mother. She always created such joyous spaces for our family growing up and put her own personal spin on things, even if she had to reupholster or paint furniture herself to get the look she wanted. She also let me paint flower murals on my walls and clouds on my ceiling as a kid, and that's what probably led me to where I am today in some capacity.
Favorite Element: I'd have to say all of the super personal, one-of-a-kind vintage pieces we've incorporated into our decor, from the simple floral still life my Nana hung in her parlor that's now part of our gallery wall to my mother's original mid-century modern dresser she was gifted for her 16th birthday. I also have a bunch of artwork given to me by my godmother's husband, who traveled (for work and fun) to places like Vietnam and Kenya throughout the '70s, '80s, and '90s and always brought back original pieces from local artists and artisans that I admired for years (and luckily came into the possession of when they last moved… thanks, Patti and Al, if you're reading this!). Another godmother gave me her woven Italian dining chairs when cleaning out her guest house. My husband also has his favorite childhood baseball displayed on our shelves, and we have a sweet little tray from his grandmother (given to us by his mother and father after her passing).
Biggest Challenge: Hands down, it's the lack of natural light. We're on a major avenue with sun exposure, but the unit's rear-facing, which is nice for noise control but terrible for natural light. Compounding that, about a year and change ago now, developers tore down the old walk-up next to us to put in a mega-building. We're pretty much in its perpetual shadow now. Sunlight peaks from about 9 to 11 a.m., and after that, you sadly don't really see much coming in through the windows. I've tried to look at this as an opportunity to get creative and problem-solve. I really love color, but I've chosen to keep most of the walls white and the floor coverings light-colored, relying on things like art and textiles for that pop that's otherwise missing. I even put white faux marble tile down in the bathroom and picked cream bedding and nightstands. This strategy means you get a little extra light reflection from these larger furnishing and surfaces in each of the rooms. To augment this effect, every room also has at least one mirror in it, and daylight-simulating bulbs are in all of the light fixtures.
Proudest DIY: Probably the little vanity area off of the bedroom closets (and maybe even the fake "custom" closets themselves). With a little temporary wallpaper, a fun pendant, a fuzzy rug, some clear storage solutions, and a small space-friendly vanity, I turned what would otherwise be wasted space into a tiny nook for getting ready that I sometimes now use as a desk, too. We've also changed out all the overhead lighting, added nicer switch plates from Legrand and dimmers for the fixtures, and attempted to make both the fireplace surround and our bathroom floor look like fancy stone with contact paper and vinyl tiles, respectively. I'm not sure either is really that convincing, but I do think they look a little more luxe. Fake it until you make it, at least when it comes to pricey marble.
Biggest Indulgence: I've narrowed it down to three because clearly it's hard for me to pick favorites. First, cramming a king-sized bed into a smallish New York City apartment. The headboard spans an entire wall… well, an entire partial bump-out wall. I thought it might make the room look smaller, but honestly, it fits so perfectly into the bones of the space that it looks intentional.
Original art would have to be a close second. I've purchased a few investment pieces after saving up for a long time — a James Rosenquist signed lithograph from 1968, a Hugo Guinness print, and a small Caroline Kaufman painting from LEIF (she just did some of the wall hangings for the new Ace Hotel in Brooklyn). I love the way the Rosenquist's canned spaghetti echoes the kinda weird but super sculptural lighting fixture in my dining room; I can't even tell you why I like this image — it's total Pop Art absurdity — but I just do. That said, a lot of my art is very budget-friendly, purchased at flea markets and garage sales. Buy what speaks to you and makes you smile, transports you, or challenges you to think differently! I'm also big on framing random things if you love them — a hand-painted thank you note from a friend, a favorite piece of fabric. Expensive doesn't mean more beautiful or special!
Last but not least would be all of my shoes and the shelves I store them on. I clearly like collecting things (maybe too much?… now trying to stick to the one in, one out rule for everything) and really hit the J. Crew sample sales hard during the Jenna Lyons days. Lately, I'm more of a sneaker person though, so I had to get those book towers to keep them handy. Yes, regular dusting is a must, but these shelves are convenient and allow me to display pairs as decor.
Is there something unique about your home or the way you use it? Somehow, we've found a way to squeeze five desk-like surfaces into this place, which has been helpful for creating a change of scenery when spending so much time here, whether working or otherwise. Other than that, I think the best fun fact is that I have a spider plant that's a cutting from Lee Krasner's (and Jackson Pollock's) original spider plant from their home-turned-historic landmark out in Springs, New York. They sell them at the "gift shop" alongside maybe three or four books, and as both an art and plant nerd, that's the best $5 I've ever spent.
What are your favorite products you have bought for your home and why? Other than all the art and aforementioned vintage, I'd have to say our Article Sven sofa. I wanted a sectional but didn't want to spend a ton of money on a couch oriented for what probably won't be our forever space, so we bought a three-seater and an ottoman instead (again to fake the look of a sectional). It really is as comfortable as it looks, and I feel like the extra flexibility will be amazing when — and if — we're ever in a two sofa space… you know, a living room where there's so much square footage, the layout can accommodate two couches facing each other in conversation.
Please describe any helpful, inspiring, brilliant, or just plain useful small space maximizing and/or organizing tips you have: Other than sticking to lighter colors for larger furnishings/surfaces to make your spaces seem brighter and airier, I'd also say you can always squeeze an open shelf in just about anywhere. I've put them in my bathroom above the toilet, on the wall above my vanity, on the wall above my mother's dresser, above the shower surround in the bathroom. Usually, I use clear acrylic ones to keep the look visually light, since the point is to put lots of stuff on them.
Finally, what's your absolute best home secret or decorating advice? I have a few. Hanging textiles and rolling out rugs in every room will help with noisy neighbors, and bamboo or woven shades can make even the cheapest curtains look expensive. Never buy anything right away unless it's vintage, you can afford it, and you can't live without it (or it's from H&M Home or Zara Home… their stuff sells out almost instantly in the states). Measure twice, and then measure again. It's also helpful to block things off with painter's tape to get the scale of your big pieces of furniture right when laying out a space. Also, decorating should be fun, and your home should evolve over time. That said, don't wait to start making a space your own, even if you live in a rental. It's all about honing your home — not owning it.
This house tour's responses were edited for length and clarity.