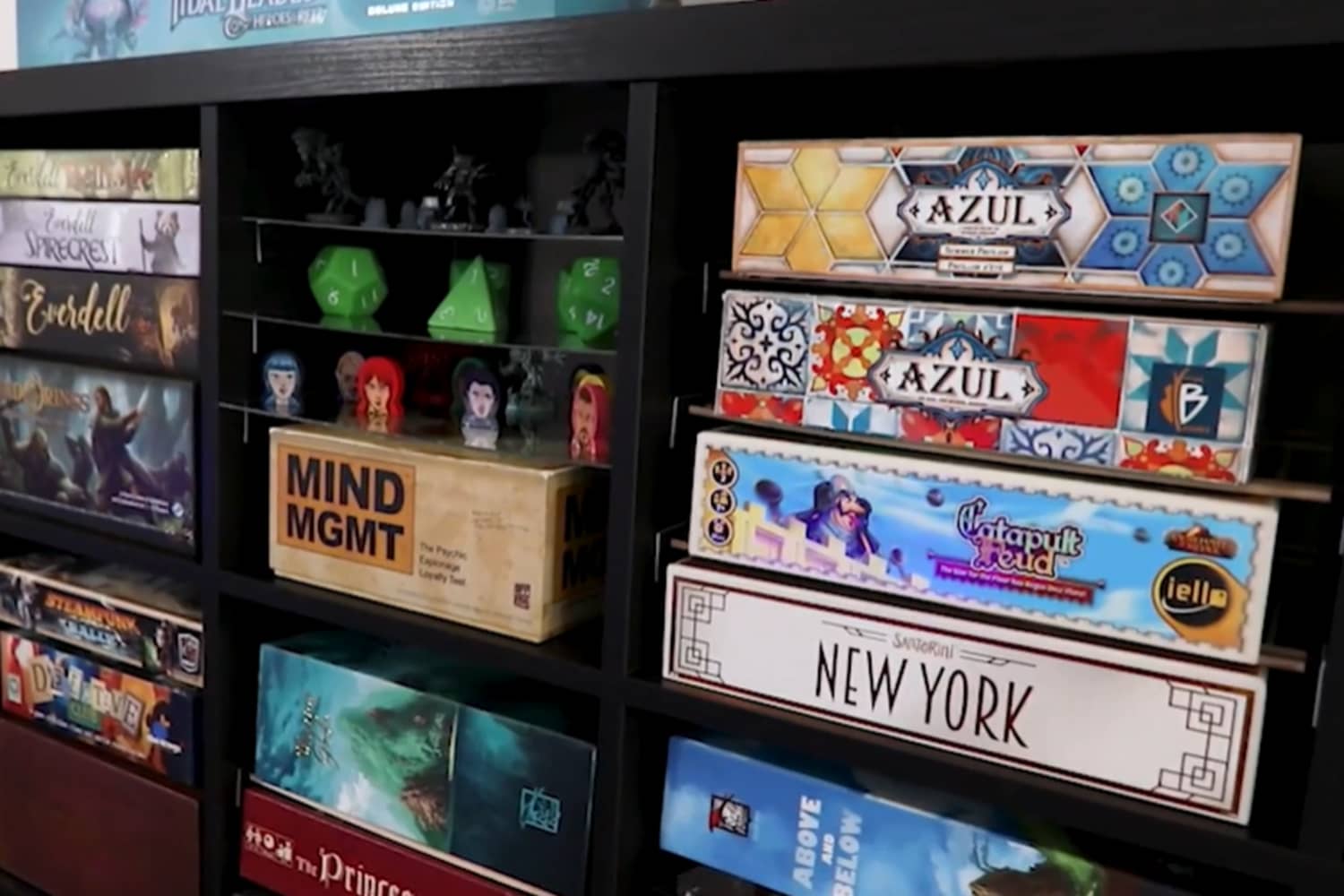 We independently select these products—if you buy from one of our links, we may earn a commission.
Fans of board games may know the struggle of keeping your collection looking neat and tidy. From worn boxes and missing pieces to lids that just won't stay on properly, if you've got a lot of games, it can be an effort to keep everything in order.
The LAX RAX, now on Kickstarter, may be the solution to all your board game storage problems. Designed to work seamlessly with the much-loved IKEA Kallax shelf unit, LAX RAX will allow games to be stored flat on their own shelf, with no wasted space and a super organized and eye-catching display.
"Take your Kallax to new magnificent heights," the Kickstarter campaign reads. "The wonders of slide-able game storage await!"
If games are stored vertically and aren't tightly packed, the lid will drift away from the box, making for a messy-looking collection.
"This is because GRAVITY pulls all the bits and bags to the bottom of the box, pushing the lid out," the Kickstarter explains. "This creates more space for even MORE bits to fall out of their holders…"
The LAX RAX has been designed to ensure users spend less time tidying up and picking a game off the shelf, and more for the gameplay. Each board game will have its own individual shelf so you can slide the game in and out of the storage unit with ease.
To install the innovative shelves and create your very own shelving system, no slots and screws are involved. Stick the LAX RAX grips to the unit, slide in the wooden rods, and you're good to go. They're quick and easy to set up, and if you want to temporarily go back to normal shelving, all you need to do is remove the rods.
Fully adjustable, the grips come with "two instant height bumps", allowing you to switch up the amount of space on each shelf depending on the height of your board games.
Additionally, the LAX RAX shelves are sustainable and have a low-waste design.
"We wanted to create a product that was designed as efficiently as possible, using the most sustainable materials we could, while also providing you with the type of premium quality we're known for," the campaign reads. "LAX RAX went through months of iterations until we arrived at this final design that packs in functionality, ease of use, and environmental sustainability into one package."
LAX RAX also offers a range of add-ons, including acrylic shelving, display cabinets, and dry-erase play count trackers.