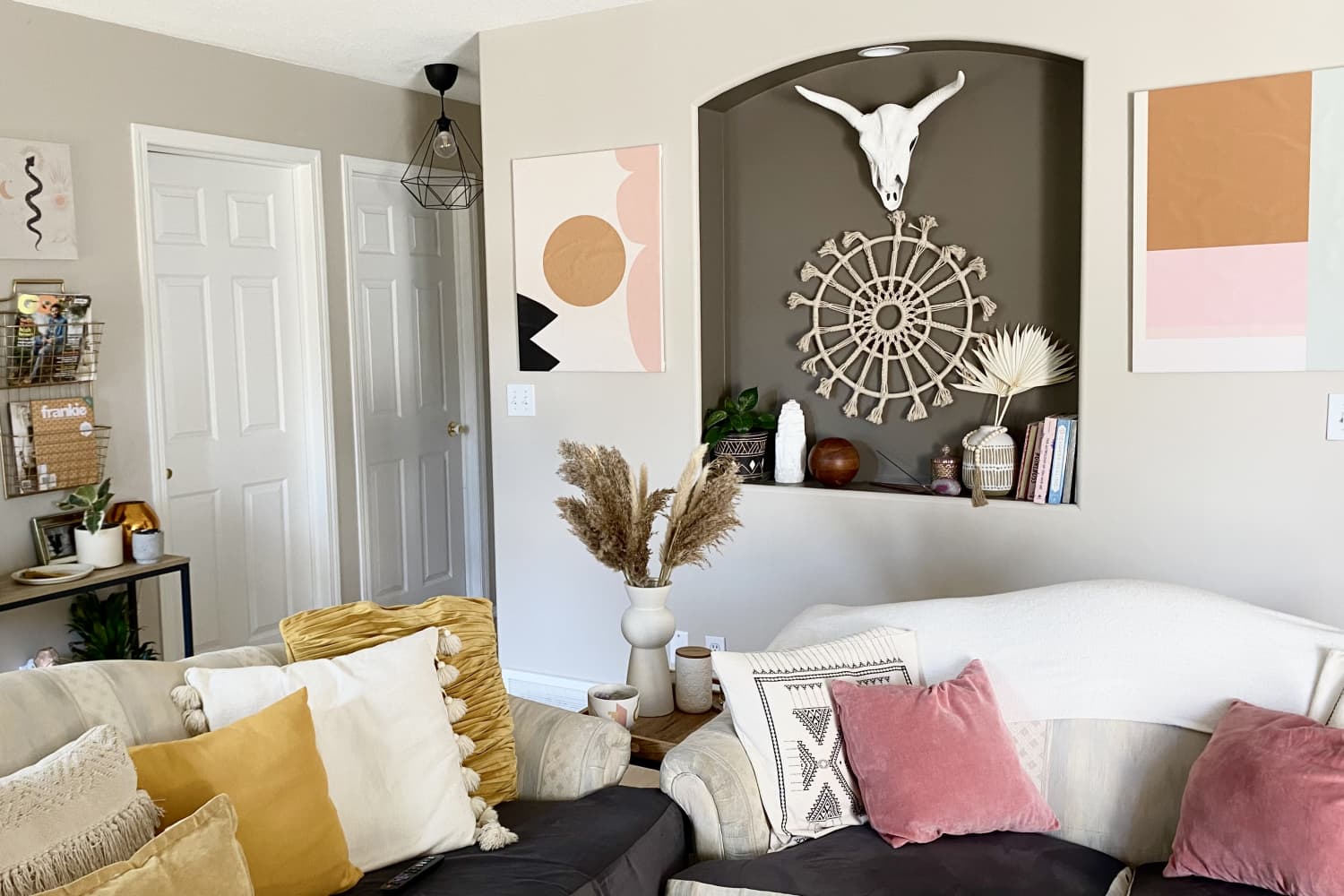 We independently select these products—if you buy from one of our links, we may earn a commission.
Name: Amara Haywood and one Roommate
Location: Saskatoon, Canada
Type of home: Condo
Size: 1,004 square feet
Years lived in: 2 years, renting
Tell us a little (or a lot) about your home and the people who live there: I live here with my roommate in Saskatoon, Saskatchewan, and our home is a reflection of different things that inspire us. We are both in our late 20s and both describe ourselves as creatives, so our space is the perfect reflection of us. We both love the '60s/'70s era music, so you will see a lot of nods to musicians around the home, including Dolly Parton, Bruce Springsteen, Fleetwood Mac, and Freddie Mercury (to name a few). We love to have friends over and make cocktails, so our bar cart is always fully stocked. We wanted the space to be a reflection of our personalities but also ensure that it was comfortable and cozy for the long Canadian winters. Because of this, there are a lot of blankets and pillows around the condo but also plants to ensure there is lots of life in the home even when it's gray and snowy outside.
Both of us agreed that we find overly modern spaces a bit cold and sterile feeling, so we went the exact opposite route when it came to decorating. As I mentioned we wanted the space to reflect our personalities, while also being comfortable. Both of our mothers are very into decorating spaces, and my mother always told me, "the biggest compliment is when someone comes to your home and immediately makes themselves right at home because that is a sign you have created a comfortable and inviting space," so that was our overall goal for the space. Our space has a lot of natural elements such as plants (lots of plants), wood, dried plants, rattan, but also mixes in warm tones such as mustard yellows and pink shades. This is definitely inspired by the '70s era color palette.
Describe your home's style in 5 words or less: Boho, Glam, Funky
What is your favorite room and why? Hands down the living room/dining/kitchen space. We spend a lot of time in the common space eating, drinking and watching TV. If we did not love this space so much, I think it would have made the COVID-19 lockdowns a lot less bearable. We both love the light this space gets, especially in the morning, and the overall vibe this area has. The gallery wall is my favorite feature in the home, as it truly reflects our personalities and interests. It is truly the perfect place to wind down after a day at work.
What's the last thing you bought (or found!) for your home? Our dining room chairs! The previous chairs we had were a little clunky and did not fit the smaller dining space very well. For the majority of the pandemic, we were both working at home, me in my bedroom and my roommate at the dining room table. I just felt as though our dining chairs were not comfortable, so I decided to sell them. We replaced them with a bench, which fits in the small space better along with two beautiful teak chairs I found secondhand. I came across them on Marketplace. They are vintage with rattan covered seats and just fit the space perfectly.
Any advice for creating a home you love? The most important thing to me is lighting. With having such long winters here, it is easy to get the winter blues, and I feel that bright light helps me feel inspired and cheery. When it comes to decorating, I think it is important to fill your home with items that bring up memories and tell a story about who you are. Every day when I wake up, the first thing I see is a map of where I lived when I was a child, and then I go into the living room and see prints of musicians that I love. These are all items that evoke happy thoughts and memories. And above all, create a space that you will want to spend a year-long lockdown in…because you never know what is going to happen.
This house tour's responses were edited for length and clarity.