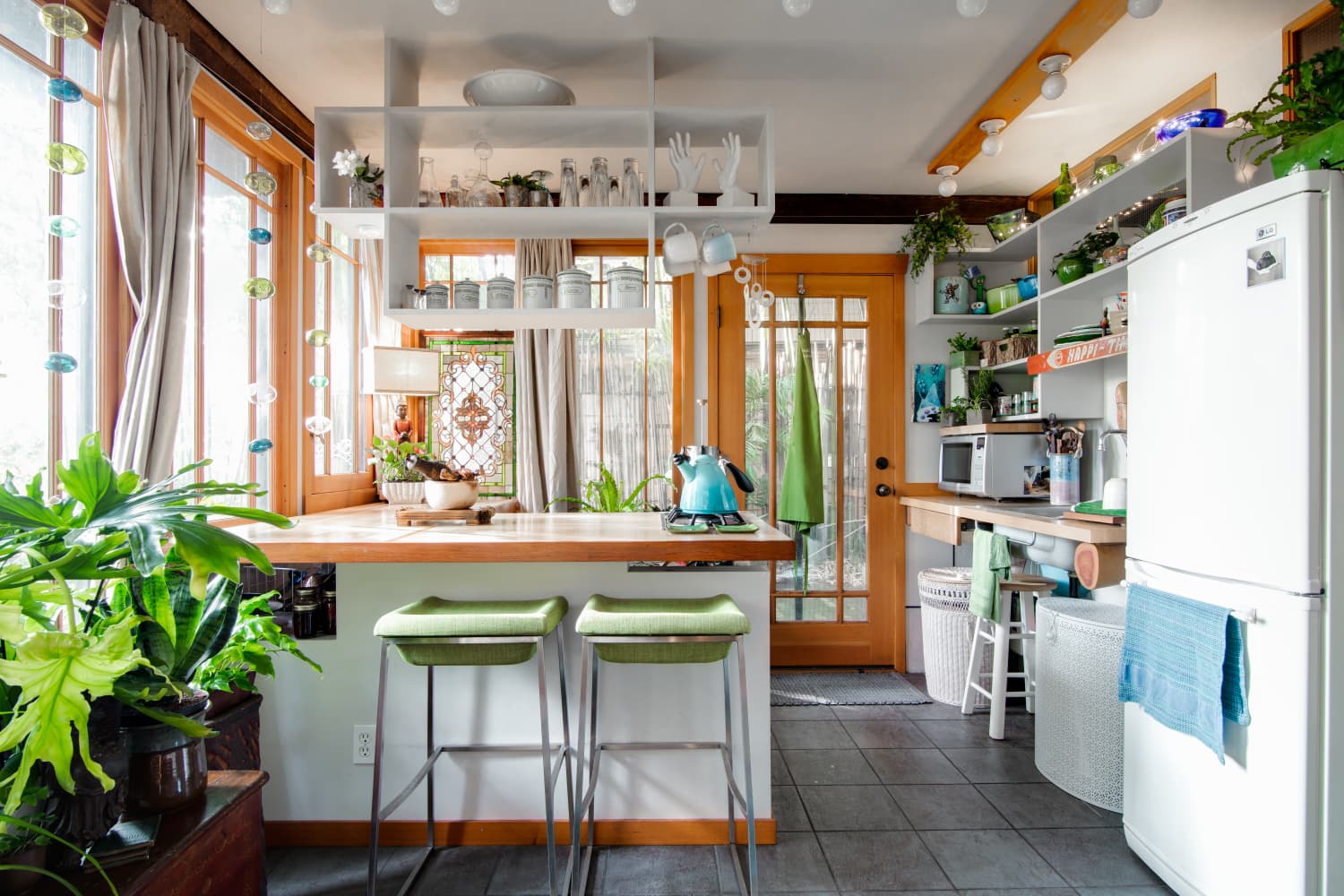 When you think of the Great Depression, images of people standing in long bread lines and banks boarding up their windows may come to mind. The Depression certainly marked the end of the glamorous, champagne-filled Roaring '20s era of excess, but that doesn't mean everything during that period was drab and colorless. Enter Depression Glass, the cheery-hued, inexpensive glassware of the 1930s that reminds me of the colorful pieces that have been trending again recently.
When unemployment skyrocketed to 25 percent in 1933, funds for new home decor pretty much fell to the bottom of the list in the average family's budget. Glassmakers began to pivot from making luxury crystal, which was out of most people's price range, and instead focused on making colored glass. Produced largely between 1929 to 1941, these pieces were made by the tons through pouring liquid glass into pre-made molds and were either given away for free or sold on the cheap for pennies. Generally, pieces weren't polished and edges were left rough, which accounted for a lower quality but also more economical end product.
As a way to bring people to their establishments, local movie houses gave away glass dinnerware during "Dish Night" promotions, gas stations offered pieces as prizes for playing games when fueling up a car, and some grocery stores even popped little glass trinkets into the bags of customers' orders. Around twenty manufacturers made about 100 different patterns, which often mimicked traditional crystal, and people scrambled to spruce up their dining rooms with everything from pink ashtrays and yellow candlesticks to technicolor-looking matching dinnerware sets. Of course, fine crystal continued to be made during this period, but it certainly didn't keep pace with colored Depression Glass.
As the pandemic taught many people firsthand, little inexpensive indulgences can help to keep morale up, and that's exactly the role Depression Glass played almost a century ago. Pieces came in a riot of hues, including pink, amber, jadeite (Martha Stewart's favorite), royal ruby, and even uranium green. Color not only disguised the lesser quality of the glass, but it also provided a little bit of extra cheer. "Color was very important in Depression Glass because those were such dark days," Dixie Davis, the president of the Arizona Depression Glass Club, told The Arizona Republic in 1986. "L.E. Smith made black glass. But my mother never let dark colors in our house. She thought color perked us up."
Colored dishware may have also helped to make plain, meager meals look more appetizing. With economic strife often comes lackluster dishes, but even beans and bread looked almost restaurant-worthy on pink glass plates. "In the present era, with glass so pronounced a vogue, it is not difficult for the homemaker to have the dining table as refreshing in appearance as in substance," the Lincoln Journal Star reported in 1931. "Color of glass serving dishes can lend zest to otherwise plain viands and aid in making them appeal to the appetite."
Sometimes the colored glass itself solely was the draw. A 1930 advertisement hammered home the idea of these items as small, affordable treats. "I bought myself a present that I really needed," an advertisement in the Tampa Times read. "A covered pitcher and six tall Ice Tea glasses in colored glass and crystal." The seven-piece set retailed for $1.25 and conjured thoughts of impulse purchases, "just because" presents, and even hosting friends on one's porch — all of which brought up memories from an easier, more normal time.
Depression Glass also served one last purpose beyond brightening up the home and making food more palatable: escapism. Hunting down pieces to finish a growing collection not only brought purpose, but it also sparked an immense amount of joy for relatively low costs. "To have an interest in anything is to have a decidedly pleasant view of life," a hobby collector told The Wichita Eagle in 1937. "The origin and history of anything you collect is an education in itself, and there is a liberal share of humor through making a collection. Leisure time spent in collecting is not wasted."
Once the economy began to correct itself, many families traded in their colored glass sets for fine china again. As they packed away the Depression Glass, they also hoped to forget the memories of a difficult decade. "People were ashamed of it because it represented a bad time in our history," Davis explained to The Arizona Republic.
Today many collectors hunt down entire Depression Glass sets, but you can just as easily find a drinking glass or serving plate at a thrift store or garage sale. Etsy's also a great resource for inexpensive Depression era pieces. These little glass bric-a-brac and dinnerware pieces are like postage stamps from a bygone time, reminding us there's always a glimmer of hope — and bold color — to be found during our darkest periods.
It's hard not to draw a parallel between back then and the surge in colored glassware again today. Support an artisan glassmaker today if you can, sure, but also keep your eyes peeled for authentic Depression Glass. If you're lucky, you may even find some in your grandparents' china cabinet!