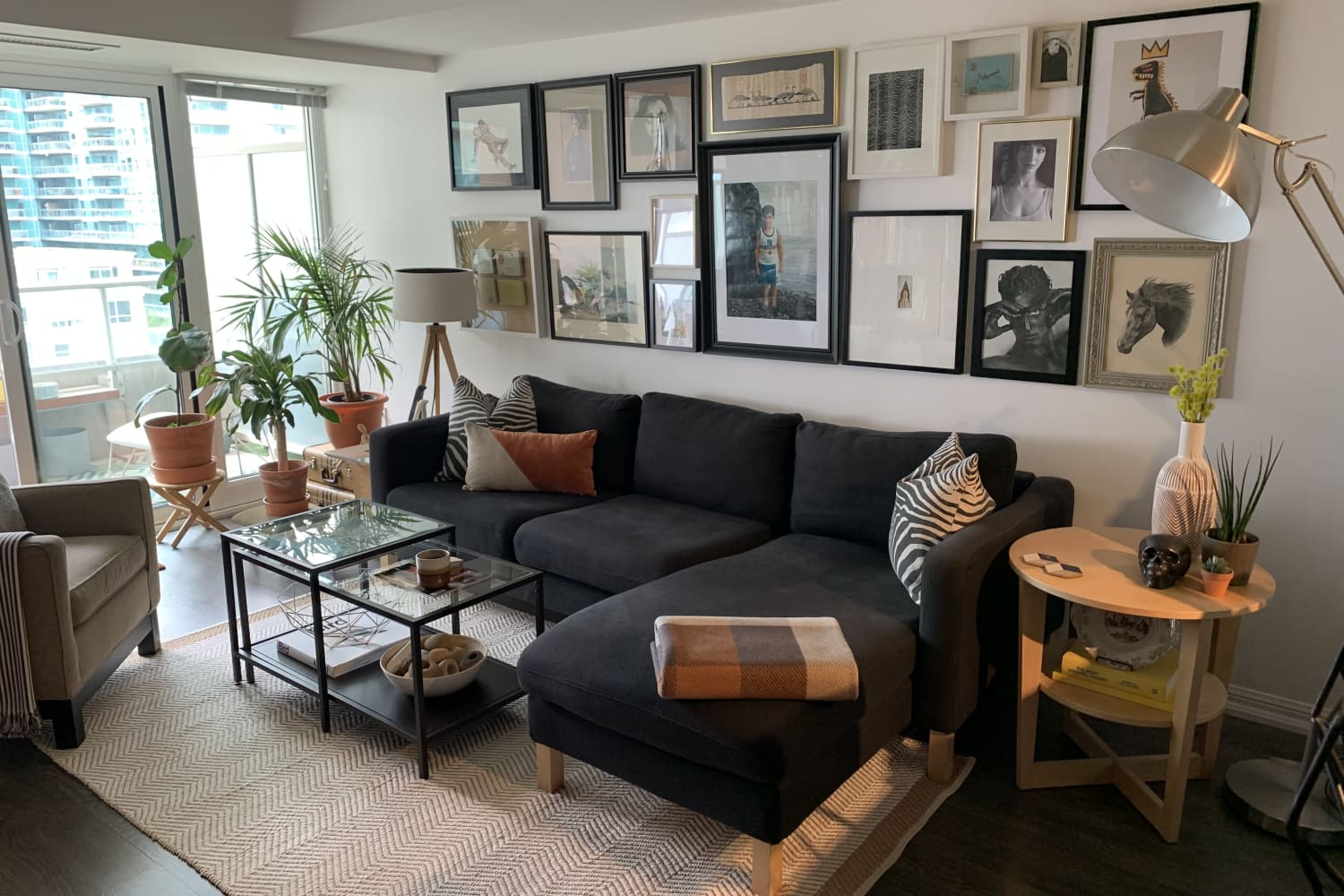 Name: Trent Stringer
Location: Toronto, Canada
Type of home: Condo
Size: 522 square feet
Years lived in: 4.5 years, renting
Tell us a little (or a lot) about your home and the people who live there: I'm obsessed with all the colors of 1970s television. I love murky, earthy tones, with thoughtful pops of color throughout. I like mixing up wood tones and playing with and layering textures. Because I've always lived in small, usually open concept spaces, I look for items that have crossover appeal, and can work together in various ways. I keep the basics neutral, and rearrange accessories and art occasionally.
My palette is warm and vintage, but I like to mix it with a clean, graphic sensibility. I like to consider my space an extension of my personality, which is unique and eclectic, but neat and orderly. I consider my space to be organized chaos. If you opened my brain, my home would be the physical version of that. It's one-of-a-kind, like myself.
What is your favorite room and why? My favorite room is my living room, as it's the most me. It has so many fun places for the eye to land, especially for guests. On my sofa, you can see the entire space, and it has the most natural light due to its floor-to-ceiling window.
What's the last thing you bought (or found!) for your home? The last thing I purchased was a small bud vase from West Elm in Toronto. I wanted to inject a new color, and found a coral vase that worked perfectly with my existing vase collection to shake things up slightly.
Describe your home's style in 5 words or less: Eclectic, Graphic, Layered, Sentimental, Hi-lo
Any advice for creating a home you love? Make sure that it represents who you are and make it comfortable. There are no rules when it comes to making the perfect space, you just need a point of view.
This submission's responses and photos were edited for length/size and clarity.