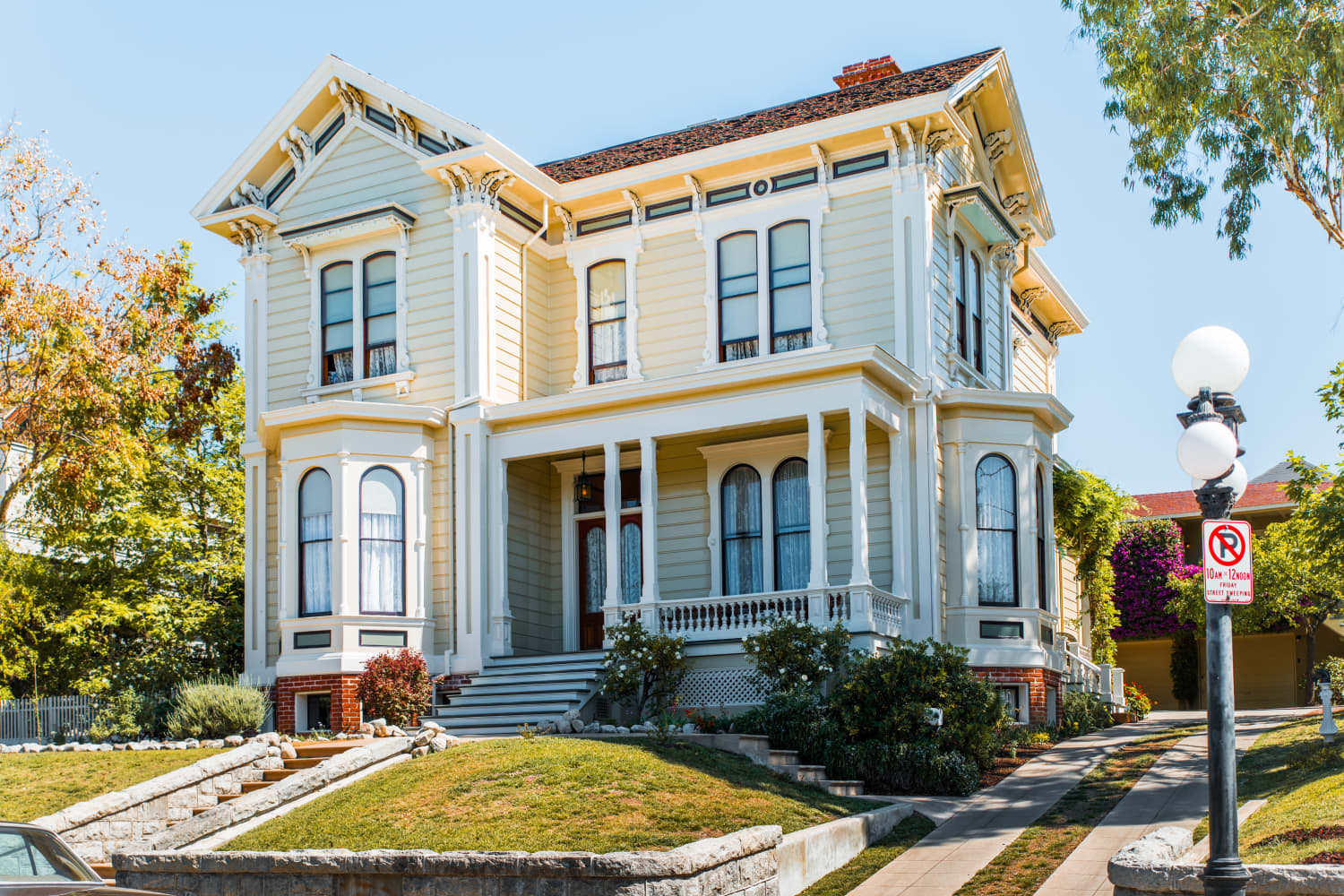 We independently select these products—if you buy from one of our links, we may earn a commission.
Old homes have an irresistible allure about them. They are just begging to be restored to their former glory, and home designers, contractors, and renovators often love them for that final wow factor they offer. Often it's a creative challenge to try to maintain the original aspects in the home while updating the rest to a final mix of historic beauty and modern day charm. But there can be more lurking behind the walls of a 50-plus-year-old home than renovators anticipated, and it can be downright dangerous. Here, renovation experts give us their top tips for safely working on older home projects.
Watch out for lead paint.
We've all heard of the dangers of lead paint, but some renovators may not consider just how hazardous it can be to their health when their heart is in a major remodel. According to Dallas Nevill, franchise owner of Rainbow International Restoration of Southwest Mesa in Mesa, Arizona, homes built before 1978 typically contain lead paint (and you can buy lead testing kits at home improvement centers to easily confirm). Lead paint generally isn't a problem until it starts chipping, when it can be ingested or inhaled.
To safely remodel when lead paint is present, the key is to keep it as contained as possible. "Don't sand your walls if they have lead paint, because this could lead to the particles becoming airborne," Nevill says. Often, the best solution is to paint over it with a specialized paint that seal it in — called "encapsulation" — but that isn't an option if the paint is flaking off or is on a surface that gets a lot of wear and tear. In those cases, removal is necessary. Call in the pros for this — they'll have the correct PPE as well as the proper tools like a HEPA vacuum hose to pick up the crumbles of paint that fall.
Avoid wires that haven't aged so well.
Let's just say the electricity of 100 years ago isn't what it is today. Scott Sidler, the founder and CEO of Austin Historical, a historic restoration contractor in Orlando, Florida, and blogger behind old home renovation site The Craftsman Blog, says old wiring is a serious danger even if you aren't directly touching it. "Wiring like knob and tube or aluminum generate excess heat and can cause fires," Sidler says, which means that when it's in use, it's a hazard. "Other cloth-covered wiring from the 1920s can be exposed, causing arcs, and they don't have any ground protection," he adds. That's especially concerning in potentially damp areas like bathrooms and kitchens.
Aside from wiring, some breaker boxes are a watch-out, as well. Vintage ones made by Federal Pacific are known to be faulty and can cause fires. "If an inspector finds that your wiring isn't up to snuff then rewiring your house is the safe choice," Sidler says. Call in a pro electrician to have it done properly.
Beware of cancer-causing materials.
If you have been remodeling for any amount of time, you probably have some knowledge of asbestos, which is another danger Sidler is conscious of in his line of work. He calls it "extremely dangerous" as it has been linked to lung cancers even with just minimal exposure. It was used in all kinds of building materials like mastics, cement siding, roofing felt, shingles, glazing putty, and insulation, Sidler says. And, what's more, "it's hard to tell if you have asbestos by looking at a material so it's best to get it tested to be sure before you plan a renovation," he says.
Nevill adds that asbestos was commonly used in insulation before the 1970s, but is now heavily regulated. " Any renovations such as sanding, grinding, sawing and drilling can cause the fibers to become airborne and ingested by those around," he says, so he urges renovators to have it professionally removed.
Proceed carefully in potentially moldy spots.
While you may think mold is just as harmless as a few dots on your crusty old bread, it's a different situation when you are working and breathing in places that may have had mold growing for decades. For example, Nevill says dark areas such as crawl spaces, attics, basements, and other rooms may have had high humidity where air is trapped for an extended period of time — mold's favorite environment. "A musty smell is usually an indicator that mold is present," he says. "Using a flashlight to check, you may also find patches or clusters of what looks like dirt or powder on the floor and other nooks and crannies that often indicate mold."
In addition, watch for cracks and open spaces where outside water may have penetrated the building, causing moisture and leading to mold. This includes cracks in interior or exterior walls, or the roof, or areas on wall paper where there may be bubbling, peeling or cracking.
These old home renovation experts — along with Mark Harris, franchise owner of HouseMaster Dallas, a Neighborly company — recommend a few tips for staying safe amidst these and other environmental hazards during your older home renovation: