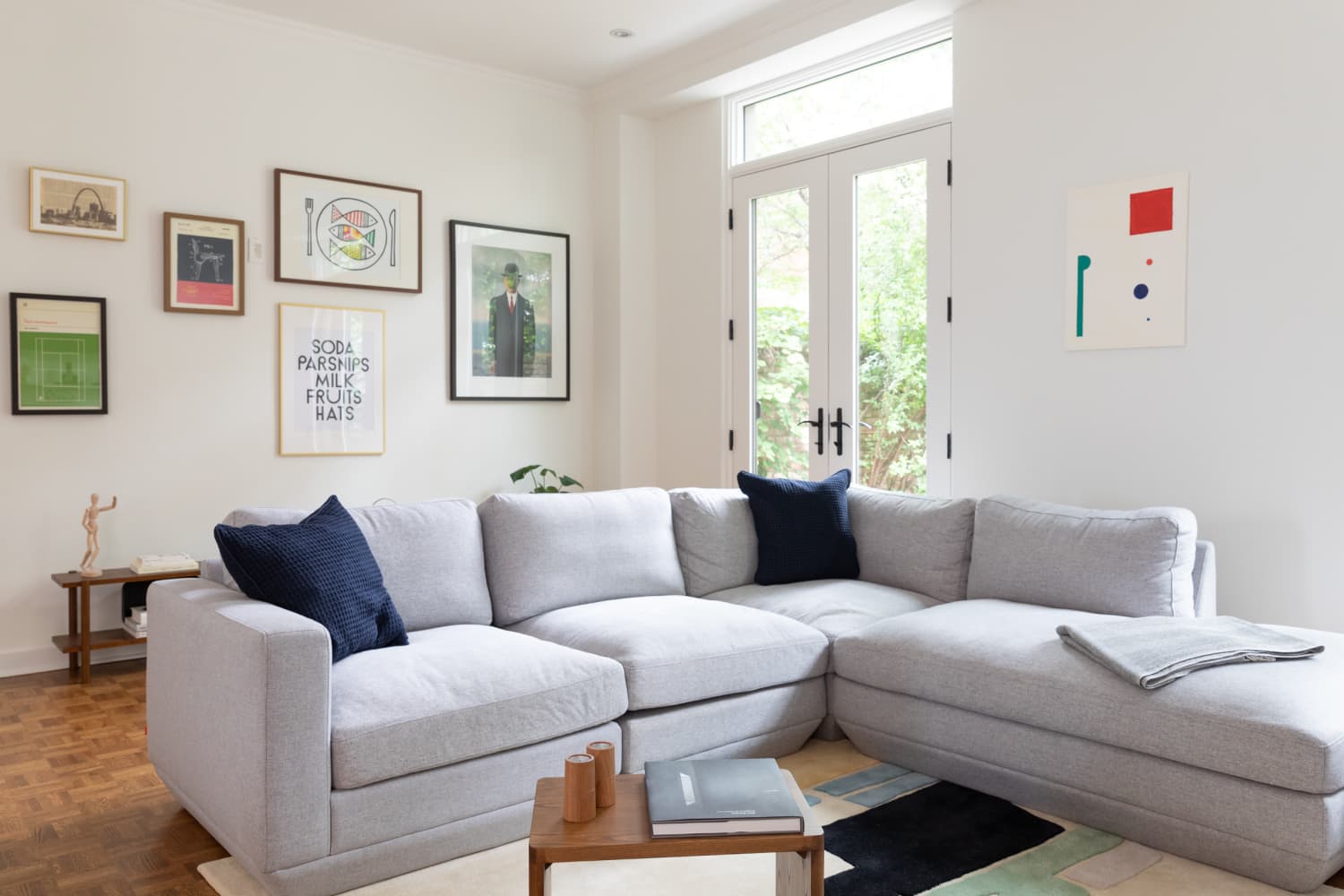 We independently select these products—if you buy from one of our links, we may earn a commission.
Name: Dustin Kroft and kids Thomas, Ruby, and Chelsea
Location: Moore Park, Toronto, Canada
Size: 1700 square feet
Type of Home: Detached house
Years lived in: 1 year, renting
Dustin Kroft is a designer and the founder of KROFT, a design studio that focuses on crafting gorgeously minimal and ultra functional furniture and accessories, like shelving units, hanging clothes racks, wall hooks, plant stands, nightstands, and more. And after a separation last year, he went on a four-month long search for a new rental home for himself, his three kids, and his work.
"I am very sensitive to my environment and so it took a while to find something that felt right and suitable for the four of us," Dustin describes. "I knew immediately when I walked in that it was the perfect place for me to build a warm and functional home. I love the fact that it seems to blend minimalism with some mid-century design elements."
Dustin explains that the upstairs was renovated 20 years ago and what was originally three bedrooms was rearranged into two. Dustin sleeps in one of the main bedrooms, while his daughters share the other. His son sleeps in the basement, which Dustin says has been converted into an apartment for sleeping, gaming, and relaxing. [Basement bedroom not photographed for this tour.] "The vision for the space was to create a home that provided our family with communal spaces that we could all congregate in as well as provide everyone with as much of their own personal space as well," says Dustin.
If you imagine that being a furniture designer means you get to be surrounded by your own work, you'd be right; KROFT pieces are sprinkled around the home, like a wooden stool in the entryway, a shelving unit in the living room, the dining table, and the girls' custom beds. But this isn't just a showroom for his own designs; Dustin has an appreciation for minimal and modern design in general, so you'll also find pieces from Hay, Gus Modern, Design Within Reach, and more. "Home is an emotion to me but it also needs to service its inhabitants. It does this through a thoughtful selection of furniture, accessories, and contents. The design and environment these ingredients create should encourage connection, promote creativity, and inspire contentment," says Dustin.
Apartment Therapy Survey:
My Style: Pragmatic Modernism
Inspiration: No real focus or intent to aspire to anything. Just a collection of some of my favorite items as well as some of my own work
Favorite Element: Fireplace
Biggest Challenge: Fitting three kids into what is essentially a two-bedroom house. My daughters share a large room for which I custom built beds. My son is in a small room in the basement but walks out to a personal living room. [Basement room not photographed.]
Biggest Indulgence: There are no major indulgences. I was able to procure items for the home over the period of four months and so I was able to get things on sale. I also was able to use some industry relationships to acquire furniture at more than favorable prices.
What are your favorite products you have bought for your home and why? I have a large assortment of Hay products in the home. Lots of them are accessories like trays, storage containers, kettles, and even scissors. It's these little things that make my daily routine at home so enjoyable. I also purchased a George Nelson pendant for my dining area. I absolutely love that this was designed in 1952 and is as relevant and sensible today as it was back then. I obviously love having KROFT products in the home. It connects me much more to the furniture that I design and produce and helps inform new concepts for our collection.
Please describe any helpful, inspiring, brilliant, or just plain useful small space maximizing and/or organizing tips you have: Although it is hard with three kids I do my best to be extremely selective about what comes into the home. I have an aversion to over consumption to begin with but try and keep anything even mildly disposable out of the house. I also don't have too many things that don't get used and so everything has to have its spot in the home for practical reasons. This helps keep a homeostatic balance.
Finally, what's your absolute best home secret or decorating advice? Have fun and be willing to work outside of how things may appear in some catalogue. Also, buy right the first time. Don't be tempted by cheap/fast furniture. The investment in something well made goes a long way.
This house tour's responses were edited for length and clarity.