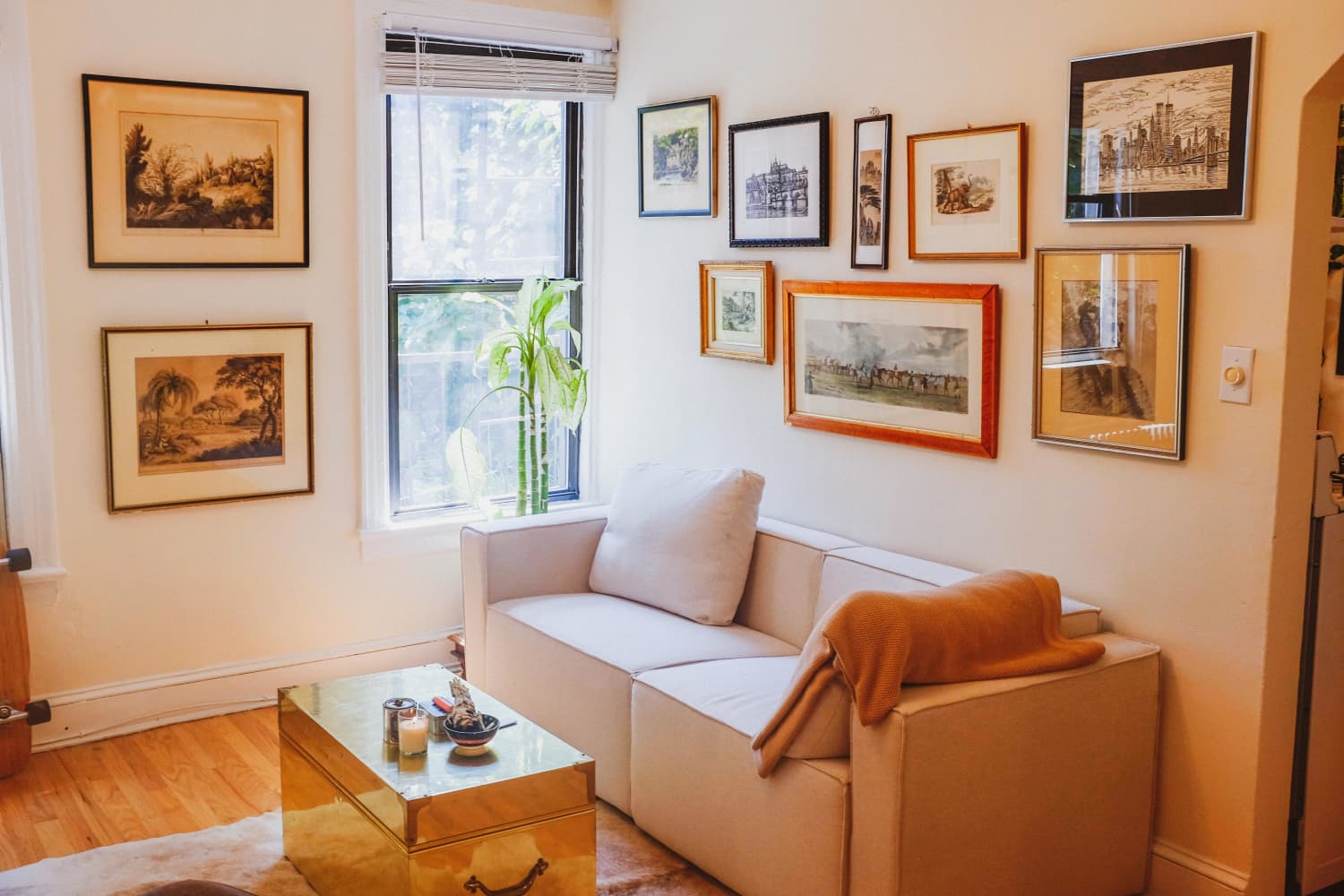 We independently select these products—if you buy from one of our links, we may earn a commission.
Name: Chris Breen
Location: Williamsburg, Brooklyn, New York
Type of home: Apartment
Size: 420 square feet
Years lived in: 2 months, renting
Tell us a little (or a lot) about your home and the people who live there: I live alone, with some plants. I wanted a place that felt worn in, like your favorite jeans. A place with character, sort of the antithesis of a new development made with IKEA furnishings.
I grew up going to Martha's Vineyard frequently before my family moved there full-time. I was always inspired by barn-like/farm-like structures and the natural feel of the architecture and design. So, when I found this pre-war apartment on the market, it had none of the usual amenities but was perfect. The huge porcelain clawfoot bathtub, the built-into-the-wall bookshelves, the tin ceiling, even the doorknobs. The apartment looks like it has stories to tell, and most importantly, it has character.
I owe my self-identity to my mother. Always the best dressed, she worked for Ralph Lauren for 18 years and raised me in an environment of warmth and for an appreciation of items of quality rather than cheap materials. I try not to buy anything new because of how much beautiful stuff is already out there (clothing, art, etc.). My gallery wall, much of the furniture, even the plants I've had for years. I like leather, wood, suede, linen, and the colors those items are associated with (black, brown, beige, cream, white).
Describe your home's style in 5 words or less: Rustic, rugged, natural, Americana, boho
What is your favorite room and why? A beautiful arch connects the living room and bedroom. This room is the best in the morning when the light bounces around all the wall pictures. And at night, when I get home and read, there is nothing quite like it. The mantel wood I got from an old tobacco factory and the hooks were made from an iron mason, so even watching TV feels more dramatic somehow.
What's the last thing you bought (or found!) for your home? I used a huge old slab of wood and made my butcher's block table look brand-new with these legs I found. They are beautiful. Also, my leather reading-in chair for the living room has been a game-changer.
Any advice for creating a home you love? Similar to my beliefs about the work you do, make sure you love what you do. Make sure you make an environment you want to exist in day to day. Being a beautiful home can change your mood, change your sense of self, give you confidence, and is an extension of you.
This house tour's responses were edited for length and clarity.