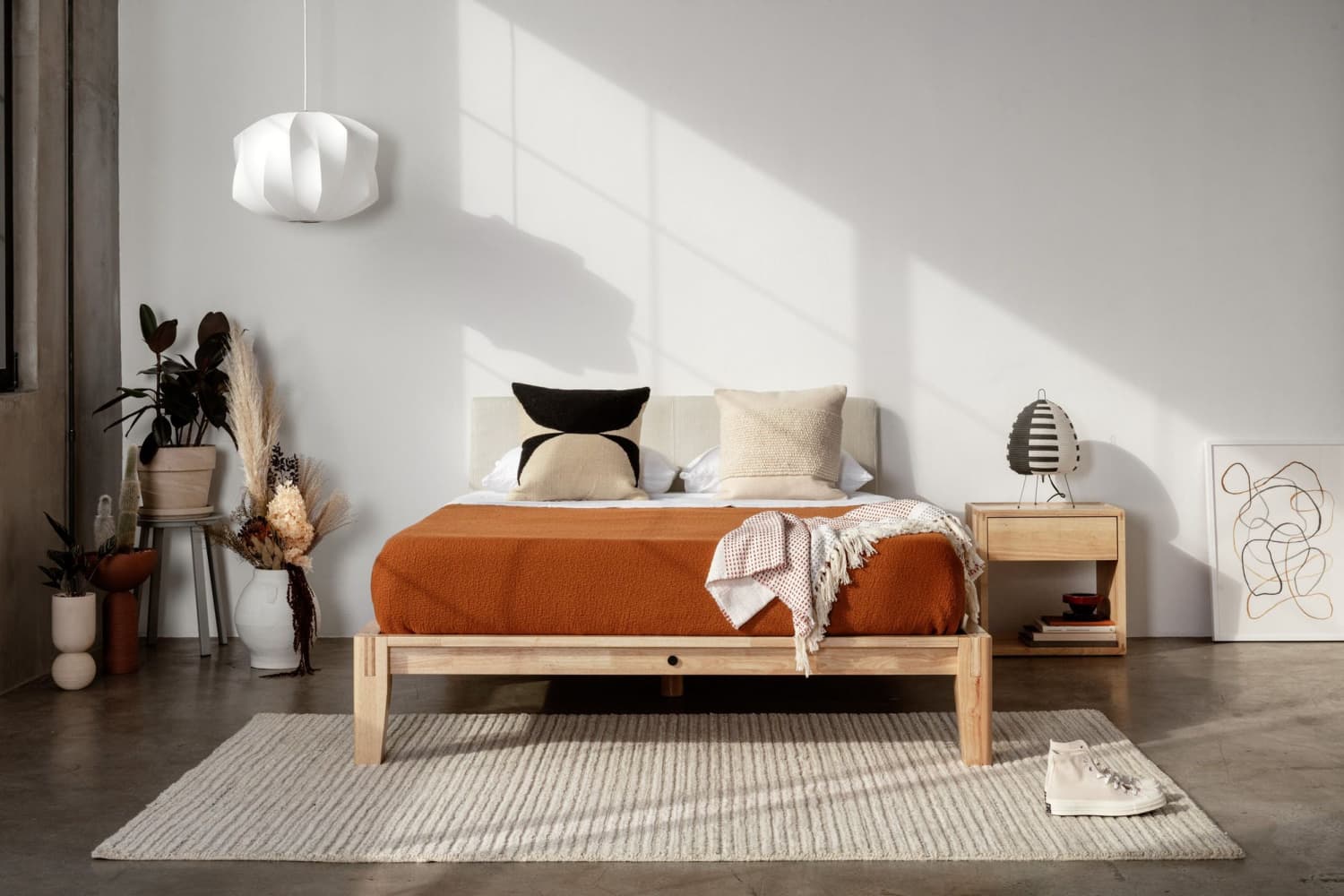 It's easy to focus our design energy on the spaces other people will see, like making sure our living room is well-situated for conversation or prioritizing places for guests to hang out in the kitchen while dinner is cooking. We work hard to give these areas good flow and bright energy. But we tend to overlook the place where we spend so much important personal time: the bedroom.
Your bedroom is your sanctuary: a place to relax, meditate, and recharge. If your bedroom feels off, then you feel off — but if your bedroom feels harmonious and balanced? Then your day just got a whole lot better. Here are three easy tips to help you get there, starting with the beautiful bed from Thuma that immediately sets your intention for the space.
Let Your Bed Lead the Way
Every room has that one piece that informs every subsequent design decision, and — surprise — here it's The Bed. Whatever your guiding principles, from sheer practicality to traditional feng shui, positioning your bed is the first move. Do you want it to face the morning light? Be set up farthest from the door? When in doubt, go with what feels right: Good vibes are what we're going for!
Wherever you put it, The Bed by Thuma imparts calm and serenity. Thanks to a slim profile, warm Natural and Walnut finishes, and an upcycled wood construction — Greenguard certified to meet high sustainability standards — The Bed helps bring your whole bedroom down to earth. Handcrafted with elegant Japanese joinery, it easily comes together without tools in around five minutes, so repositioning is no problem. And because the elevated design naturally minimizes noise, your bedroom will feel extra peaceful.
Perhaps more than any other room, the bedroom is a tactile space: Crisp sheets, cozy blankets, and fluffy pillows make the difference between a boring bedroom and one that makes you sigh when you walk in at the end of the day. Once your bed is set up, add accents and fabrics that make the room feel even more soft and serene.
And take it from someone whose pillows used to disappear behind their bed: Get a headboard. A cushioned, upholstered headboard is just right for curling up with a good book at night or the Sunday paper in the morning. Thuma's PillowBoard — available in Dark Charcoal and Light Linen — offers the softness of a pillow and firmness of a headboard, and it comes with every bed. It comfortably nestles right between The Bed and the wall to create a neutral backdrop and supportive, pro-lounge environment.
Clutter is the enemy of calm. Stylish storage keeps the bedroom relaxing without sacrificing aesthetics. If you have room for a nightstand, or a pair of them, The Nightstand by Thuma is the ideal size for your nighttime essentials, with a spacious surface and a sleek, flat-front drawer. Made to match the rich Walnut and Natural wood finishes of The Bed, it'll also add balance and harmony to the overall look. But if space is at a premium, a low wall shelf will do the trick — just don't let it get so full that your most personal room starts to stress you out.