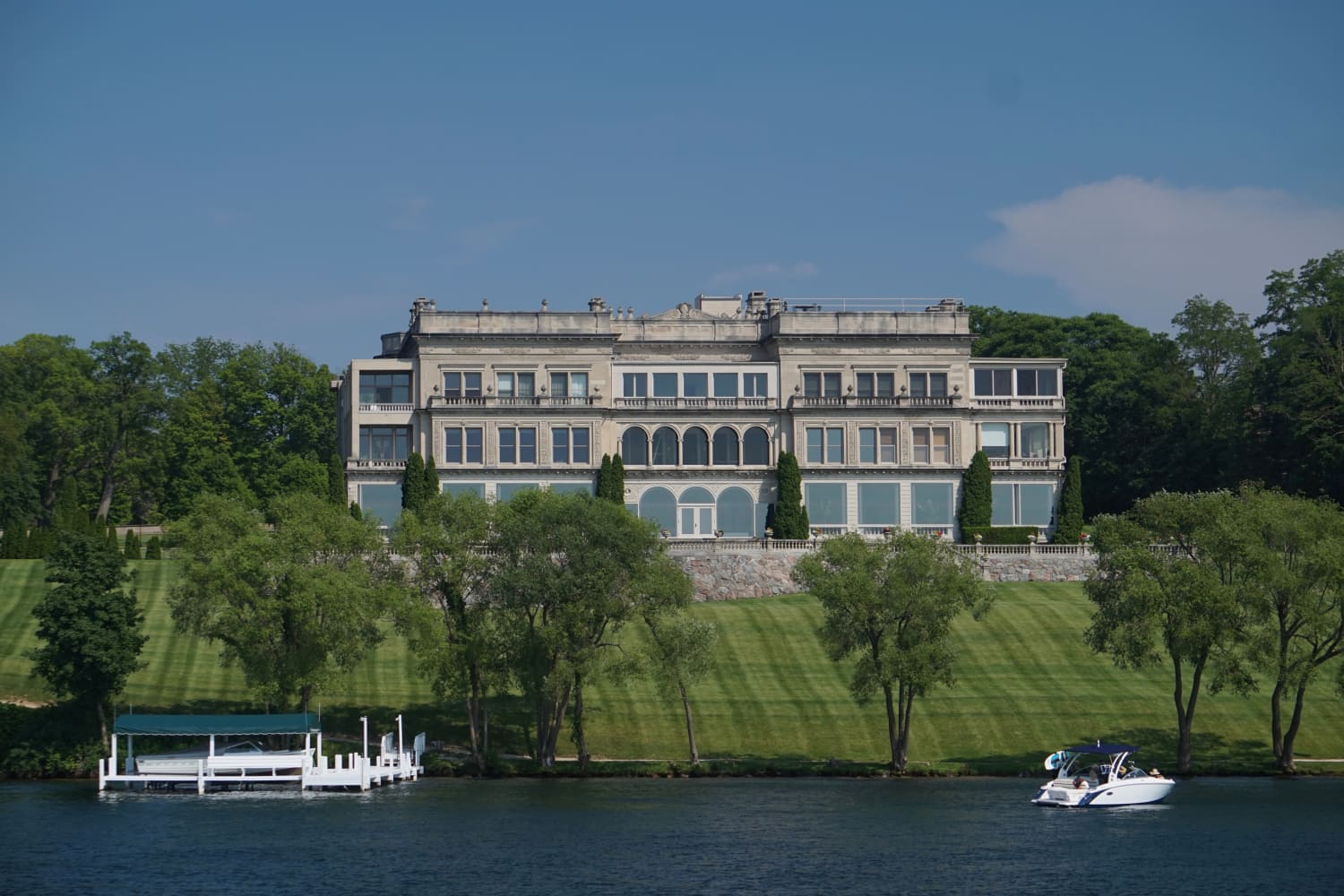 During one of my recent — and terribly frequent — home organization sprees, I came across my collection of dust-covered, pre-pandemic notebooks. A compulsive list maker, it's not unusual to discover "seasonal bucket lists" tucked among my to-do lists, daily agendas, and household inventories. Fall 2019: apple picking at local orchard. Winter 2019: attend Lincoln Park ZooLights. Spring 2020: survive?
But there's one activity this Midwestern gal includes on every summer bucket list, and it's just a short, pleasant drive north from my hometown of Rockford, Illinois. This, my friends, is the Geneva Lake Shore Path. A captivating trail with a rich history, the approximately 26-mile path surrounds the perimeter of Wisconsin's Geneva Lake, located at the state's southeastern corner.
The most remarkable aspect of the Geneva Lake Shore Path? The view — and not just of the freshwater lake, but of the stunning lake houses and historical estates that adorn the storied trail. For those, like me, who leap at the chance to attend open houses and stay up late aimlessly perusing Zillow, the path offers visitors the opportunity to marvel at truly spectacular and unique homes and landscapes.
The Geneva Lake Shore Path itself dates back to 2500 BC, when it was used by Indigenous Americans who originated in what is now known as the Midwest. Members of the Potawatomi Tribe, specifically, would traverse the trail to commute between villages. In a more recent era, following the Great Chicago Fire of 1871, wealthy Chicagoans escaped the hustle of the city's reconstruction to enjoy their lakeside estates, some of which remain today. Domestic workers used the trail to access their employers' mansions.
Today, while the trail remains part of the public way, private property owners are responsible for maintaining their lot's portion of the trail. This agreement lends to the path's varied and delightfully unpredictable terrain and presentation.
The range of terrains and the sheer length of the trail do call for care when embarking on a Geneva Lake Shore Path hike. Seasoned visitors recommend breaking the trail into a couple days if needed. (Completing the circumference can take longer than 10 hours, and that's without budgeting time for frequent and sustained ooh-ing and ahh-ing.) Fortunately, the trail includes several public outlets for easy access and to accommodate shorter visits.
For those whose homes nestle along the shore, the path can add a cherished feature to their lakeside lifestyle. After years of renting homes on Geneva Lake, Eva Walsh and her family purchased their Fontana, Wisconsin, lake house in 2006. "We absolutely love the shore path," says Walsh. "My friends and I walk the path most days. Every summer we divide the lake in four and walk each section." The trail is a treat for Walsh's five adult children, too, who use the path to safely navigate to and from their favorite local bar, Chuck's.
Walsh also enjoys encounters with visitors along the path. "I love talking to people when they walk by our house," says Walsh. "You can tell the people walking the whole lake (backpacks filled with water, snacks, extra socks)."
Midwesterners, lace up those hiking boots and prepare to soak up whatever sun is left this summer along the Geneva Lake Shore Path. Chance encounters, stunning views, and a whole lot of real estate envy await you.