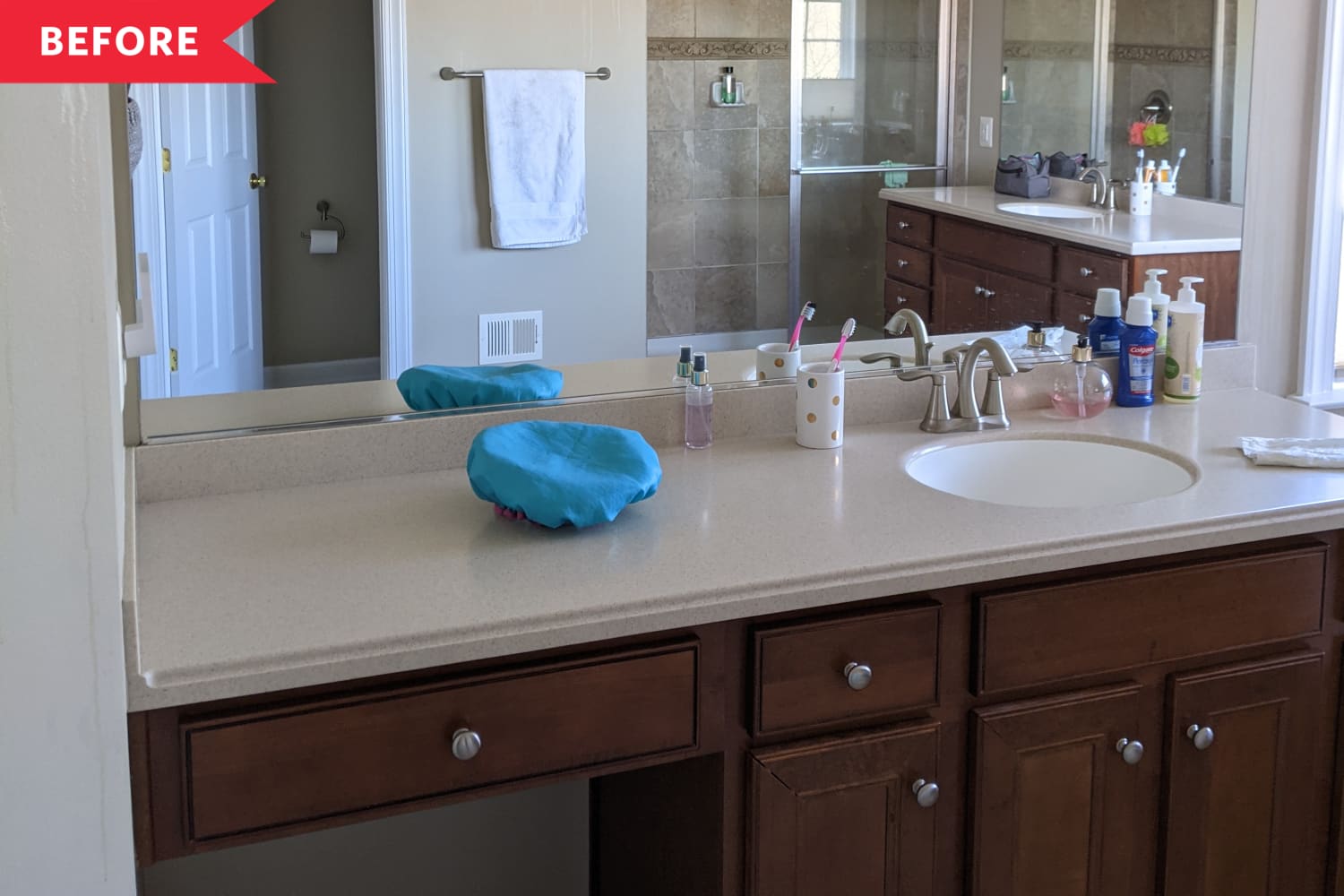 Beige might be a trend again, but it's not a hit in every space. Homeowner Alice Kauban (@odd_essence) wasn't in love with how it looked her own bathroom, which was a veritable buffet of beige: beige on the walls, beige on the floors, beige in the shower, beige in the tub… it was beige everywhere. Even the brown wood vanities fit into the scheme.
While the bathroom was spacious and overall pretty functional, the beige was a bummer. Alice wanted a bathroom that would inspire her, not weigh her down — but she also knew that a future renovation was in the cards.
For now, she just wanted the bathroom to feel brighter and more energizing, so she planned a project that would give it a cosmetic refresh without altering anything structural.
Alice was inspired by Scandi design, and wanted her bathroom to reflect those light, bright, and simple stylings. She and her husband painted the floors, vanities, and walls themselves, and hired a pro to paint the shower area for the best finish. The all-white color scheme is prime Scandi, and makes the once-dated tile and built-ins look brand new.
Alice and her husband also updated the vanities with a few other changes: new wood countertops, new black hardware, and fresh sinks and plumbing fixtures installed by a pro plumber.
Above the refreshed vanities, the couple installed new black wire light fixtures and round wood-framed mirrors.
The total cost for the update — paint, hardware, lighting, countertops, sinks, fixtures, and pro labor — was $3,800, coming in under the couple's expected $4,000 budget.
Now, the bathroom goes beyond its boring beige roots. "It gives me the jolt of energy I need each morning to tackle a very busy schedule," Alice says. The result is just what she had hoped for — and the only change she might make, she says, is one day stenciling the white floors with a different color paint to add a pattern. "But might have to lose the rug if I did that, and I love that rug!" she says.
Inspired? Submit your own project here.