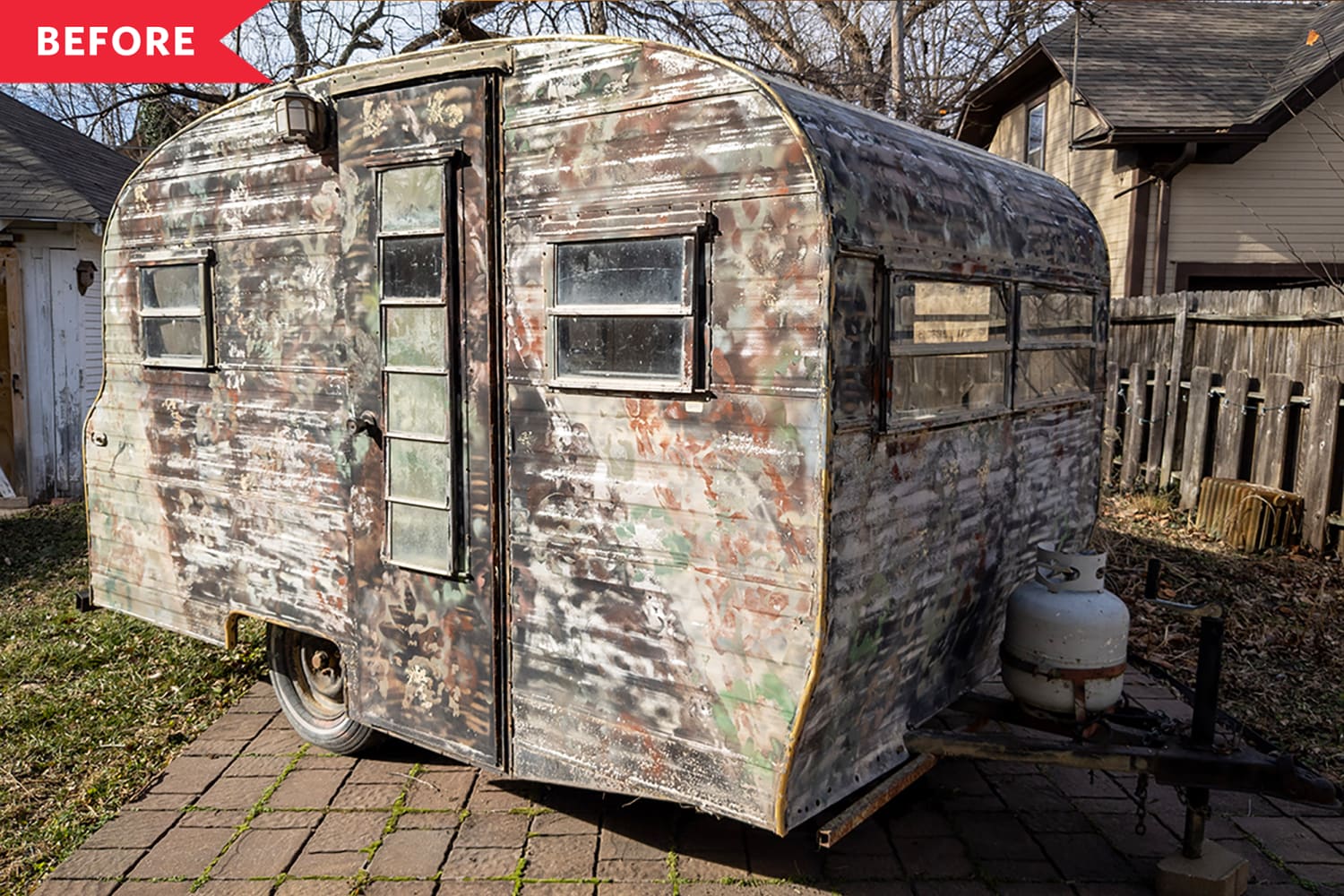 We independently select these products—if you buy from one of our links, we may earn a commission.
Decorating and renovating a home nearly always comes with challenges — but that's especially true if you're working within a small space. Perhaps a couch is too big and a rug is too small, or a wall cuts right in the middle of where a coffee table should be. Sometimes it feels like small spaces don't come with easy solutions.
If you're trying to figure out how to make the most of every square inch — whether it's in your kitchen or powder room, camper or studio — then take inspiration from these DIYers and homeowners who have pulled off their own incredible small-space redos. These 10 makeovers — the best small-space redos we've ever seen — prove that no matter how tiny the space, a big transformation is possible.
1. A 630-Square-Foot NYC Rental Was Found and Furnished on a Budget During Quarantine
Leave it to a golden-hour glow to help Samantha Stein and her fiancé decide that this West Village apartment was the one. They were looking for a larger home within walking distance of their offices, and when they toured the sun-filled living spaces of this apartment, they knew it would be the perfect place to ride out the pandemic. Besides the big windows overlooking a church and its garden, the checkerboard kitchen floors and teal-painted den walls (Benjamin Moore's Mediterranean Teal) are also stunning.
2. A Totally Trashed, 62-Square-Foot Vintage Camper Is Now Unbelievably Adorable
Not everyone can look at the dents and rust that originally categorized this 1968 camper and think, "yes please." But Conan and Katherine embraced its quirks for their Wichita, Kansas family, and fixed it up so that they could live comfortably within all of 62 square feet. A kitchen categorized by pink-and-green cabinetry brightly contrasts a mix of bold patterns on the beds, making for a space that feels fun and inviting. And really, that's a big compliment for any home, even a small one.
3. This Renter Used Paint to Make Her 350-Square-Foot Studio Look Way Bigger
Angie Eng's 350-square-foot Brooklyn studio was a fresh start, and she transformed its otherwise dingy walls with a kaleidoscope of different paints. The shades of yellow, pink, green, and cream allow her extensive art and plant collection to shine, creating a maximalist-friendly home where she and her dog, Lola, can express themselves. Not to mention, there's a disco ball above her desk and workout area that should be a must for everyone.
4. How This Tiny, Dark Apartment Transformed into 2020's Small/Cool Grand Prize Winner
Michelle Spetner and her partner, Antonio, knew this home when it was once described as a "horror show." When her mother bought this 590-square-foot Oakland property years before they moved in, it didn't have any doors or a bathroom. But now, thanks to Michelle's careful planning, there's a stylish kitchen, dining area, living room, and bedroom that all feel much larger than they look.
5. A Tiny Neglected Flat Got a Total Kitchen DIY Redo and a New Earthy Color Palette
India and Harry's 465-square-foot Edinburgh apartment had all the charms of being over a century old — as well as a picture-perfect view — but it still needed a lot of work. They ripped out the kitchen, painted walls, and added mid-century modern furnishings for a hideaway that capitalizes on historic character while still feeling very of-the-moment. Don't miss the dusty pink shade of the kitchen's backdrop, which is sure to inspire a like-minded transformation or two.
6. A '90s-Era Powder Room Gets a High/Low Patterned Makeover
While some things from the 90s are back in style—say hello, scrunchies and spaghetti straps—the decade's textured walls and shabby-chic furniture are not. Catherine Leavitt, co-founder of Friday & Co. Design, was looking to nix these details from her 25-square-foot powder room and update the space with wallpaper, a navy blue vanity, wainscotting, and gold hardware. The results are firmly set in this era, even when the wallpaper's design dates back to the 19th century.
7. A 600-Square-Foot Studio Is an Example of Furnishing a Beautiful Home on a Small Budget
Erin Miles had to furnish a 600-square-foot studio in Hartford, Connecticut on an equally tight budget, even though she wanted to achieve a high-end finish. Instead of splurging on one or two items for her home, Miles spread her budget across thrift stores, budget-friendly retailers, and second-hand shops to create a Scandinavian palette with lots of warmth. She accomplished her goal, creating a home that only looks like it cost a pretty penny.
8. A Tiny 100-Square-Foot Bedroom Gets a Big Style Transformation
YouTuber and DIYer Drew Scott had an outdated 10-foot by 10-foot bedroom to transform for his grandfather, and used two items as inspiration for the space: country music and cowboy boots. He swapped the original bubblegum pink walls and dark brown carpeting for a modern farmhouse aesthetic, complete with board-and-batten on the walls, new hardwood floors, and a caned headboard. Now it's ready to welcome his grandfather whenever he comes for a visit.
9. A Bare, Exposed Balcony Becomes a Cozy and Secluded Retreat
When Nicole Boyd began working remotely from her California townhouse last year, her desk faced an empty balcony that had zero furnishings and privacy. Luckily, her boyfriend Clay Barrett is a licensed contractor, and together they turned the space into a vacation-ready retreat that's hidden from their neighbors. Aside from colorful string lights and a swinging chair, there are also plenty of plants.
10. A 330-Square-Foot Studio's Custom Furniture and Smart Storage Ideas Maximize Every Inch
In a 330-square-foot apartment in New York City, every corner counts. So besides painting the brick walls white, making the space brighter, owner Jaime wanted to be very strategic about furniture placement. She designed the kitchen and bathroom furniture from scratch, and enlisted her dad's help in the process. The bed's extra storage and a rolling trunk that can seat eight ensures that she has everything she needs — including tidiness.