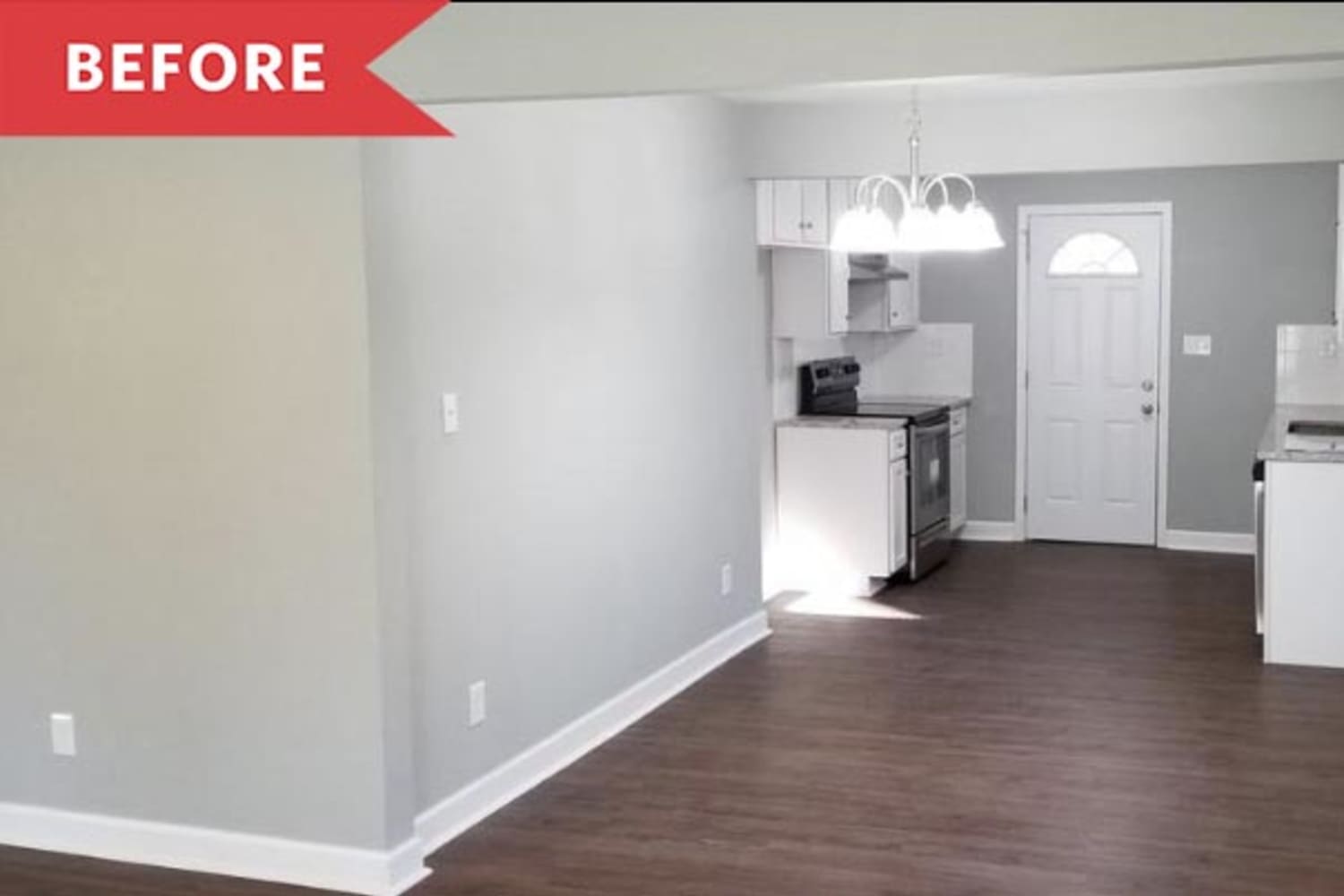 Sometimes you don't need to put up new walls to define a space — you can often create separate zones by using construction-free tricks. This dining room redo from Katelyn Herman is a great example.
Katelyn's home was built in 1947, but recently renovated, which meant that it lost some of its vintage character. That was especially obvious in the dining room, which was located between the kitchen and the living room. It was barely a dining room at all, Katelyn says: "We used it more as a walkway between the kitchen and living room instead of a place to have meals or quality time."
The previous contractor even seemed to cut a few corners, including installing the dining room's light fixture completely off-center. This all added up to a room that wasn't super functional and certainly not character-filled, and Katelyn wanted to make a change. "Also, I could not look at the off center light fixture any longer," she says.
Katelyn started by bringing in an electrician to finally fix the off-kilter light fixture. He moved the light so it's at the center of the room and installed a new three-globe semi-flushmount light with mid-century vibes. The new fixture is way more in line with the home's mid-century roots, and a ceiling medallion around the base gives it an extra touch of character. The cost for this piece, including the labor, fixture, and medallion, was $450.
Next, Katelyn painted the ceiling black — yes, black! The super dramatic paint choice helps give the dining area some definition between the living room and kitchen, and painting just the ceiling means Katelyn could keep the walls white to coordinate with the rest of the common area. Even better? She got the paint for free from a friend, so the cost for this part of the project was $0.
The final element: a new custom-made wood-and-metal table that perfectly fits the odd dimensions of Katelyn's space. Before, Katelyn says, "I found the room difficult to lay out with off-center light and the round table I moved in with." Now, with the long rectangular table, the dining room has space for seating and is still open enough to walk through. She filled out the rest of the space with new chairs and a colorful new rug.
"I love how cozy the room is now," Katelyn says of her transformed dining room. And that risk she took with ceiling paid off: "I had a few friends and family try to talk me out of this, as they thought black would be too stark," she says. "I'm glad I didn't listen and funny enough, they love how it turned out."
Inspired? Submit your own project here.