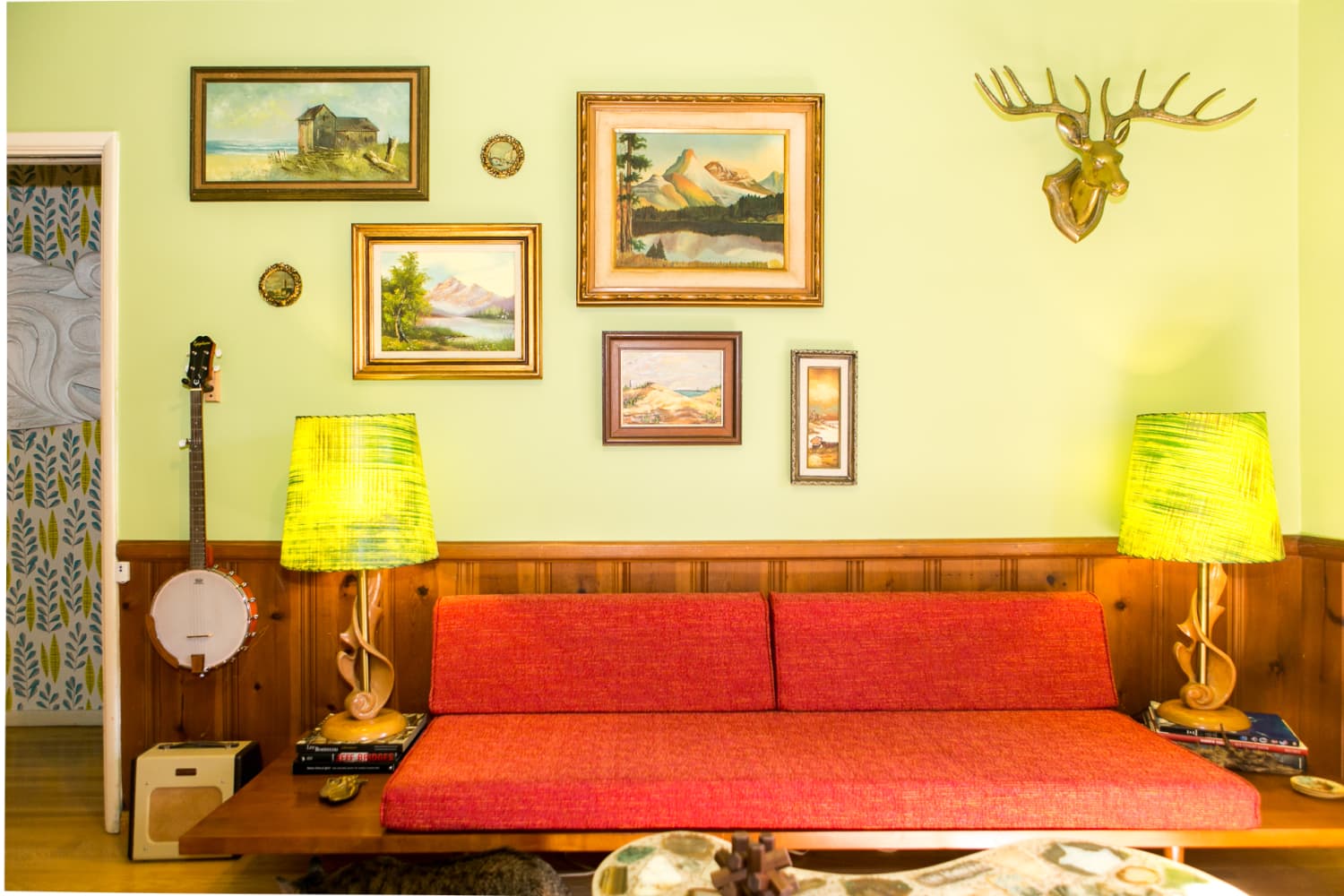 We know for a fact that design history repeats itself — pick a current trend (any trend… really!), and there's a good chance this isn't its first go-around. From recent resurgences in mid-century decor and '70s-era maximalism to cane and rattan, there's proof that just about every formerly "old school" style has significant comeback potential.
That's why, when I started brainstorming ideas for our first-ever Throwback Month, I tapped into my built-in throwback experts — my mom and dad, who were more than willing to reminisce on the interior fads (good and bad) of their youths. We chatted everything from split-level "Brady Bunch"-style architecture to colored appliances and ubiquitous '80s Laura Ashley bedding. Which, got me thinking: If my own parents loved dishing on decades-old design, surely others would also want to get nostalgic, right?
I then prompted the rest of the Apartment Therapy team to ask their parentals what they remember growing up with at home. Ultimately, the responses did not disappoint, running the gamut from Farrah Fawcett posters and floral prints to more, er, perplexing flashbacks (hint: eagle-infused accents). Check out some of the most memorable decor trends from the 1950s on because you never know which ones may get resurrected next — even (*whispers*) shag carpets.
"The design fad was 'colonial' in the '70s. . . rustic-looking pewter lamps and wood everything, along with bald eagles and bubble mirrors with eagles on the frames. U.S presidents' busts were popular — even statues and framed pictures! My grandmother had a picture of Robert Kennedy. Lots of gold colors, deep reds, and forest green in kitchens. (The appliances came in gold, red, and avocado!) Plus, carpeting in the kitchen. Oh, and we had ruffles everywhere, too! On bedspreads and mostly curtains. Ruffles, ruffles, ruffles!
I think the 'country' style of now has come back from the 'colonial' of the '70s. I see the Ethan Allen furniture of the '70s coming back — and it's funny that you call furniture from that time vintage! But I never want to see sunburst mirrors or picture clocks come back. I do like that macrame has returned though. When I was younger, I made a double-hanging macrame planter that went from the floor to the ceiling." — Diane Bilis, mother of Real Estate Editor Madeline Bilis
"Flower power was a big thing everywhere! And I remember my parents had a retro orange couch — it was solid bright orange with striped pillows. There was a matching orange chair. Very modern look! They had pine cabinets in the kitchen and a porch with jalousie windows. The living room had a large sectional and was covered in plastic for protection. We also had the leopard round chair! You could almost lay down on it. That was a real conversation piece!" — Sandy Richardson, mother of Entertainment Editor Nicoletta Richardson
"A bean bag chair and a poster of Farrah Fawcett, plus humongous speakers." — Chris Goode, father of Manager of Brand Planning & Activation Madeline Goode
"Light green appliances and shag carpet in the '60s and '70s — I never want to see either of them again!" — Pat Donovan, father of Shopping Editor Blair Donovan
Fancy for the sake of being fancy
"The '50s and '60s were very big on French provincial, plastic-covered couches, decorative dining rooms, heavy European furniture — not contemporary at all. The colors were brown, gold, and beige (very popular!); olive green and gold threads for fabrics. Very ornate. . . a lot of gold filigree in lamps and accent tables. The kind of stuff you'd run away screaming from. We have traumatizing memories of the same things, even from across the country." — Bob and Carol Pous from Kansas City and Brooklyn, parents of Managing Editor Terri Pous
"When my parents renovated their bathroom in the '60s, they went all in on pink fixtures. They carved space out of a bedroom to add a brand new pink tub, toilet, and sink with a drop ceiling above, and it was very on trend. Over the years, it started to feel dated, but now, seeing that pink bathroom brings back memories, and I think colored bathrooms are even in style again. What goes around comes around!" — Marilyn Blundell, mother of Home Director Danielle Blundell
"House plants became a big part of indoor decor in the '60s and '70s. My room was full of them in little pots." — Ellen Groff, mother of Commerce Managing Editor Ivy Ford