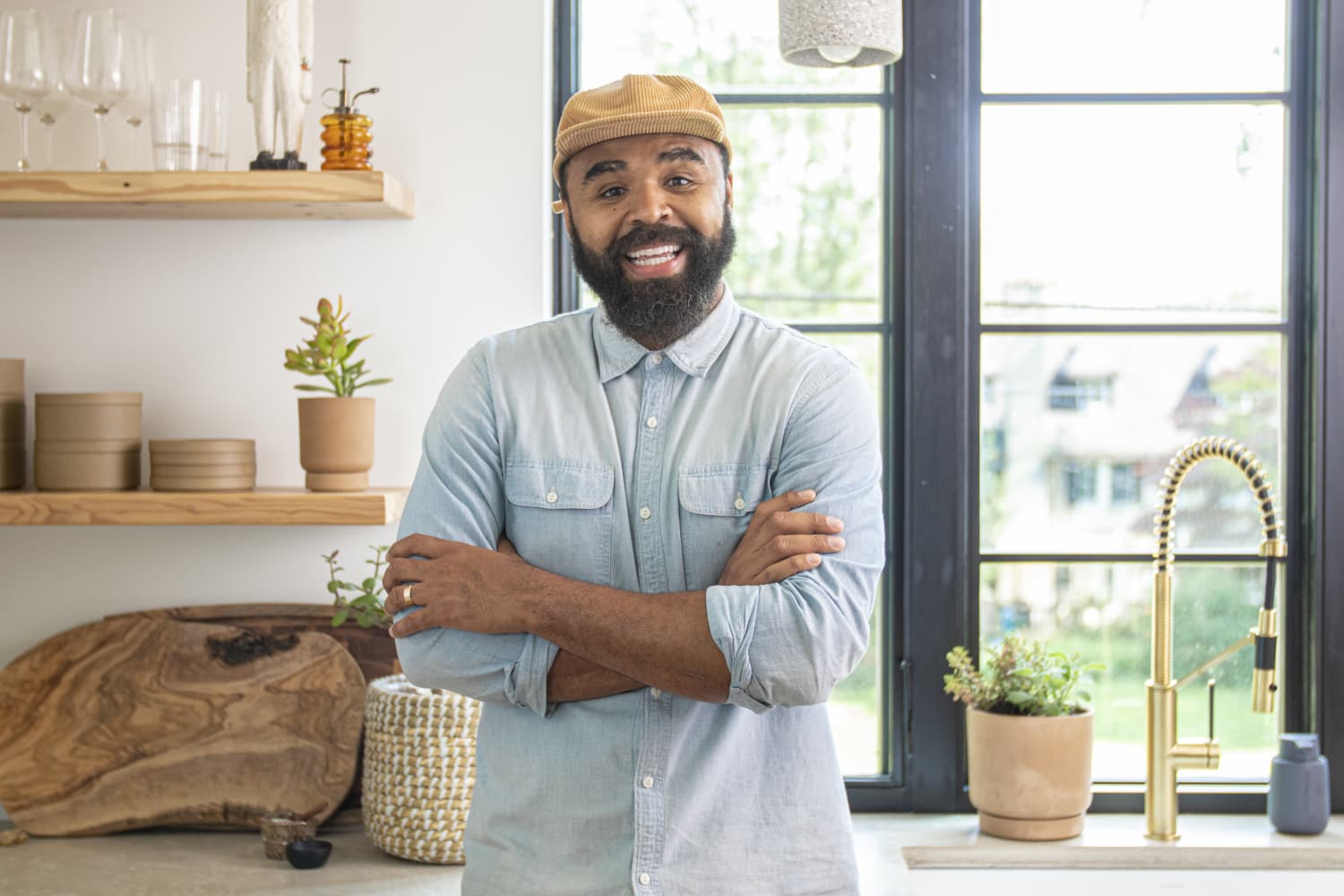 Hilton Carter, our resident Plant Therapist, is an all-around expert when it comes to caring for and styling all your plants at home. So when Greendigs, the online plant retailer that ships right to your door, reached out to see if Hilton would be interested in sharing a few of his favorite plants, tools, and accessories with AT readers, we obviously said yes! He picked out a few of his favorite plants from Greendigs and showed us how to care for them and elevate a space with their selection of stylish tools and accessories. Let's take a look at what he found!
Love his look? Read on to shop Hilton's favorites to get the same vibe in your place. Now celebrating its first anniversary, Greendigs has all the plants, plant tools, and accessories you need to grow your style — because living design is a gift that keeps on giving.
Hilton chose a jade plant because they're extremely low-maintenance as long as you have a sunny windowsill for them to hang out on, plus they can be pruned to suit your style. Pruning the top branches will give your jade plant a bushier look overall, where pruning the bottom leaves will make it look more tree-like, almost like a little bonsai. Jade trimmings can also be propagated; just place the cut ends in fresh water and once roots have started to grow you can transplant them to some soil.
Another low maintenance choice, the ZZ plant can survive just fine even in low light. Hilton recommends placing it 6–8 feet from a window, which opens up a whole lot of new spaces where you previously may not have had so much success with other types of houseplants. Since a great planter makes a great plant even better, Hilton chose a sandstone color to provide some contrast in his space and with the plant itself. All of Greendigs' plants come pre-potted, so you just unbox them and they're ready to grow!
If you want to add some drama to your space, a colorful Chinese Evergreen is the perfect plant. Not only does it have a striking, wild silhouette, but its leaves are edged in a rich red that adds a pop of color. Hilton made his the centerpiece of his dining room where it brings some natural flair to his tablescape.
The right tools make indoor gardening a lot easier, and Hilton loves this hand-welded soil scoop that makes potting and repotting a joy. It's practical, but also beautiful, so you may end up wanting to leave it out on display instead of stashing it away in a drawer.
A pair of "plants-only" trimming shears is an indoor plant care essential, so Hilton chose the Artisan Trimming Shears from Greendigs for all his trimming and pruning. They have a long neck which makes reaching deeper branches or leaves easy, and they're rust- and water-resistant to keep them in sharp shape for the long run.
These Tejida Baskets are like getting brand new planters! If you're tired of your old planter or just want to change up your decor, then slip your existing plant in one of these for a new look. Hilton loved that they're lined with plastic on the inside so you don't have to worry about any dribbles when watering your plants.
Finally, Hilton chose one last item that can make your indoor garden feel like even more of a serene oasis. The W2 Aroma Diffuser has a natural wood exterior, which looks great alongside your greenery, and it gently releases the scent of any essential oil you choose to make caring for or hanging out with your plant friends even more relaxing.