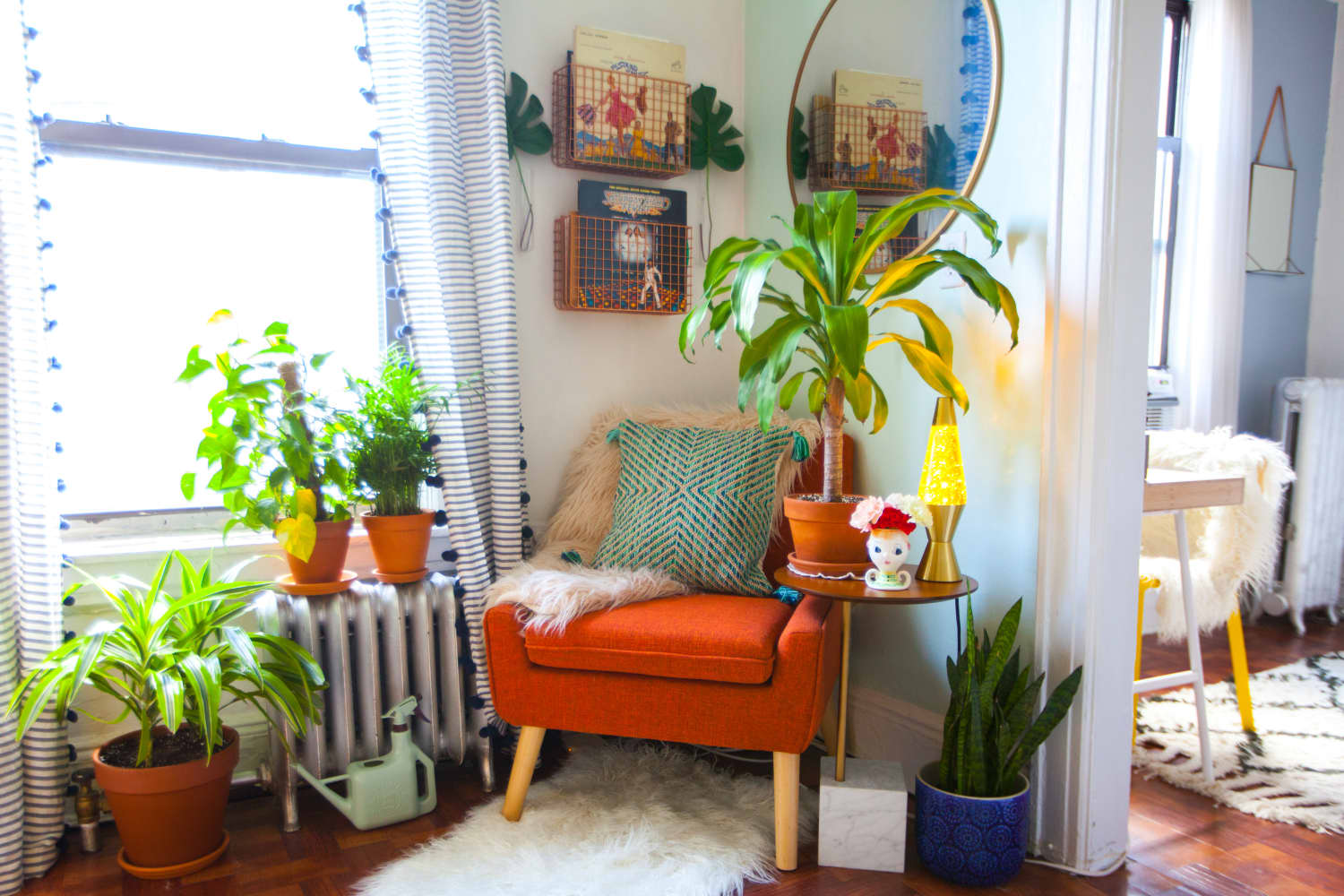 We independently select these products—if you buy from one of our links, we may earn a commission.
Aesthetics aside, there is, perhaps, no more important design element in a living space than comfort. Comfort comes in many forms though: the relaxing lavender color of a bedroom, the velvety texture of a faux fur throw, the vanilla aroma of a candle on a coffee table. These things conjure a sense of calm that allows you to clear your mind and feel at ease. But, of course, coziness looks and feels different for everyone.
For me, comfort is deeply rooted in nostalgia — pieces that not only conjure memories but also provide me with instant happiness when I reflect on the journey it took to retrieve them. I've written about my love for designing with seashells before as a nod to my Florida upbringing as well as my rock collection, which harks back to my days as a kid searching for special geodes. I do, however, unabashedly display one familiar thing in my apartment that raises eyebrows every time visitors see it, and that's my lava lamp.
I know what you're probably thinking: No adult should proudly possess what's often perceived as a tacky light fixture in their "grown-up" home, but a lava lamp is so much more than a (subjectively!) unattractive homage to my '90s childhood. For me, it's literally comfort in motion. There's something to be said about decor that incorporates movement, like a wind chime, fountain, or even an aromatherapy machine that oscillates and projects a fine mist. Tapping into the repetition of a sound or an action can occupy 100 percent of my attention, encouraging the present-moment mindfulness that I strive for every day.
In the case of a lava lamp, the alien-like, amorphous blobs that separate and bounce from top to bottom of the liquid they're suspended in is quite simply captivating. It's one of the few things that can take my mind off of everything going on in the world. In elementary school, my lava lamp warded off nightmares. In college, it stood desk-side as I tackled late-night studying. Now, my lava lamp has evolved into something that distracts me from the chaos and complexities of everyday life, if only for a brief moment of much-needed hypnosis that can't be accomplished by just closing my eyes and taking a deep breath.
Lava lamps don't have to be eyesores either. Many models, like this one, boast sleek designs with monochromatic waxes and stainless steel shells. Reimagined versions like this ferro-magnetic art display or a wood-trimmed cube option bring an eclectic component into any home that's both surprising and fun. Everything old can be new again with the right attention to detail and context. If you don't know quite where a lava lamp fits into your decor but are jonesing to give one a try again, simply add it as an accessory to an office, bar cart, or display shelf where you have the freedom to take more risks and be a bit more playful. Strength in numbers works, too, if the above photo is any indicator. A collection of lava lamps sitting atop a vintage secretary looks, dare I say, chic? If Alicia Keys can elevate the look of a rainbow lava lamp just by placing it on her piano, I think you can find a way to work one into your home, too. Even better, some styles have really dropped in price, so you don't have to spend much more than $20 to $40 to get one of these guys, unless you're looking for an authentic '60s piece.
Ultimately, decor choices are a reflection of personal style and comfort, so it's important to only fill your home with pieces that speak to you and who you are as a person. That said, I don't care if some people consider lava lamps too bold or over the top. I've incorporated mine into my home in a contemporary way and even if you disagree, you can't put a price on the ASMR-like effect it has on me!