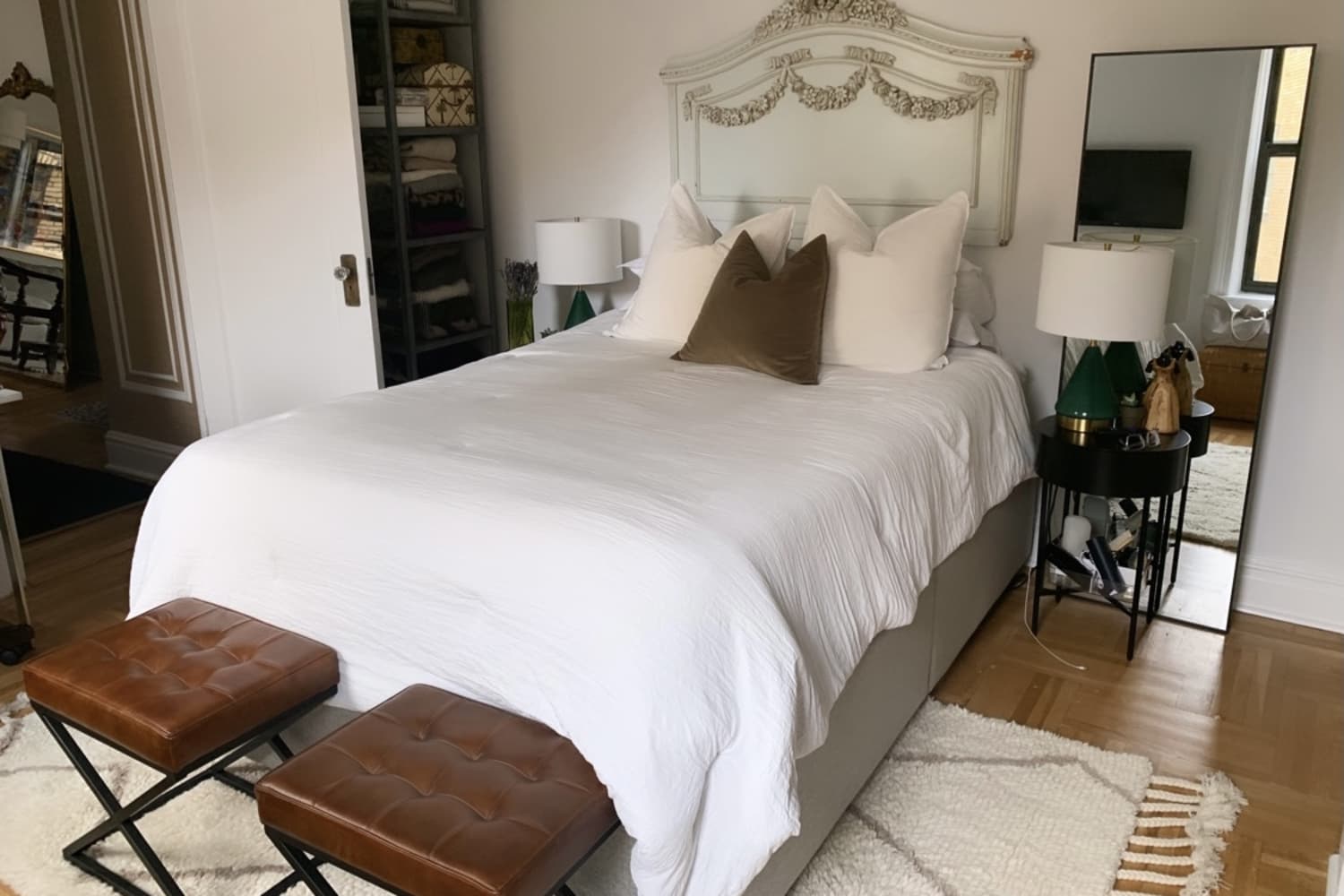 Last year challenged Lanham. At a certain point during the pandemic, she felt alone and wasn't sure what — or where — was next. "I wasn't even sure if I was going to stay in New York," she says. Luckily, a door opened for her, and when she got the opportunity to buy a Brooklyn apartment that needed a complete gut renovation, she jumped on it. "This is the smallest apartment I've had in New York, and everything has to have a purpose," she says of her current space.
One of the things that caught my attention the most about her place is her vintage-look headboard, which is mounted unusually higher than what's standard. This style of headboard is so grand and detailed, it's almost regal, and for that reason, it shouldn't be fully eclipsed by a bunch of pillows. By mounting the headboard just a few extra inches above her mattress, Lanham lets the fancy scroll design shine and gives her entire bed a little extra height so it can become a true focal point in the room. Now, the bed also appears to be level with the floor mirror, which also helps to balance out its proportion to the rest of the major furnishings in the room. Guessing from the photo, it's safe to say this isn't a king-sized bed, but it's placed so deliberately in the room that it doesn't even matter. She kept it simple with the bedding and let the headboard do the talking.
Mounting your headboard a few inches higher can create the illusion that your bed is bigger than it actually is; just make sure your bed and throw pillows cover up the gap that will exist between your bed and the bottom of the headboard. This hack takes up more visual space on a wall without having to mount or hang anything else. If the platform on your bed frame sits a little lower than you'd like, or you're struggling with decorating the blank space above your bed, this little shift may be the no-cost solution to your biggest bedroom decorating problem.