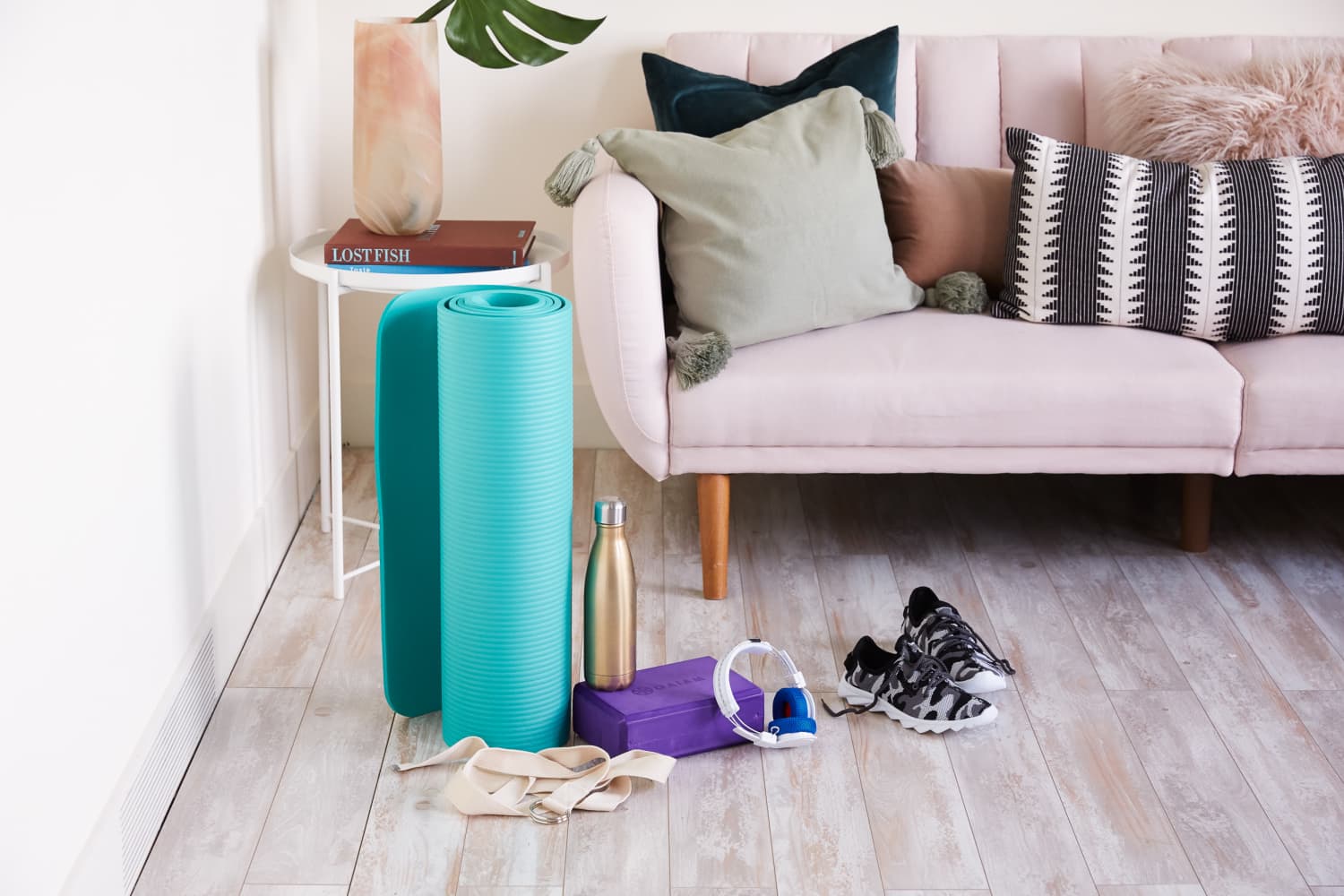 We independently select these products—if you buy from one of our links, we may earn a commission.
Back in the Before Times, when I lived in New York City, I used to travel all over to find the best, most engaging group workout classes through my ClassPass membership. I tried five different spin studios, three different barre spaces, and countless HIIT and strength classes. One of my favorite ways to sweat, though, was indoor rowing: It was something I'd never tried before adulthood, and it totally hooked me. The rhythmic sound of the pull, the almost meditative concentration on form — it all added up to feel so satisfying at the end of a 45-minute block. Plus, it made me feel like a cardigan-clad Winklevoss twin.
But as with everyone else, 2020 upended my routine and I found myself in a totally different space (literally). I moved out of NYC, I stopped going to workout classes (or anywhere, really), and I did all my exercise in the confines of home or alone on the sidewalks. It was a necessary shift given the times, but it was also so much more boring than it used to be.
That's why when Ergatta reached out to see if I wanted to borrow one of their rowers for a few weeks to give it a test drive, I immediately said yes.
We'll get to Ergatta's proprietary software in a second, but the actual rower — made by WaterRower — is pretty impressive on its own. These do not look like the black or silver rowers you've seen at your local gym. Instead, they're crafted from US-harvested cherry wood, with a tank of water used as the resistance (providing a relaxing "whooshing" noise as you use it). This rower genuinely looks nicer than some of my furniture. When in use, you'll need only about a 8-foot-by-3-foot zone to work out in. But unlike most indoor bikes, ellipticals, or treadmills, this is much more small-space and shared-space friendly, since it can be stood on its end and rolled into a corner so that it takes up less than 4 square feet for storage ("the space of a barstool," Ergatta says, which is about right).
Of course, Ergatta is not the only rower on the market, and the cost — $2,199, plus a monthly fee of $29 for access to the games, challenges, and races — is on the high end. But the adaptive intelligence of the rower sets it apart, and makes it easy to get a challenging workout in without having to serve as your own coach. The equipment itself is also sturdier than some budget options. Lower-priced models I looked at — ranging from an affordable $250 to a still-steep $999 — topped out at a 250-pound capacity, making them ill-suited to larger bodies. The Ergatta equipment, on the other hand, is rated for up to 500 pounds.
It took a couple weeks for my tester Ergatta to be delivered (it was pre-built and carried in for me, so I didn't have to put anything together — this applies to most customers who live in urban or suburban areas). I sat down the second the delivery people left to start calibrating the Ergatta to my needs, which required a 2,000-meter row that proved to be a workout in itself.
"This was so much harder than I remembered," I messaged my colleague, hunched over my knees and trying not to hurl.
I was wheezing by the end, with muscles I'd forgotten I had starting to ache. So I was pleasantly surprised when the games really did adapt to my current (very low) level. The relatively quick calibration allows the machine to gauge a user's ability so that it can then adjust different skill-based games — focused on form, endurance, and speed — to meet your personal fitness level. And over time, Ergatta adjusts to meet your changing skills so that games and races can be made appropriately challenging and you can work toward a goal. From rower basics to 10k endurance, the challenges set up by Ergatta feature multiple workouts made to get more difficult as you progress through the program, which can range from five days to 30 or more.
Unlike my old indoor rowing experience or the exercise behemoth Peloton, Ergatta isn't focused on a class experience — what makes Ergatta special is its gamification of its workouts. While I certainly was challenged in trying to row hard enough to capture a little Mario-like coin on the screen, the workouts the computer offered me weren't so difficult as to be impossible or discouraging. The Ergatta also offers races where you're matched with other real-life users who are close to your level, if you are interested in a more group fitness-like experience. The idea, co-founder and CEO Tom Aulet told me, is that "beating them is achievable but not easy" so users can feel motivated and not defeated.
Even though the Ergatta offers a tough workout, it's plenty accommodating to people with knee or, in my case, foot issues. With my plantar fasciitis, runs are excruciating, and even biking can cause pain; here, I was able to stay off my feet for the entirety of the session.
If you're a person who's motivated by high-energy instructors guiding you through a workout, the Ergatta is not for you. But for those who are compelled by games, races, and challenges, and who want to set semi-personalized workout plans, this might be a good fit. And if it leaves you feeling like an Ivy League rower at the end of a session? Well, all the better.