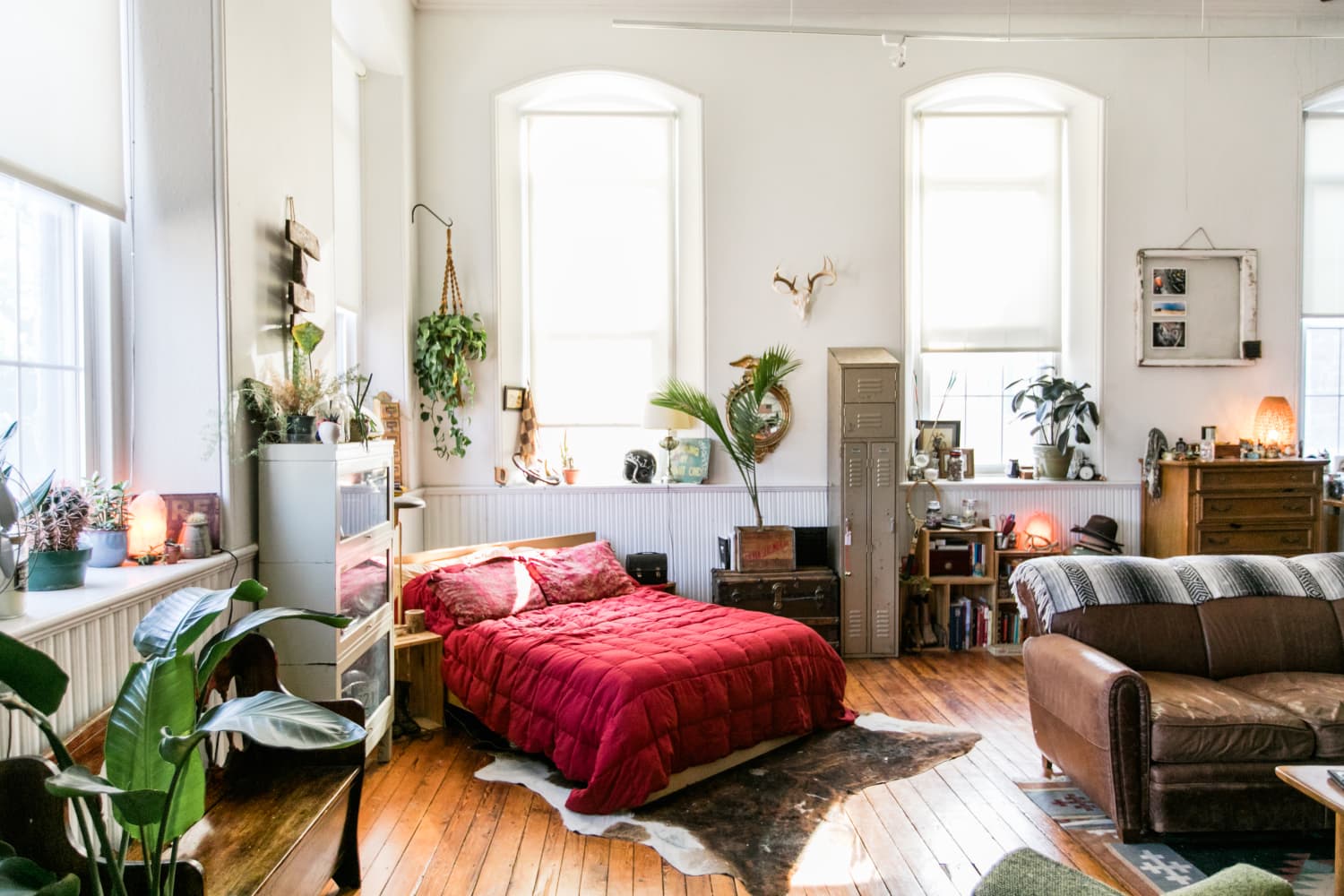 Have you ever moved into what seemed like the perfect apartment, only to discover a million things you hated about it after signing the lease? Unfortunately, it can happen to anyone, especially when you're trying to move in a hurry. Sometimes you only get one brief walkthrough before deciding where you'll live for the next few years. For a better apartment hunting experience, use this checklist to help you spot potential red flags so you can find a place that suits your needs.
Whether your upcoming apartment hunt is your first one or your fiftieth, this list will help you avoid getting so excited about sunny balconies and high ceilings that you overlook things like bug infestations and noisy neighbors.
You don't have to rule out an apartment you love just because you spot one red flag, but the list below will help you decide whether each place you tour is a good fit for you. Happy hunting!
Will you be comfortable working from home?
Many employers are beginning to adopt permanent work-from-home policies. As a renter, that means a lot more time spent in your apartment. If that's your situation, take extra care to make sure your future space is suitable for remote work. Will you need a dedicated office space? Do you have a partner or roommate who also works from home, and can you work in the same room? Is the overall environment quiet and distraction-free? Ask the landlord about the gardening and landscaping schedule so you can avoid having your meetings interrupted by noisy leaf blowers.
Can you meet the maintenance technician?
No matter which apartment you choose, something will end up breaking at some point, and your building maintenance technician will have to come fix it. That could mean the maintenance staff must enter your apartment while you're at work or asleep. For your safety and peace of mind, it's good to meet your maintenance staff before you need their help, according to maintenance technician Mercury Stardust.
"I think we as property managers need to communicate this in a very clear way when you rent your apartment," she says. "You should be introduced to the maintenance staff because they are going to be the people who walk into your apartment at one o'clock in the morning when there's a leak coming from your ceiling. We're the people you need in the most need."
What is the surrounding area like at all hours?
You may be laser-focused on finding the new address, but try and let your eye wander as you go check out a new place. Was it challenging to drive there or take public transportation? Are there lots of bars and fast-food joints? Is the apartment next to an intersection or bus stop? If possible, visit this new place at different times of the day, but at the very least during a rush hour to see just how loud and wild the area gets. The big question to ask yourself is, do I feel safe and comfortable right now? And once you get to your potential new apartment, don't forget to check what's next door:
"I didn't realize that the trash room was directly under my bedroom with a door out to the street," Apartment Therapy reader misslyss once commented. "When the garbage truck comes (incredibly early in the a.m.) they open that door and pull out the cans for the entire building. Talk about a wake-up call. They then repeat it a few days later for recycling!"
Are the common areas well-kept?
As you walk toward your potentially new apartment, pay attention to how well-kept the common areas are, from hallways to stoops to stairwells and more. Not only can it give a hint as to what sort of neighbors you'll be sharing the place with, but it could also indicate how well the management keeps up the property. You might also check out where the garbage is maintained and how well-kept that area is.
Are there any signs of infestation?
Some folks in big cities have resigned themselves to having to live with a certain level of vermin. For others, the thought of having to share your new space with something like mice or roaches is completely vile. So get thorough when you evaluate your potential new place. Bring a flashlight along to not only search corners, cabinets, and crevices for the bugs, and be sure to look for signs they've been there, like droppings, decay, or shedding.
"I recently had a horror story apartment in Seattle. It looked beautiful because they redid everything. The first night the little creepy crawlies came out of the walls. I now look for apartments with a flashlight," Apartment Therapy reader heresyoftruth said in a comment. "I check under sinks, around exposed pipes, and all. One lady said I looked very professional, but I think she meant very nutty. I just never ever want to deal with that again. There's simply not enough boric acid powder in the world."
Are the doors and windows in good condition?
Check all doors and windows to see that they open and close and latch and lock. But then take it a step further and investigate how energy efficient they might be. Do exterior doors need door sweeps replaced? Are old windows painted shut or very drafty? None of these things are necessarily deal breakers, but they could cost you a lot of money in the future when it comes to heating and cooling your place.
Is the plumbing in good shape?
Few people think to run the faucets and flush the toilets, but both can give you indications about the state of the plumbing. If the toilet doesn't flush well or runs very long, you could end up spending extra money on your water bill. And check that toilet shut-off valve — does it work, or is it rusted shut? (This is not something you want to discover while your toilet is overflowing.) Sinks that don't drain could indicate clogs in the pipes. Check that shower — how's the pressure? How long does it take for the hot water to heat up, and how's the temperature? If you're able to check the water heater, does it look okay, or does it look old and damaged? A worn-out water heater can significantly impact your shower temperature and water bill.
Are the electrical sockets safe and operable?
Check to see if they work, but also look for any loose sockets or other indications of faulty wiring. Make sure there are enough sockets in each room for the electronics you use. For instance, if you use a curling iron or hair dryer, make sure you've got outlets where you need them in the bathroom. Maybe even check to see if they have GFCI outlets in the bathroom and kitchen.
See if you can just sit in the middle of your bedroom at night (or if you'll be working from home, the place where you might keep your office). Sit quietly and just listen. Is the traffic noise pretty loud, or can you deal? Do you hear kids screaming, dogs barking, stompy neighbors, or loud music? How do you feel about the sirens from that nearby fire department? Earplugs and noise-canceling headphones can do wonders, of course, but you'd rather not be surprised by loud noises after you sign the lease. You might not be able to hear everything in a short amount of time, but it should give you a slight idea of the noise levels of the place.
"Usually, when you're hunting for a place you're nervous, stressed, and excited all at once. In this frantic state, it's hard to notice sound levels," wrote Apartment Therapy reader katielou in a comment. "Next time you hunt, make a note to spend a moment with your eyes closed and get a sense of the noise environment. You might discover (as I did) that it may be much louder than you thought."
How do the ceilings and floors look?
Look for ceiling stains that might indicate active leaks and giant cracks in the ceiling that may reveal serious foundation issues. Look for signs of moisture or mold. Examine the flooring to see if it's relatively clean and whether or not there's damage, loose boards, or tripping hazards.
Do you have strong cell reception?
Make a call to test the building's cell reception. Perhaps even consider doing a quick search for what internet providers work in that area and see if it'll be enough for your digital needs.
"Make sure your cell has service inside the apartment! I lived in a house in Hawaii that didn't get cell service inside," says Chloe Moore of Chloe Moore Photography. "It was slightly annoying but then again it wasn't the end of the world to have to step outside to talk on the phone when I lived in paradise but I can imagine that if I was living in my old NYC fifth-floor walk-up, having to go outside in the snow or up on the roof to take a call would be a total deal breaker for me!"
What do the neighbors think?
Don't feel like you have to go knocking on everyone's doors, but if you see any potential new neighbors out and about, say hello, introduce yourself, and ask them how they like living there and how they get along with the landlord. Don't let their words be the final say of whether or not you choose to rent, but take them into account like everything else you've checked off from this list.
What's the parking situation?
Is a parking spot included in your rent, or will you have to pay extra for it? Is it a covered spot, street parking, or in a secure garage? Will you feel safe walking to and from the parking area at night? If you have guests, where will they park, and what will it cost? Also, check to see if any disruptive events occur in the neighborhood and whether they will affect your parking arrangements.
How does the commute feel?
Especially if you live in a densely populated area, do a test run of your commute from the apartment to your job. Either go during your usual commuting time or, if you have to go on a weekend, make a mental note of how much longer the drive would take during rush hour. Sometimes a route that looks relatively painless on Google Maps turns out to be more of a headache than expected.
With additional reporting by Adrienne Breaux