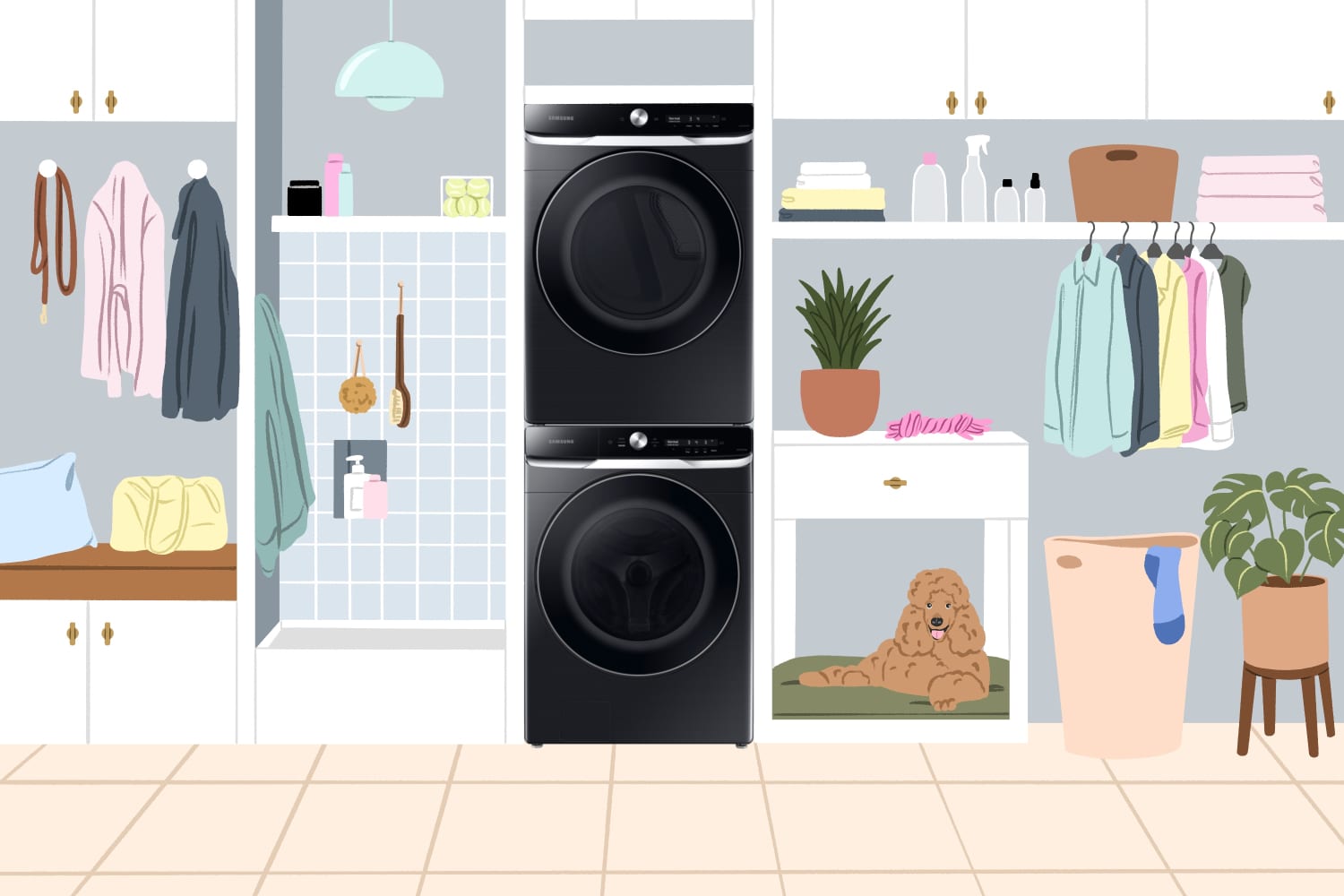 Technology hasn't advanced quite enough to bring us robot butlers who do our laundry, but it's come close: Smart technology has totally revolutionized how we wash clothes. The days of meticulous measuring and wondering, What is this button for? are gone, and we're glad to see them go. It's time to introduce smart tech into your laundry routine.
Samsung smart washers and dryers aren't just tech for tech's sake. They're masters of efficiency, turning out sparkling clothes without wasting detergent, water, or time. They make laundry — dare we say it — fun! And loads easier, too.
Trust Your Washer to Know How Dirty Your Clothes Are
Imagine a world where you could put your dirty clothes in the washer, close the door, and let the washer take care of the rest. You'd probably do laundry more often — and now you can. The Samsung Smart Dial Front Load Washer with Optiwash™ automatically senses soil levels in your load during the washing cycle, then adjusts the time and detergent accordingly to ensure an optimal clean. In addition to conserving resources, we also love how this feature means any member of the household can wash clothes well (you know who you are).
Forget About Measuring Detergent
A smart washer ensures you'll never have to guess how much detergent you need again — which means you'll never waste detergent again, either. Samsung eliminates one of the messiest parts of laundry day. With its Auto Dispense System, you can fill the washer with up to 20 (yes, 20) loads' worth of detergent and softener. The washer will accurately dispense the right amount for a perfect, zero-effort wash every time. Smart? More like brilliant. And since it's wi-fi connected, you can use your phone to remotely start or stop your wash, schedule cycles, receive alerts when a cycle is complete, and more.*
A Washer That Learns Your Favorite Cycles
You know that one thing it feels like you're always washing? Whether yours is towels, workout gear, or delicates, Samsung's AI powered Smart Dial learns from every wash, then recommends your go-to cycles when you need them. You can even customize your cycle list with settings like outdoor gear and denim. And with your smart washer and dryer, you can automatically link the dryer cycle to the washing cycle used.* It's not not magic.
*Requires a Wi-Fi connection and a SmartThings compatible Washer with the Smart Control setting on. Auto Cycle Link is only available when pair is connected to Wi-Fi. However, when dryer is stacked on the washer and connected to each other using the MultiControl KIT (sold seperately, Model code: DV-MCK), Wi-Fi connection is unnecessary.