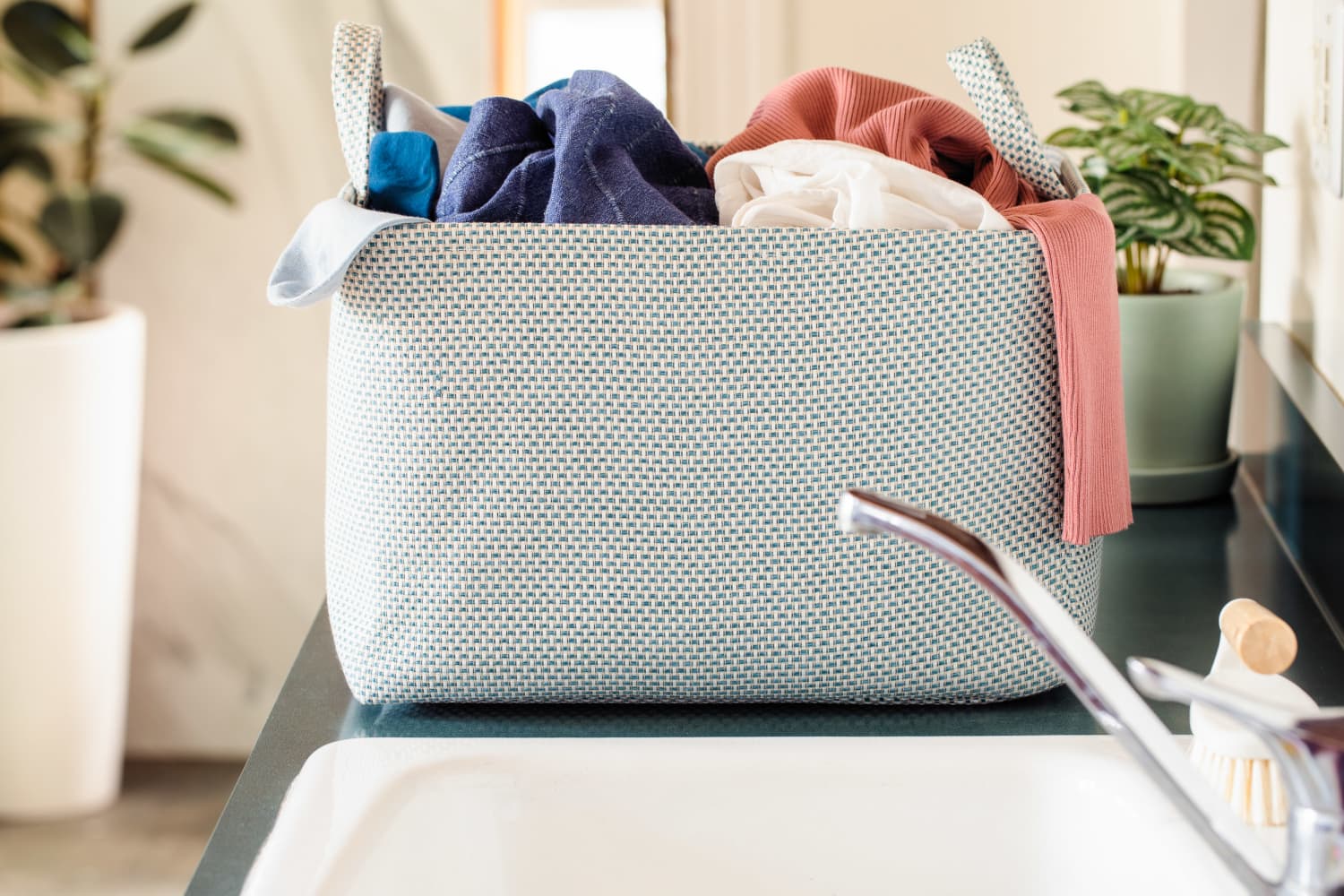 I spent 10 years living in New York City, during which time the idea of being able to do my own laundry felt like a luxurious pipe dream. It may seem silly to put a chore up on a pedestal like that, but to me, loading up a washing machine with laundry whenever I wanted became a beacon of suburban freedom. No more carrying my laundry blocks only to find all the washers were taken; no more sending out a load only to have it return with other people's unmentionables inside; no more worrying about how badly the harsh detergent and high heat of my local laundromat were going to ruin my winter sweaters.
In 2020, I became the proud owner of a home — and my very own washer and dryer! And, now, I have a new golden goose to chase: a laundry room. At the moment, my units are housed in the (kind of creepy) basement of our 200-year-old house and, while they definitely get the job done, I'd love to be able to do my laundry somewhere where there's daylight and a lower chance of spotting a spider.
While I now spend time dreaming up all the ways in which a true laundry room would better my life, I also decided to go straight to the pros — that is, people who design, launder, and organize for a living — to get their takes on the essentials for any laundry room space. You know: in the name of research and all. Here are their nine modern laundry room must-haves.
Even if you love to do laundry, it will sometimes feel like a hassle — probably more often than not. So, when designing a dedicated laundry room space, Rozit Arditi, founder and designer at Arditi Design, recommends focusing on making it both functional and fun, melding its utilitarian needs with decor that gets you happy to spend time in that room. "I love adding color to rooms where my clients do the most repetitive chores," says Arditi. "The addition of colorful cabinetry or a fun wallpaper can go a long way in making all those loads of laundry seem easier."
Your goal when putting together a laundry room is to design a space that helps you tackle all of your laundry needs, and that includes folding. Countertops are a crucial part of that equation, and a great way to streamline your washing and drying chores. "Counter space is an essential addition to any laundry room," says Mel Bean, interior designer and founder of Mel Bean Interiors. "If the area is small, consider installing a countertop over a side-by-side washer and dryer to use as a folding area."
"Workspace is the most important thing after the actual machines," seconds Gwen Whiting, cofounder of The Laundress. "If you don't have a proper counter or space to fold, pretreat, and organize, your clean items may not stay so clean." If your laundry room is especially teeny or closet-sized, Whiting suggests opting for a hamper with a worktop.
If you have the room, traditional cabinetry is bound to be one of the best things you can add to your laundry space. "Cabinets are a great way to increase not only the aesthetic of your laundry room but also the functionality," explains Kenika Williams, organizing expert and owner of Tidied by K. "Laundry rooms are often neglected spaces in the home and they quickly build up with clutter — open shelving can aid in that. When you're intentional about cutting down on clutter, the cabinets help you to define the space and keep things out of sight."
Furthermore, "laundry room cabinets are vital for storing products so they're out of sight and safely away from children," says Jessica Ek, spokesperson for the American Cleaning Institute. "If you want to use trendy things like clear glass jars as decoration, fill them with things like clothespins, never cleaning products."
Sometimes also referred to as a utility sink, slop sinks are basically smaller-scale basins that are perfect for utilitarian spots like laundry rooms. They're one of those things that many people think is extra "fluff" — until they actually install one and realize how truly game-changing it is.
"Not all fabrics are created equal," says Jonathan Propper, founder and CEO of Dropps. "For delicate fibers like wool, silk, and lace, embracing the lost art of handwashing will be your best option. By installing a sink in your laundry room, you can cut down on time spent walking back and forth to the kitchen or bathroom to handwash these delicate items. Not to mention, laundry can be a messy task. Having a sink in the laundry room can help clean up spills and messes much more quickly and efficiently."
It's very easy to get into the habit of just tossing all your dirty clothes into the laundry room and then shutting the door, but that's a no-no according to organizing expert Rachel Rosenthal, owner of Rachel and Company. As it turns out, having a laundry room does not negate the fact that you still need a laundry organization system.
"Invest in a couple of laundry bins or baskets that help you create a system that keeps things off the floor," suggests Rosenthal. "That might mean you have one basket for dirty clothes that are ready to be washed and one for clean clothes that need to be put away. Or you have three: one for whites, one for darks, and one for delicates. Whatever you choose, it's important to determine a system that works best for you and your family's washing routine."
If you're short on room, organizational expert Naeemah Ford Goldson of Restore Order suggests collapsible baskets. "[They make] for easy storage, and you don't have to figure out how to store bulky laundry baskets that take up space," she says.
Versatile Storage for Extras
Williams recommends also nabbing a rolling cart for your room to act as your laundry "command station" and keep you organized. "I love to maximize all the space in the laundry room, and space in between the washer and dryer, or between the washer and dryer and the wall, is prime real estate," she says. "Make the most of it with a slim rolling cart that houses your frequently used items like detergent, dryer sheets, and more."
Of course, chances are your laundry room will end up being home to more than just your dirty clothes and detergent essentials — everything from household cleaning supplies to cold weather gear and maybe even extra paper goods could also end up making their base here. You can keep these other things organized, too, by purchasing a few sets of matching boxes that will help to easily corral all your extras. "It's a great idea to invest in a few large, matching boxes that go with the style of your laundry room," says Ek, who adds that these can also "be used for sorting laundry or prepping chores for kids, like putting all the socks in a basket to be paired up."
"Choose organizing products that can be easily wiped down or rinsed," suggests Rosenthal. "There is a lot of water and things like detergent or softener in laundry rooms that can get messy quick. By selecting something like a plastic or acrylic bin, you will be able to clean versus replace if there is a spill."
A lesson most people have learned the hard way after shrinking one too many pairs of jeans: not everything is meant to be thrown in the dryer. For those items that are better off drying naturally, spring for a drying rack. While built-in drying racks exist, collapsible styles offer versatility and mobility. "I love my folding drying rack," says Katrina Green, home organizer, interior stylist, and owner of Badass Home Life. "Collapsible styles are helpful because you can keep them stowed away inside a cabinet or behind your washer and dryer when not in use — they don't have to take up space."
Give yourself an easy place to hang formal clothes (like button-down shirts, pants, and dresses) with a clever hack: a butler's hook. "I like a wall-mounted arm better than a hanging rod," says Whiting. "They can often 'disappear' when not in use and are a great place to hang clothes before putting them away or storing pieces that will eventually need steaming or ironing."
"For many households," says Propper, "dedicated laundry rooms are located adjacent to backyards or garages, and even double as mudrooms, storing not only dirty laundry but also boots, shoes, and tools." A rug both helps prevent dirt from tracking into the rest of the house and adds a design moment to a primarily utilitarian room, he says. "Plus, when [a machine-washable rug] does get dirty (which it inevitably will), it doesn't require a heavy lift to wash, as it's right there in the laundry room already."
Apartment Therapy's Laundry, Sorted vertical was written and edited independently by the Apartment Therapy editorial team and generously underwritten by Samsung.