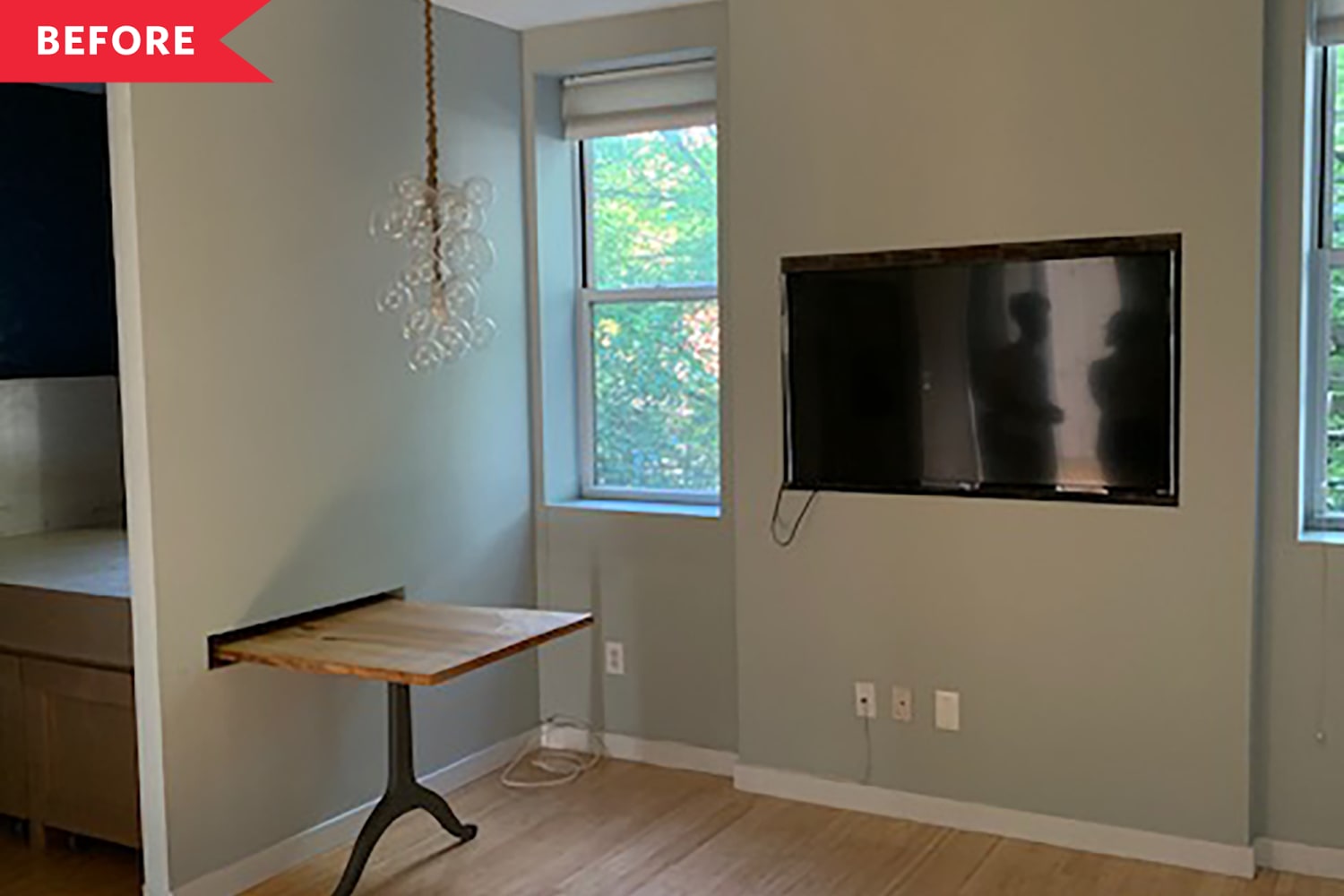 We independently select these products—if you buy from one of our links, we may earn a commission.
Name: Adam K.
Design Professional Name: Kim White
Location: Harlem — New York City, New York
Size: 715 square feet
Type of Home: Apartment
Years lived in: 1 year, renting
Kim White is a makeup artist by trade and an interior design enthusiast all the time. She's also a small space expert, as she demonstrated in her 296-square-foot studio apartment's amazing transformation that's filled with smart storage ideas and tons of style. She recently got the opportunity to "step outside of my comfort zone and do something I'd never done before — decorate someone else's apartment," she writes. "The experience was challenging and rewarding. I hope to have the chance to do it all over again."
Her client, Adam, was renting this 715-square-foot apartment in Harlem that came with some layout peculiarities. The family who owns the apartment previously used the only bedroom as a nursery, and used a lofted bed platform as a main bedroom. The space also came with a unique pull-out dining table. The lofted platform and dining table had to stay, but despite that limitation, Adam still felt like this rental apartment had a lot of potential when he first saw the space. "I love that each room was created to feel equally comfortable and cozy but for its specific purpose," Adam writes.
Adam works full-time and is a part-time student, so Kim transformed the former bedroom loft space into a home office with a cozy reading and study corner. The apartment's actual bedroom now serves as Adam's bedroom, complete with soft curtains and a hand-painted dresser that Kim designed and DIYed herself. "When I'm not working or studying, I love to relax on the couch and watch TV and movies or sit in my pink chair in my bedroom and read for fun," Adam says.
Apartment Therapy Survey:
Kim's Inspiration: Nearly every piece of art that the homeowners shared with me had pink strokes — I ran with it.
Adam's Favorite Element: My favorite thing is the bedroom. At the end of the day it's so nice to enter that space to wind down. The overhead lamp provides the perfect amount of lighting and the wall to wall curtains make the room feel so warm and welcoming.
Kim's Favorite Element: The bedroom is probably my favorite space, I'm very happy with the way the hand painted dresser turned out and fit into the space.
Kim's Biggest Challenge: The biggest challenge in the space was figuring out how to make the storage bed (that belongs to the landlord and basically takes up the entire room) a functional space for a renter that didn't want to use the bed as a bed.
Adam's Biggest indulgence: I think the biggest indulgence was the curtains. I had never bought nice curtains before and had no idea how much they cost! But they are so worth it.
Adam's unique home use: The office was designed to be used as a the bedroom even though it was the smaller room. There is a built-in platform that can't be removed. Putting a carpet on the platform and getting a desk and some shelving for a small library, in addition to the floor seating, completely transformed the room.
Kim's best home secret or decorating advice: Life doesn't start once you purchase a home, so live the way that you want to in a rental. I have so many friends who have neglected to make their housing comfortable because they don't own the property, yet they've spent every day of their life for the last six years there cringing each day unnecessarily. The idea of having to paint the walls white again is negligible if you've lived with the color that makes you happy.
This house tour's responses were edited for length and clarity.