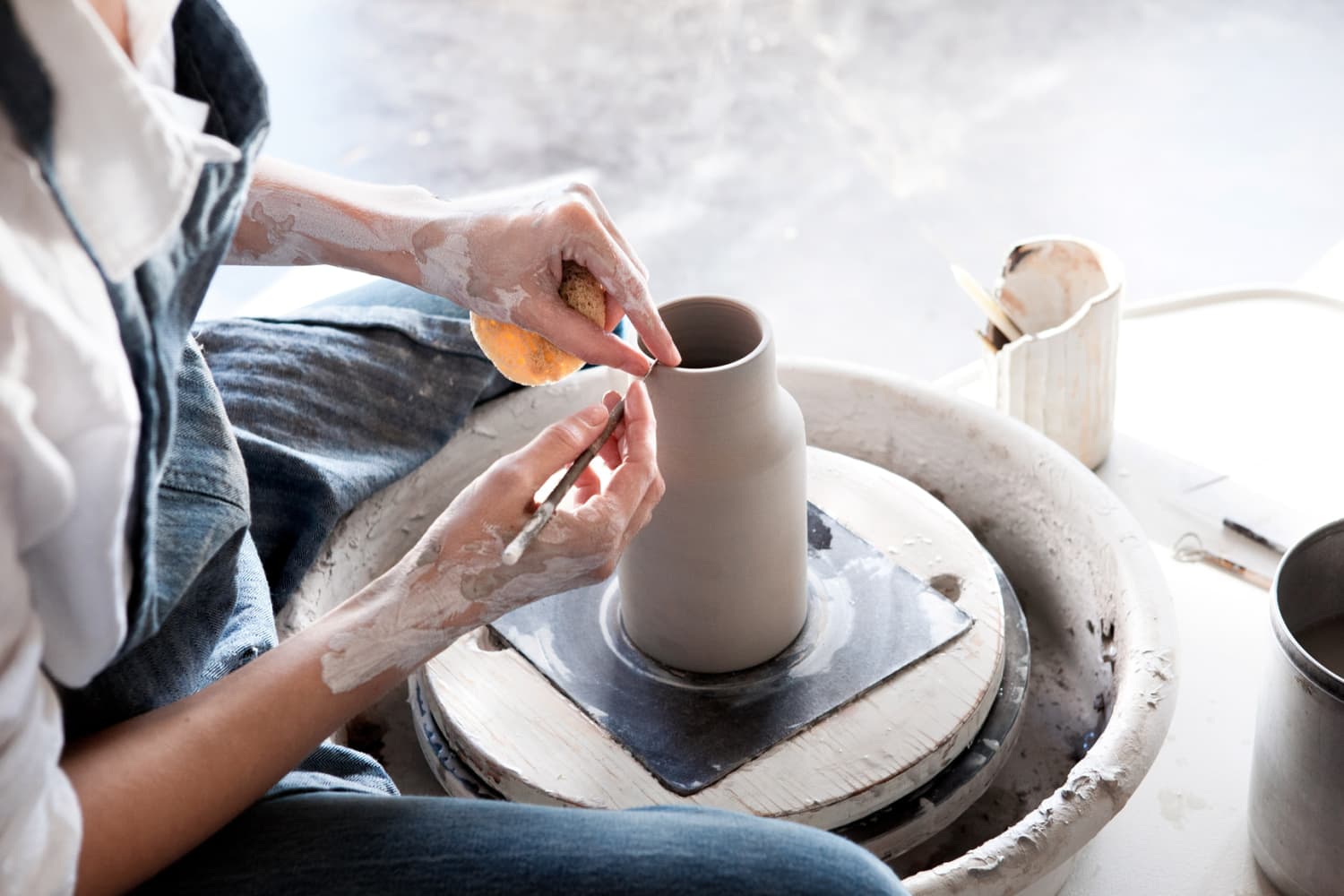 For most people, mess is inevitable. At some point in time, a stain will occur: Mud will meet pants, pizza will meet shirt.
There are those, though, for whom mess isn't just an occasional inevitability — it's practically part of the job description. Here, eight people who work in what could be considered "messy" professions, from a potter to a plumber, a butcher to a drag performer, share their tips and tricks for avoiding stains while on the job and dealing with the cleanup when the clothes hit the laundry room.
"We have an open kitchen, so appearance matters. I don't want customers seeing my crew or me covered in food while we're making theirs. I try to avoid working that messy in the first place — not only to avoid stains, but we work better when we work cleaner. We wear black on purpose: black chef coats, our T-shirts are black as well. We do our own laundry at the restaurant, so black is easier to manage. White would be replaced constantly." — Carrie Schleiffer, chef
"I end up crawling under a lot of houses to get at pipes. I'm always getting muddy. When I get home, I leave my muddy clothes outside to dry and then beat the dried dirt off before washing them. Otherwise the mud would clog up the washing machine and ruin the pipes." — Taylor Williams, plumber
If at First the Stain Doesn't Come Out…
"I work for an independent living agency, and for me, that means I spend 60 hours a week doing night shifts for an individual with cerebral palsy. My client requires assistance to eat and drink, as well as the commode chair or bedpan, so occasionally any of those will get on me. Also any other normal bodily fluids, including vomit. I use the ECOS Stain + Odor Remover — I use cold wash [and] just spray and wash and repeat until stains aren't that noticeable." — Mel*, home care health provider
Pretreat, Pretreat, and then Pretreat
"On any given night, my clothes will stain with sweat, makeup, drinks. I use baking soda to absorb oils from makeup, and mix with Dawn and vinegar to pretreat. If you can't wash a garment soon after, definitely do that to it, and just pat and blot; ["don't"] rub because [oil stains] spread. Micellar water, either in makeup remover or if it is in a shampoo, is a godsend; those little micellar compounds be doing their job! If you can't wash [something] or it is an old stain, baby powder. It does the pinch in hair or on clothes if you get a stain and you want it to be less visible. Yes, you can stain hair! Other tips: Don't wear white, buy machine washable fabrics, and Mehron Setting Spray is life!" — Stormie Daie, drag performer
Don't Let Stains Settle
"I have been working in the meat industry for nine years, a few different jobs but mostly cutting. I don't do much in terms of actively preventing any stains; however, when they happen, I have found hydrogen peroxide to be a friend to get any blood stains out. I wash my apron every day, and if I can't get to other dirty clothes every day, I try and get to them ASAP so they don't sit. My [work] clothes go with all my other clothes, but my apron will get a lone wash. I wash with hot water, 'high soil' setting, and use the conventional stuff — Tide and such — for them. Regular clothes get the [ECOS] stuff." — Chris Steves, butcher
Take Really Messy Clothes Outside
"Working with clay can be messy, so I tend to wear older clothes that I don't care about as much. I work with lighter colored clays, so staining isn't too much of an issue, and while I'm throwing, I normally have an old towel across my lap. Dry clay dust can cause lung damage over time, so I put clay covered towels into trash bags until I have a full load so that they don't dry out. Once I have a load, I'll spray and try to work out any clay from the towels with a hose outside and then wash them normally. Clay can build up in washing machines and pipes over time, so it's important to get out as much as possible beforehand. Every couple of washes, I'll use bleach to keep everything looking a bit nicer." — Chris McLaurin, potter (and chef)
Switch Up the Method Based on the Stain Type
"Work stains are mostly blood, sometimes urine or feces. Oh, and a lot of pen stains. Normally I use more eco detergent for my day-to-day clothes, but I use Tide on my scrubs. Alcohol pads are good for taking out pen marks, and hydrogen peroxide is good for blood stains." — Camille Mackler, nurse
Get Smart About Covering Up for Messy Tasks
"When I start cooking, I lay a few [kitchen towels] out like I would when prepping at work. I also have a few hooks in my kitchen with aprons for easy access and to remind me to put one on. If they were out of sight, I would probably forget. I even have two kids aprons for [my son,] Jasper, teaching him early the importance of working clean. I tend to lean towards darker colors. I like sturdy fabrics that can absorb and withstand lots of flour and butter, like cotton canvas.
"Never let your dirty aprons and towels sit in the hamper! I wash them immediately to avoid stains [setting] in [and] bacteria growing, which makes the fabric start to smell permanently or get that weird, greasy texture, or start to mold and stain your other clothes in the hamper with them. I'm a big fan of unscented detergent for kitchen fabrics and use Arm & Hammer [plus] OxiClean detergent. I never use fabric softeners (liquid or sheets) with my aprons because they leave a weird residue on the canvas fabric. For aprons, I rubber-band the ties together to avoid getting [them] tangled, and I never wash towels with aprons to avoid piling. I'm a rather picky laundry person!" — Justin Burke, pastry chef, recipe developer, toddler dad
*Mel's last name has been omitted in order to protect her client's privacy.
Apartment Therapy's Laundry, Sorted vertical was written and edited independently by the Apartment Therapy editorial team and generously underwritten by Samsung.