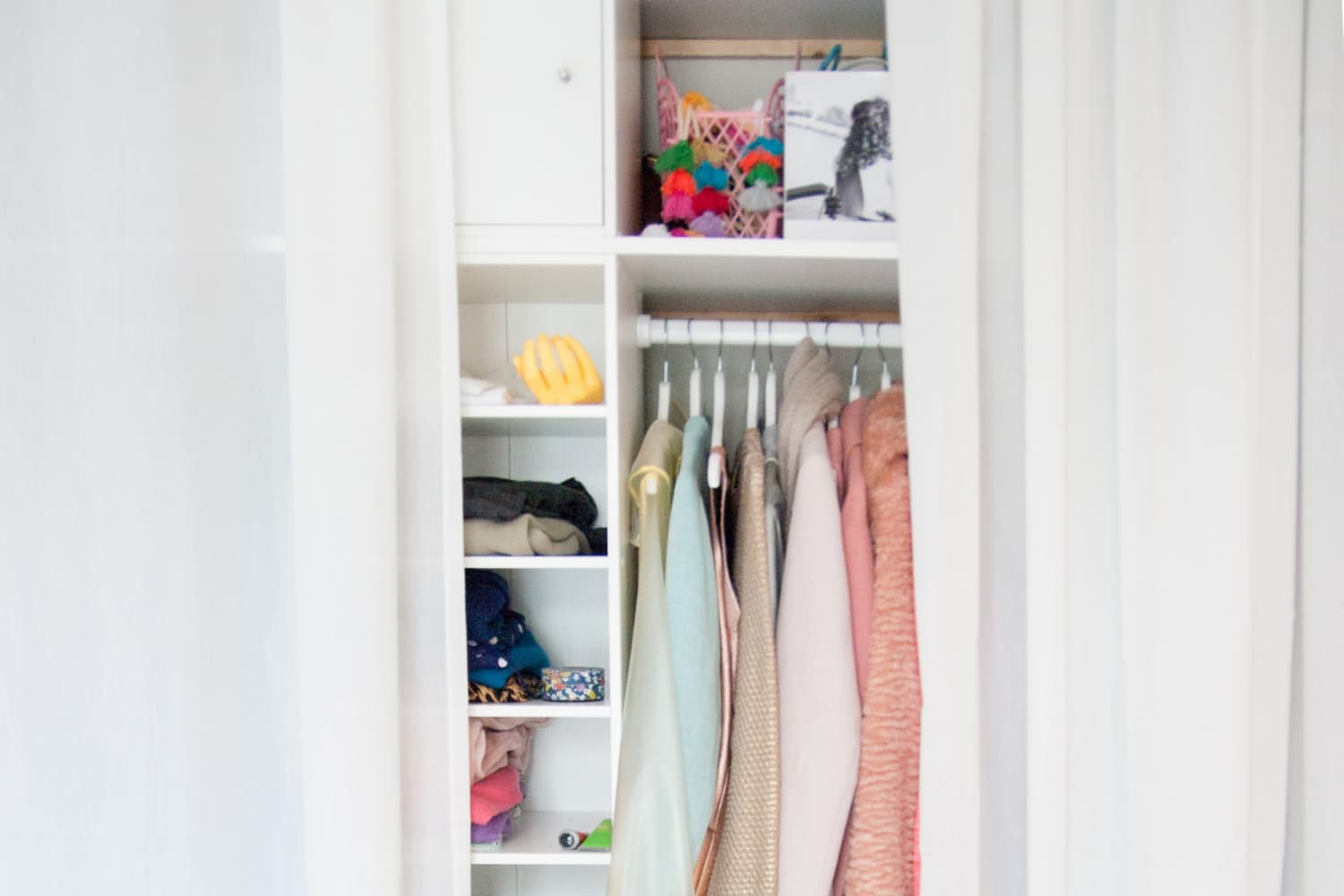 Leaning against a drawer so it will close. Getting an arm workout trying to squeeze more hangers onto a rod. Packing one last item onto a shelf — only to have it tumble back down onto you. If you have a tiny closet, you're likely familiar with at least one of those scenarios.
And while you can't simply increase your place's square footage to ensure that all of your things have a home, you can get creative. To help you stash more in that teeny nook, we turned to organizing and small space experts for advice. Get ready to finally fit those pesky linens.
Give the Back Wall Some Love
"Not in every closet, certainly — certainly not in every closet I've had — but in lots of closets, there is often wasted space behind where the hangers are," says Whitney Leigh Morris, the small space lifestyle consultant behind The Tiny Canal Cottage who splits her time between North Central Florida and Aveyron, France.
If you've got any wiggle room on that back wall, it can be a great place to add some hooks. The amount of space you have will dictate what will fit here. In Morris' case, this is the destination for off-season coats and jackets.
Another unconventional spot Morris recommends: the space above the closet door frame.
"It depends on what type of closet, but right above the frame, there's often a space for a shelf to be installed, or hooks, or a bag hanging on hooks," she says. "I try to hang everything from shoes to accessories up in those recesses."
Take Advantage of the Doors
Already looking around the door frame? If your closet has a traditional door or doors, the backside(s) can house accessories such as belts, hats, purses, scarves, and ties.
"How big that closet is and how much space you have in between the door and the clothes that are hanging will determine what you can actually put there," advises Robyn Reynolds, a certified professional organizer and owner of Organize2Harmonize in Sherman Oaks, California. With more space, an over-the-door organizer with baskets is a possibility, but if you only have a few inches, adding some hooks is the way to go.
If your clothing rod is so packed with hangers that you can hardly pick through them — and, caveat, if most of your wardrobe consists of short-hanging items — you may benefit from an additional rod.
Take some measurements to see if you have enough vertical space to install a second one below the original, keeping in mind that, "if the closet rod is not high enough, then the clothes hanging on top are going to be hanging over the rod you've now installed," says Reynolds. "And then the stuff on the bottom may be pooling on the floor."
Consolidate in Containers
If your small closet has shelving, use storage containers, recommends Naeemah Ford Goldson, a certified professional organizer and owner of Restore Order Professional Organizing in Atlanta. "Whether that is a container that's clear, or whether it's some sort of basket, a canvas bin, something along those lines," she says a bin of like items, such as bath towels, bedding, or sweatshirts, allows you to save space by folding clothes like file folders, the way you could in a drawer.
And Take the Time to Fold Well
Speaking of folding: Turns out, folding cleanly doesn't just make the space look neater; Reynolds notes that folding linens or similar items makes them flatter and more contained, therefore taking up less of your closet's precious real estate. Bonus: This tip doesn't require any purchases or installations.
"So many times, people get frustrated with folding something and will rumple it up, and then it just gets thrown in a closet," says Reynolds. "But then it's taking up a whole lot of space."
If you have the time and money, another way to save space is to customize your closet so that it truly best caters to your needs. You can even install a full closet system.
Alternatively, you could call in the big cheese (in this case, a designer). Ford Goldson explains that this can be helpful because a professional will not only create a space with your closet's petite square footage in mind, but can also do the work of determining the most advantageous storage method for you.
With either route, your initial step is to figure out exactly what you plan to store in the closet. "Make sure you declutter first and know exactly what's going to go in that space before you buy the product, before you decide to get that custom space," says Ford Goldson. "You just have to make sure you know what's going in it, so then it can benefit you."
Apartment Therapy's Laundry, Sorted vertical was written and edited independently by the Apartment Therapy editorial team and generously underwritten by Samsung.