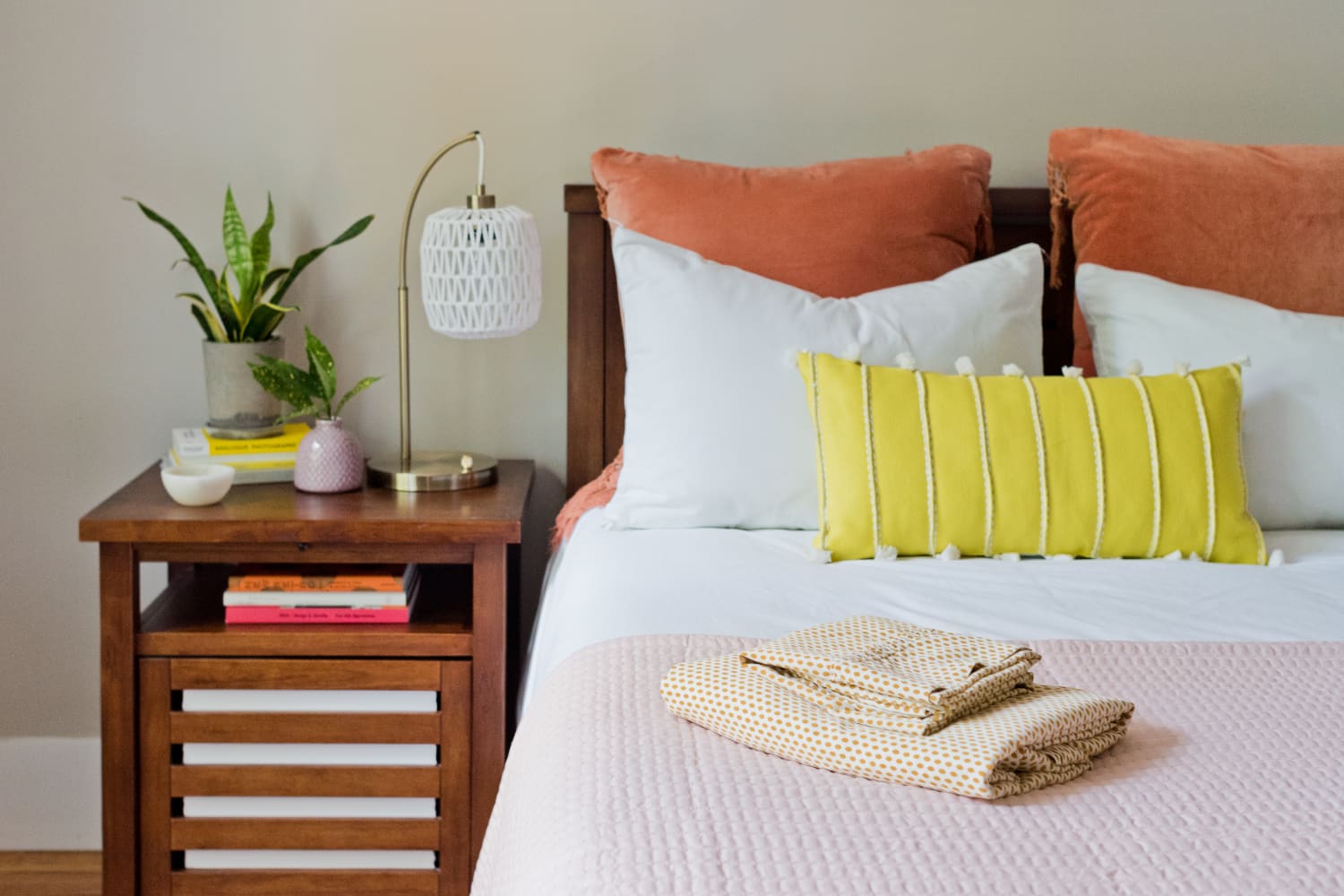 Why is it that getting into a freshly-made bed is one of life's simple pleasures, but the process of removing and putting on new bed linens feels like such a laborious chore? We don't have the answer for that, but we do have some expert-sourced tips to make the task more efficient and maybe a little more — dare we say — enjoyable.
"It's always easier to change a bed if it's not right up against the wall," says Melissa Maker, founder of the Clean My Space YouTube channel and Toronto-based housekeeping service. "You can either put your bed posts on sliders to make it easy for you to pull it out — that way you can access all four corners — or you can pull it out manually. But it would be easier to put it on sliders."
Another way to approach this, according to Maker, is by rethinking your bed's placement in the room. Granted, this would take more upfront effort, but if you're on a redecorating kick and have the space, why not try floating it?
A top sheet requires a lot of the tucking energy that comes with making a bed, and it can be a pain to ensure that its edges fit snugly under the mattress. That's why Dawna Boone, founder of Dallas' Valet Maids, recommends leaving it in the closet.
"A lot of people aren't using top sheets anymore, and that actually makes making your bed a ton easier. Just pull up your duvet and you're pretty much done," she says. "But just remember, if you aren't using a top sheet, you definitely need to wash your duvet whenever you're washing your other sheets as well."
Roll Up Your Duvet Like a Burrito
If you go the way of the last tip, you'll have extra reason to try to take some of the frustration out of changing a duvet cover. Enter: the Burrito, or California Roll, method.
"You would take your duvet cover, and you would turn it inside out. Lay it flat on your bed, and have the opening of the duvet cover at the foot of the bed," Boone explains. "After that, you would take the actual duvet and you would lay it on top, and match up all the corners."
Starting at the head of the bed, roll up your duvet and cover together. When you reach the foot of the bed, head to one side of the roll-up, reach into your duvet cover, and flip it over the end of your bedding burrito, so that the right side of the cover is facing out. Repeat on the opposite side and close the cover up. "Then you would unroll it," Boone continues, "and you're all done."
Make Your Pillowcases into Puppets
Well, not exactly. But bunching up the corners of pillowcases like hand puppets is Maker's trick for quickly slipping them onto your pillows.
First, turn the pillowcase inside out, and stick your hands into the far corners. (This is when you're creating that puppet shape.) Now grab a corner of the pillow with each hand and shake, causing the pillowcase to slide down. "It's an easy way to put it on instead of trying to stuff it in," Maker explains.
Maker also suggests this method for duvet covers, and notes that it may be easier to do on the floor if you have a larger duvet. Turn the duvet cover inside out and bunch up a far corner to make a puppet with your hand. Grab a corner of the duvet and shake or pull the cover down to the end of the duvet. Repeat on the other side, give a good shake, and button it all up.
If you're able to add a roommate, partner, or kind friend to your bed-making equation, Maker says you can "double to quadruple your efficiency."
"For example, with a fitted sheet, you tuck it under, then you go to the other side, and you pull it a little too tight. Then the pocket pops off the corner of the mattress, and then you've got to go back and do it again," she says. "If you're working with someone else, you guys can adjust accordingly and work as a team so that you're not wasting time fixing, adjusting, correcting mistakes."
As Boone points out, by putting your bedding back on immediately after it comes out of the wash, you don't have to think about the additional task of folding sheets and storing them.
"No one knows how to fold a fitted sheet, so just keep using it, washing it, and putting it back on. You don't have to worry about trying to figure out how to fold it," she says. "That saves a ton of time and energy as well."
Apartment Therapy's Laundry, Sorted vertical was written and edited independently by the Apartment Therapy editorial team and generously underwritten by Samsung.