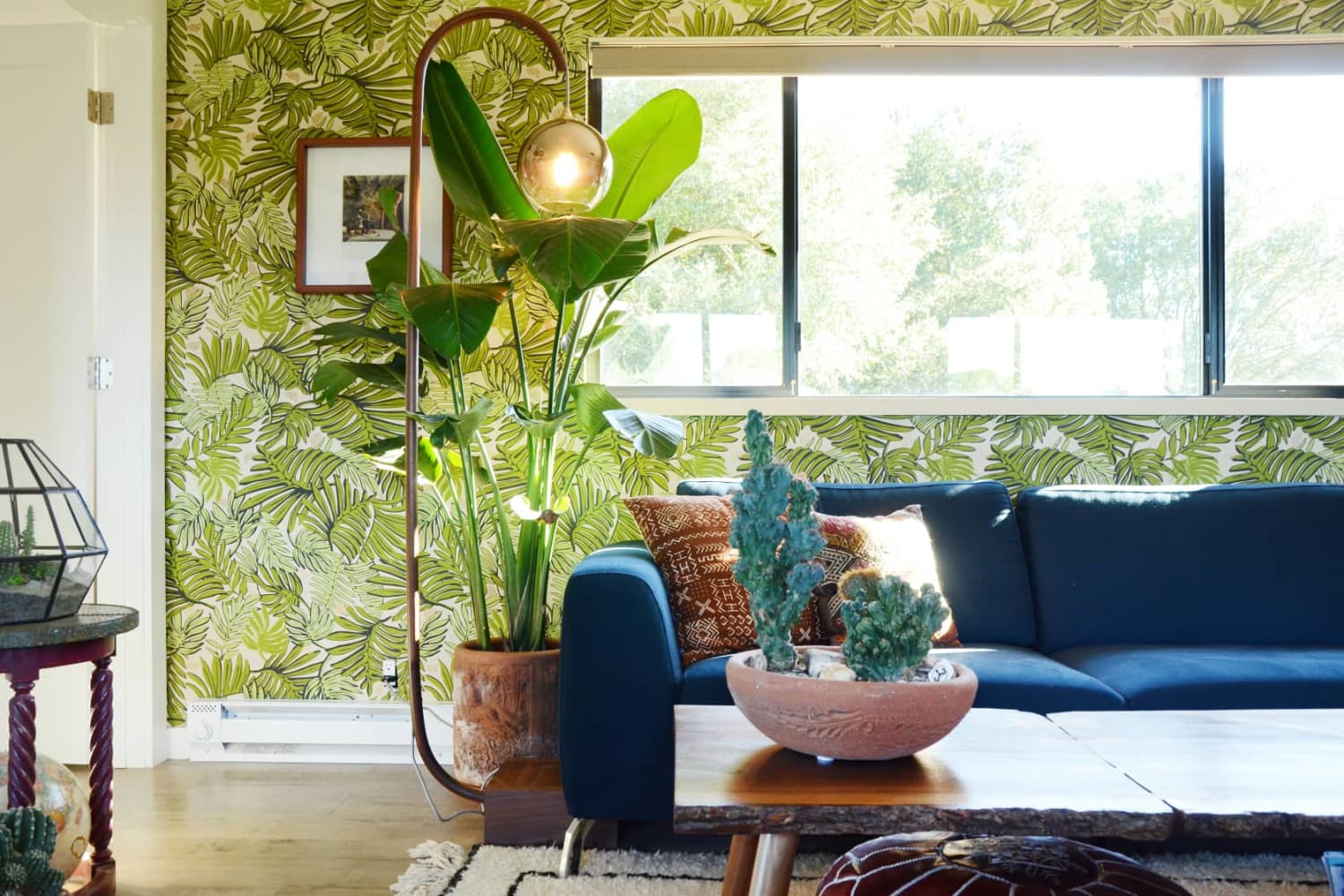 We independently select these products—if you buy from one of our links, we may earn a commission.
I asked five DIYers how their peel-and-stick wallpaper is doing since they applied it — from as little as one month ago, up to five years ago. They gave me the honest low-down, and Elizabeth Rees, co-founder of Chasing Paper, weighed in with her own tips on how to best position your wallpaper for longevity.
How peel-and-stick wallpaper holds up after one month
"I'm exactly at the one-month mark for the peel-and-stick wallpaper in my powder bath makeover. It is holding up perfectly so far," says designer and DIYer Angelica Winkler.
Winkler used peel-and-stick wallpaper from RoomMates, and applied it by starting at the top of the wall and peeling about 6 inches off of the backing. Then she worked her way down the wall, smoothing it out with her hands as she went. Winkler says she prefers to use her hands or a soft cloth as opposed to a flat tool or credit card when applying wallpaper, since older walls sometimes aren't exactly flat to begin with. You can see in her tutorial here.
How it's holding up: "It's holding up perfectly!" Winkler says. "I made sure that the walls were clean and dry before applying, and that it was a relatively smooth surface wall (not textured). Other than that, avoid humidity, and it's always worked well for me!"
The pro's take: "If the wall has a bump or two, they should be okay as long as they are one-offs," says Rees. "We recommend using removable wallpaper on smooth walls that have been primed with a premium eggshell, satin or semi-gloss paint," she says. She adds that matte finishes are a little trickier, and textured walls are not recommended.
"If you're applying fresh paint, keep in mind that paint can take up to four weeks to fully cure and we recommend waiting to install until after that," she adds.
How peel-and-stick wallpaper holds up after eight months
Meg Baker from Baker Blooms applied her peel-and-stick wallpaper from NuWallpaper by lining up the top of her first strip with the edge of the wall. She used a plastic putty knife as a straight edge to apply pressure and remove any air bubbles from the paper as she worked her way down. Then she used a box cutter to trim the leftover paper at the bottom.
"Lining up the next section of the pattern was a little tedious but once I got it lined up, it was smooth sailing," says Baker. "I just repeated this until I was done with this little entry nook area."
How it's holding up: "It's honestly holding up beautifully!" Baker says. "It's not peeling off anywhere and there are only a couple of dings from me bringing in wood for projects and not being careful enough."
The pro's take: To take away some of that pattern matching anxiety, Rees recommends ordering 10 to 15 percent more than you anticipate needing so that you have plenty to work with when lining up your pattern.
"If your wall is 9 feet high, try ordering a 12-foot-high panel. This way, you only have one panel you need to line up the pattern with, versus using three 4-foot-high panels and having to line up the pattern on each."
She adds that you should also make sure not to stretch the wallpaper when you're lining up the patterns, as that will make it more difficult to line it up exactly.
How peel-and-stick wallpaper holds up after one year
Corey from Reveal my DIY applied peel-and-stick wallpaper from RoomMates a year ago and is happy with the outcome. She says she applied it by using a squeegee tool and carefully following the instructions on the package.
How it's held up: "It has held up great," she says. "No peeling!"
The pro's take: "As long as the surface you apply to is clean, smooth and has the correct paint finish, the peel-and-stick wallpaper should last for as long as you'd like to keep it up," says Rees.
She adds that she does recommend using a smoothing tool (ideally with a felt edge) to help prevent air bubbles and make sure the panel adheres completely.
"The felt edge is important to note, as you could risk scratching your wallpaper as you smooth without it. If you need to use something without a soft edge, just be sure to be mindful of how hard you are pressing," she says.
How peel-and-stick wallpaper holds up after three and a half years
Page Fehling says she has peel-and-stick wallpaper up in several spots in her home. One of these has been up for about three and half years in a bathroom and is just starting to peel a bit.
"Our builder installed the navy geometric in the bathroom and the gold speckled in the bookshelf back. I did the white birch on the lockers myself with a razor blade and wallpaper smoother," says Fehling.
How it's holding up: "The bathroom one is popping up and peeling a teeny bit along some of the edges, but you'd have to look really close to see. The others are still perfect!" she says.
The pro's take: "Before installing wallpaper in a bathroom, you will want to make sure it is well-ventilated," Rees says. "Much like traditional wallpaper, the peel-and-stick wallpaper should hold up in a bathroom as long as there is a window that can be opened or a fan to turn on in order to minimize excessive humidity."
She adds that if it does start peeling, that 10 to 15 percent overage that you ordered could come in handy.
"Simply peel back the panel that is peeling and replace it with a new one, making sure the wall is completely free of any dirt or dust before install," Rees advises.
How peel-and-stick wallpaper holds up after more than five years
Juliette von Hess is no stranger to peel-and-stick wallpaper, and applied Chasing Paper's peel-and-stick wallpaper to numerous rooms in her previous house, which she enjoyed for years.
"I did a kids room, a hallway in between the bathroom and bedroom, and a bedroom accent wall," she says. She says she applied them with a plastic spackle knife.
How it's held up: "If the paper isn't in a bathroom or humid area it holds up very well," she says.
The pro's take: "Make sure your wall or surface meets the guidelines (smooth, clean and correct paint finish) before installation to ensure longevity," says Rees.
She notes that the longer the wallpaper is up, the stronger the bond becomes between the panel and the surface — so seeing success after five years or longer is actually not so surprising.
When I started talking to DIYers about their peel-and-stick wallpaper experiences, I didn't have the highest expectations. But I'm pleasantly surprised to report that when applied correctly and to the right surface, peel-and-stick wallpaper actually does last. This is one rental-friendly trick that can actually does stand the test of time.